We planned our trip to Zurich two weeks before it happened. The only thing we knew about this city was that it's expensive… This year Bussiness Insider classified Zurich as second most expensive city to live, right after Caracas, which means that it's the most expensive city in Europe. Today we will try to answer the question if Zurich is really that expensive, how to visit the city without spending so much money and how to move around the city. That will help you plan your own trip to Zurich 🙂
How to get to Zurich from Poland?
Nowadays getting to Zurich from Poland is not cheap. At the beginning we even thought of going there by car. 13 hours' drive one way didn't seem that bad. However, we decided to check all flights options.
Flights
Low-cost airlines
Unfortunately, there are no flight with low-cost airlines from Warsaw to Zurich. There is no direct low budget flight between those cities. Since April there will be a chance to fly with Wizzair to Basel Mulhouse Freiburg airport, located in France and get to Zurich from there. The question is, if it's going to be a cheaper option? I checked the ticket prices from Warsaw to Basel and it's 40 euro one way. You need to add also a price of transfer from the airport to the city of Basel and train ticket from Basel to Zurich. The connection between Basel and Zurich costs 34 CHF (if you don't have any discount). If we count the cost of round trip we get 80 euro for flights and 68 CHF for train which makes around 140 euro. And keep in mind that we didn't count the transfer from Basel Mulhouse Freiburg airport to Basel itself.
Direct flights
There are direct flights from Warsaw to Zurich with LOT and Swiss airlines. After comparing prices in different flight search services, we bought ours less than two weeks before the departure on the website of Swiss for 140 euro per person. That was the cheapest option. In total the tickets for two people cost us 280 euro. What's more, Swiss offers flights to Zurich three times a day: at 9:45, 14:35 and 19:50. We could easily fly on Thursday afternoon after work and have whole Friday for sightseeing. The return flights are at 7:05, 12:05 and 17:05. If you want you can even fly in the morning, land in Warsaw at 9 a.m. and still go to work and save one day off 😉 We did that this year when we went to Lisbon, however this time we chose a later flight.
As for our Polish airlines, they offer flights to Zurich twice a day but the price for the same days was much higher. While the flight with Swiss cost us 140 euro, the one with LOT was for almost 234 euro. The choice was simple.
To Zurich by car?
We resigned from our idea of going to Zurich by car because of two reasons. First of all, the price of fuel for a trip like that would be around 257 euro. Apart from that we would have to buy a vignette for one year for 40 CHF (35 euro) and mostly pay for a parking in the city. So the price for a trip by car was the same as the price of plane tickets. Secondly, we would waste entire two days to travel to Zurich and come back. We preferred to get into a plane and after 2 hours be in Zurich.
Transport
How to move around Zurich?
The first time we went to buy tram tickets, I couldn't understand anything I saw on the ticket machine screen. There were so many types of tickets, that it was hard to know what is what. Let's start from the beginning. In the city you can travel by trains, buses, trams and ferries.
How to get from the airport to the city center?
If you fly to Zurich you will first need to get to the city center. The easiest and the cheapest way is to go by train or tram. Everything depends on where you have your accommodation. The airport is located in zone 121 and the city center in zone 110 so you need a special ticket. You can get it in the ticket machine, it's called "Airport Ticket" and costs 6.80 CHF. A ticket like this is valid for an hour since the moment of purchase and you can swap between trains, trams and buses. There is a tram stop right in front of the airport and number 10 will take you to the city center. If you want to see the best connection to you hostel, I recommend you use Google Maps. You will find the best transport option on your route.
Types of tickets and prices
Transport tickets in Zurich are valid since the moment of purchase. You don't validate your ticket inside the buses or trams so when you buy your ticket, you will have expiration time printed on it. So how do they check whether people travel with valid tickets or not? It works exactly as in Poland, there are ticket inspectors who randomly check different types of transport and give tickets to people who travel without a ticket or their ticket is invalid. We didn't see a ticket inspector there but taking into account how the Swiss like rules, I wouldn't recommend travelling without a valid ticket. There are also ticket machines next to each and every bus or tram stop. You can pay with a card or in cash, so there is no problem to buy a ticket.
Single tickets
The price of a single ticket depends on how many zones you are planning to cross. If you are not sure in which zone is you final stop, you can select it on the ticket machine and it will automatically count the price of ticket for you. Here are examples of ticket prices which you will mostly use while visiting the city:
1-2 zones ticket valid for 1 hour – 3.40 CHF
3 zones ticket valid for 1 hour – 6.80 CHF
Day pass
If it comes to day passes it also matters which zone are you in. However, they allow you to travel unlimited times by trains, buses, trams and ferries during 24 hours.
Day pass valid in 1-2 zones – 8.80 CHF
Day pass valid in 3 zones – 13.60 CHF
Zones and classes
Zurich and its surroundings are divided into several zones. The price of all types of tickets depends on the zone. You will find a photo of zones located in the center and around the airport below. Those are the zones that you will mostly use when you travel to Zurich. The important thing is that the city center of Zurich, the zone 110, is counted as two zones since the public transport network there is much denser than in other zones. That's why the Airport Ticket costs the same amount of money as the 3 zones ticket, although theoretically, you cross only two zones when you travel from the city center to the airport.
What's more, when you are buying your tickets, you will see that you can get 1st or 2nd class ticket. Those for the 2nd class are cheaper and those are the prices I provided you with above, in paragraph about ticket prices. So what are those classes about? If you travel by trams or buses, it doesn't matter because they aren't classes in those types of transport. You can use trams and buses with 2nd class tickets. The division matters if you travel by train where each class has its separate compartments.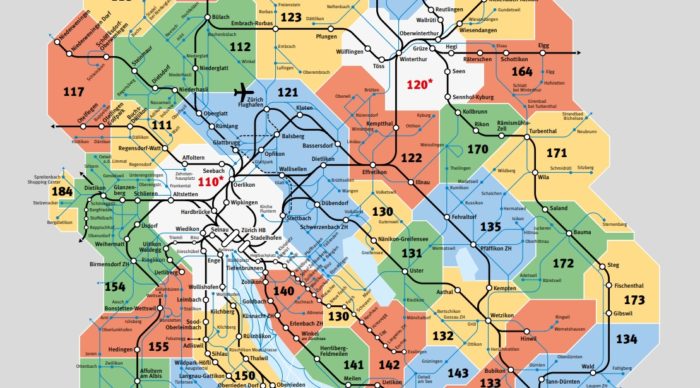 Which ticket should I get?
As you see public transport in Zurich is not cheap. If your accommodation is not in the city center and you cannot get everywhere on foot, you may find it useful to buy a day pass. You will be able to travel in the city without a limit and see all the places you want. You can also use ferries with your daily pass. The ferries work like water trams on the Lake Zurich.
You can find more information about transport here.
Prices
I have already mentioned prices for public transport. Now it's time for other types of product. Unfortunately, it's not cheap but you will see that there is always a way to save money.
Food
Restaurants and cafés
We avoided going to the restaurants because the prices were too high. Even getting a kebab or falafel cost at least 9.5-10 CHF. A sandwich in a train station costs 7-8 CHF. A cup of coffee or a tea is at least 5-6 CHF and a bottle of water 3 CHF. In restaurant you even have to pay for tap water.
Shopping in a supermarket
If you want to save money on food, just do your shopping in a local supermarket and cook something on your own. The products are more expensive than in Poland but for sure, you will pay less than in a restaurant. Popular supermarkets are Denner or Lidl. Here are prices of some products:
Water 1.5 l – 1 CHF
Rice 1 kg – 2.5 CHF
Milk 1 l – 1.5 CHF
A loaf of bread 0.5 kg – 2.5 CHF
Tomatoes 1 kg – 4 CHF
Potatoes 1 kg – 2.60 CHF
A Swiss bar of chocolate Cailler – 2.5 CHF
8 bars of chocolate Cailler – 12 CHF
Souvenirs
A postcard – 1.20-1.50 CHF
A fridge magnet – 7.90-9 CHF
A mug – 8 CHF
A postcard stamp for Europe – 1.40 CHF (normal) and 1.5 CHF (priority)
A postcard stamp outside Europe  – 1.70 CHF (normal) and 2 CHF (priority)
Where to buy souvenirs in Zurich?
I was shocked when I saw souvenirs' prices in Zurich, especially if it comes to postcards and magnets. Luckily I found beautiful magnets in better price in the underground passageway of Zürich Hauptbahnhof. There is a shop with souvenirs there and prices there are a bit lower than in other places. It's there where I found magnets for 7.9 CHF and they had an offer of one free magnet if you buy five 😉
Accommodation
It won't be a surprise that it's impossible to find cheap accommodation in Switzerland. We were lucky because we went to Zurich to see out good friends. Actually, seeing them was the main purpose of our trip 😉 Otherwise we wouldn't visit this city soon. So we had the accommodation at our friends' place. If it comes to hostels, I was curious and I checked how it is in Zurich. I didn't find anything cheaper than a bed in a dorm for 26 euro. A double room costs at least 56 euros and still, those are examples of the lowest quality hostels.
What to do to lower the cost of your accommodation? You can for example use booking discount code if you are booking your accommodation there. If you book for at least 25 euro, you will get 12 euro back after your trip. That's half of the price of one night in Zurich 😉 If you can, you may also try to find a couch on Couchsurfing.
How not to go bankrupt in Zurich?
How to visit Zurich and not spend all your money? Firstly, as I have already mentioned, avoid the restaurants. You can do the shopping in a supermarket and make something to eat on your own. Secondly, think it over if you need the transport tickets. Maybe or accommodation is close to the city center and you can easily get everywhere on foot? Thirdly, in Zurich tap water is potable so you don't have to buy bottled water. Also, there are several places around the city with free potable water. You just need to bring your own bottle of water 🙂 Places like that are marked in application MAPS.ME.
How to communicate in Zurich?
In Switzerland there are four official languages: German, French, Italian and Romansh. Each of them is used in a different region of the country and the Romansh is spoken by less than 1% of Swiss people and it's in danger of extinction. In Zurich the main language is German and you will hear it mostly on the streets. But don't worry. If you speak French or Italian, you won't have any problems while doing shopping. All products have descriptions in three languages.
Apart from that most of people in Zurich speak very good English so it's really easy to communicate. We didn't have any problems with that 🙂
Summary
Unfortunately, Zurich is an expensive city. When I was there I had a feeling that prices are the same as in Poland, just given in francs instead of zloty. On the other hand, it's not a big city full of attractions. You can easily see it all in 1-2 days. So you won't have time to go bankrupt in such a short time 😉 I will tell you more about attractions of Zurich in another article 😉 Is anyone planning a trip to Zurich? Would you like to visit this city?