Zalabia is one of the popular Arabic sweets. It's very popular in Egypt. We have recently made it at home for the first time and we loved it. Therefore I will share with you the recipe we used.
The easiest way to explain what zalabia is, is by comparing it to doughnuts coated in sweet syrup. As most of Arabic sweets, this one is also very sweet and caloric because it's deep-fried. However, I will show you the way to make zalabia a little less sweet 😉
In order to make zalabia you need to prepare a dough and syrup.
Preparation time: 1 hour 30 minutes – 2 hours
Ingredients
Dough:
1 ½ glass of flour
½ tablespoon of dry yeast
1 tablespoon of powdered milk
½ small spoon of salt
1 tablespoon of oil
¾ glass of water
1 small spoon of baking powder
1 small spoon of sugar
Syrup
The syrup for zalabia is the same as for basbousa. Check this recipe to see how to prepare it.
Directions
Mix flour, powdered milk, yeast, salt, sugar and baking powder. After that, add oil and water and mix it again carefully. The dough will be sticky and this is how it should be. Cover the dough with a foil and leave it aside for one hour. In the meantime, you can prepare the syrup from basbousa recipe.
The syrup is very sweet. If you don't want you zalabia to be so sweet, you can use powdered sugar instead. We like it this way too 🙂
Prepare a deep frying pan or a pot to fry zalabia. Warm up a glass of oil inside it. Now you can form balls of the dough, put it on the oil and fry. The easiest way for make the balls is to squeeze the dough between your thumb and index finger.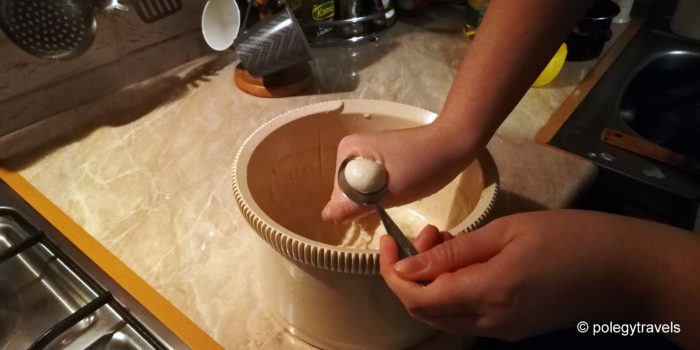 After frying, put the balls on a plate covered with a piece of paper towel to remove some fat.
At the end, if you prepared the syrup, coat the doughnuts in it. If you chose the version without syrup, sprinkle powdered sugar over zalabia.
Enjoy your zalabia!