Zaanse Schans is one of the most visited tourist attraction in the Netherlands. Every year, more than one million people go there. The open-air museum is half an hour drive away from Amsterdam and it's full of windmills – one of the symbols of the country. Although the place is usually crowded, it's also picturesque and we can go back in time there. 
What do you associate with the Netherlands?
Probably most of you will say: tulips, clogs, cheese and of course windmills. Zaanse Schans is the most famous open-air museum in the country. Around 1600 the first windmills were constructed. At the beginning, they were used for drainage work and later for production. They milled cereals, rice oil and many other products. In the 18th century there were almost a thousand of windmills and until today only 13 are preserved.
Visiting Zaanse Schans
Zaanse Schans is mainly about traditional windmills and houses but there are also several museums, among them the Zaans Museum. You can see the windmills inside. Some of them are dedicated to the production of oil, one is a dyemill, another one is a mustardmill or a sawmill. Each of them has its name. You can visit "The Houseman", "The Young Sheep", "The Spotted Hen" or "The Cat". Interesting, isn't it? 🙂 If you don't feel like visiting the inside of the windmills, you can just have a walk in the open-air museum. There is a beautiful view of the windmills from a nearby bridge and if you stay by the river Zaans in the open-air museum you can look at the colorful houses of Zaandijk.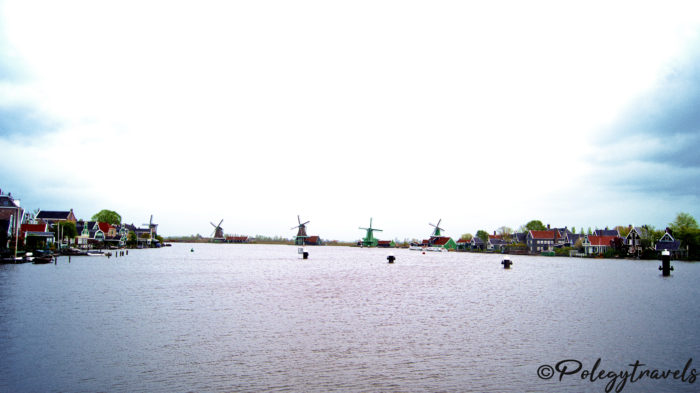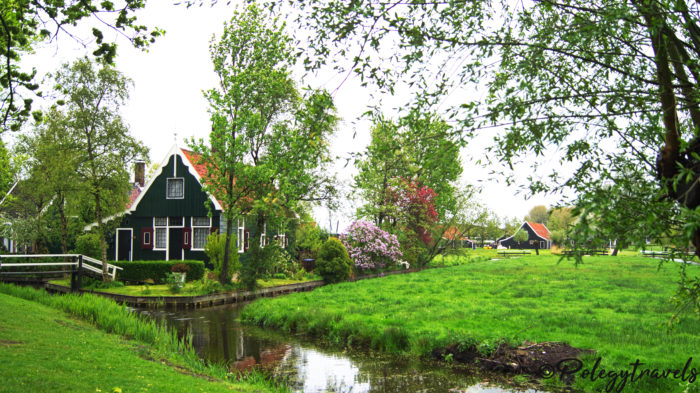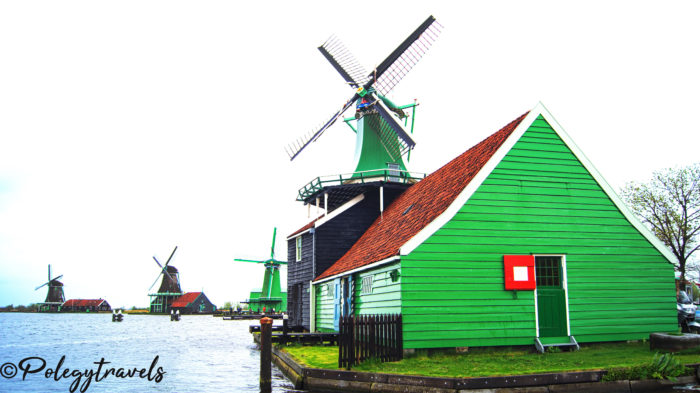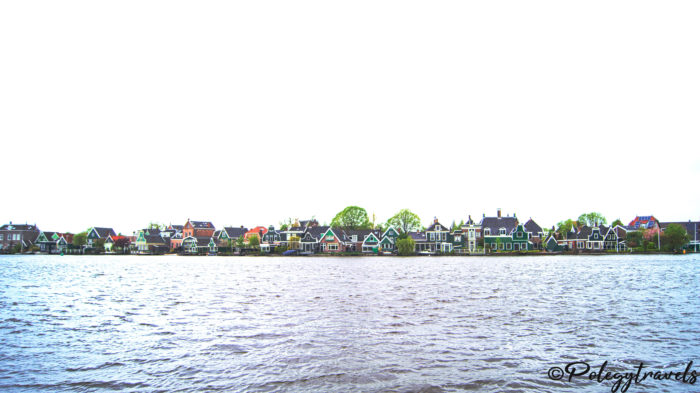 How to get to Zaanse Schans?
By car
I believe the most comfortable is to go by car. Zaanse Schans is located 20 km away from Amsterdam and getting there takes less than half an hour. If you can't go by car, you can easily get there by bus or by train.
By bus
Every 15 minutes a Rnet-bus 391 leaves from Amsterdam Central Station to Zaanse. The journey takes around 40 minutes. One way ticket costs 6 euro, so if you plan to go back by bus too, it's better to buy a daily Amsterdam & Region Travel Ticket. It costs 11 euro and it allows you to travel by trains, buses, metro and trams in Amsterdam and around. You can purchase this ticket in Schiphol airport (tourist office or a ticket machine), in tourist offices in Amsterdam, on railway and bus station (for example Amsterdam Central Station) and in many hotels. It's possible to get a ticket for 1, 2 or 3 days. Each of them is valid until 4:00, after the last valid day. For example, if you activate your ticket on Monday, it will be valid until 4 a.m. on Tuesday. You can find more information about the line 391 here.
By train
You can also take a train from Amsterdam Central Station to Zaandijk – Zaanse Schans. The journey takes 18 minutes and the Zaandijk station is 15 minutes' walk from the open-air museum. The train leaves every 20 minutes. One way ticket for an adult costs 3.2 euro if you buy it online for the 2nd class train. It's much cheaper then than the bus. If you buy the train ticket in the ticket office of ticket machine at the station you will pay 4.2 euro. Full schedule of the trains with prices and booking online, can be found here.
Free parking in Zaanse Schans?
There is a car park for visitor next to the open-air museum. Unfortunately, it's a bit expensive. Parking a car costs 10 euro. When we saw the price, we left. After crossing a bridge to Zaandjik, we turned right. There is a Spar supermarket there and behind it, there is a free car park. We left our car there and we saved 10 euro.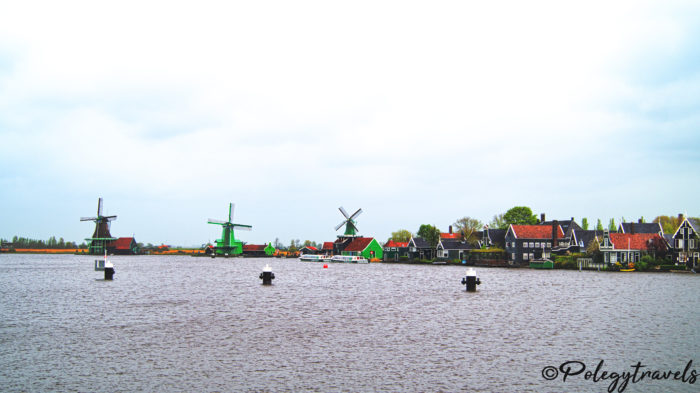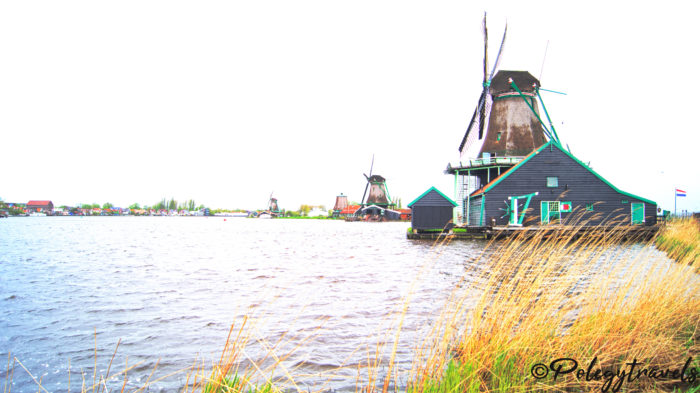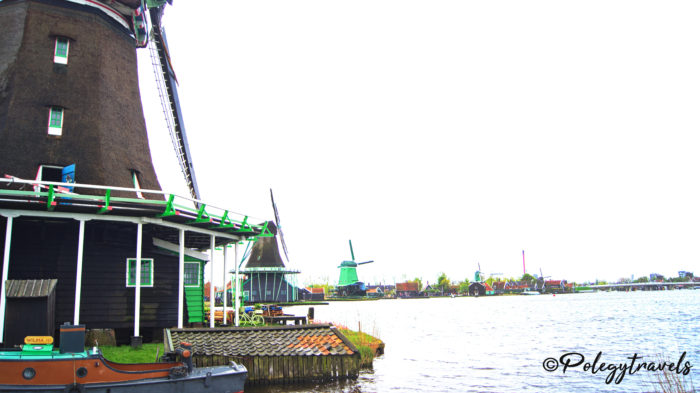 Practical information
visiting Zaanse Schans is generally free, you pay only for entering museums and windmills. If you just want to have a walk in the open-air museum, you don't pay anything
the car park is open from 8 a.m. till 7 p.m. The exact opening hours of the windmills, museums and shops can be found

here

if you are planning to visit the place carefully, consider getting Zaanse Schans Card for 15 euros. It gives you free entrance to Zaans Museum, one of the windmills, Zaan Time Museum and you get discounts on windmill cruises, car park and shopping in the souvenir shops
single ticket for a windmill bought separately costs around 4 euros for an adult
visiting time: 1-2 hours (without entering museums or windmills)
Summary
During our trip the weather was awful. It was raining, it was very windy and cold. However, the place was full of tourists. We resigned from all the attractions and we just walked in the open-air museum. The queues to the windmills were so long that we were not able to wait in cold. When you are planning your visit, think what you really want to see there. Are you interested in visiting museums? Or maybe you prefer to see only a specific windmill? It will help you to prepare the budget and estimate the time you will need for sightseeing. Have a nice trip! 🙂