Bosnia and Herzegovina is one of the most beautiful countries I have ever been to. Beautiful places there can compete with the most crowded tourist attractions in the world. Are you planning your first trip to Bosnia and Herzegovina? Do you want to know which places to see and where you must go? Keep reading and I will show you a perfect route for the first time in Bosnia and Herzegovina.
Bosnia and Herzegovina and Kosovo are my favorite countries in the Balkans. We spent a whole week in Bosnia during our three weeks road trip in the Balkans. There were so many places we wanted to see that it was impossible to resign from any of them! And we would have stayed longer if we could.
For a whole week we traveled to the most interesting places of Bosnia and Herzegovina. Many of them are typical tourist attractions, I don't deny it. However, I will show you when you should go there to avoid crowd of people.
The most beautiful places in Bosnia and Herzegovina
Trebinje
We started sightseeing in Bosnia and Herzegovina from the south. Trebinje is a town located near Dubrovnik in Republika Srpska, an entity of Bosnia and Herzegovina. As the name of the region indicates, the majority of the inhabitants of the city are Serbs. What we loved about Trebinje was the lack of tourists. After visiting Dubrovnik in Croatia, it was a lovely change. I recommend you see the Arslanagica Bridge from the 16th century and the biggest attraction of Trebinje Hercegovačka Gračanica monastery. It's a copy of an orthodox church in Gračanica, Kosovo. We visited both of them and they really look almost the same. What's more the Orthodox church is located on a hill from which there is an amazing view of the city and the bridge.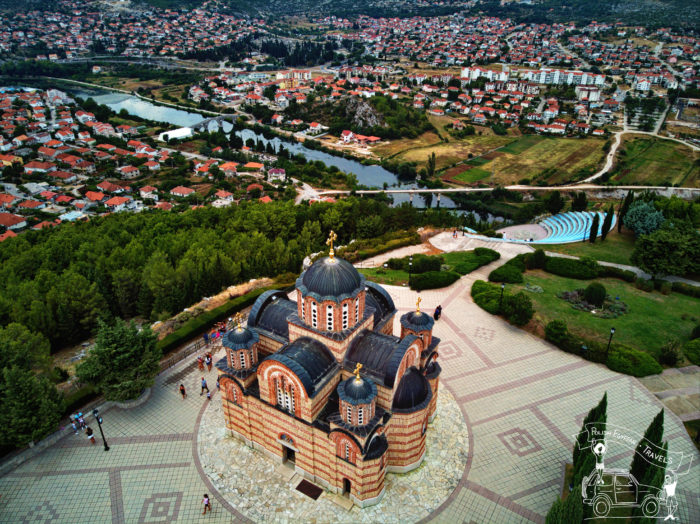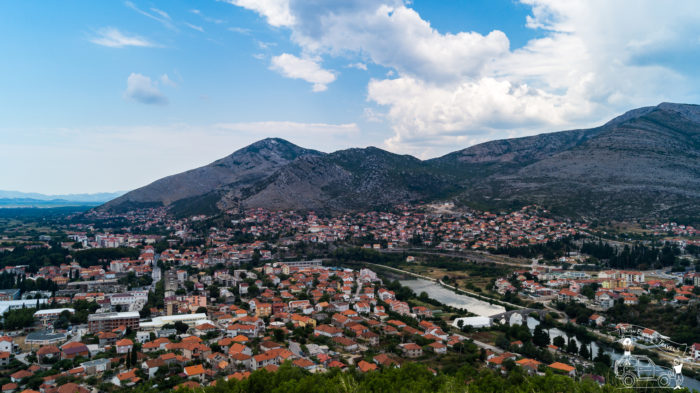 Počitelj
It's a little village near Mostar. In 1471 it was conquered by the Ottoman Empire. Počitelj was ruled by the Turks till 1878 and more than hundred years later it was destroyed in the war in Bosnia and Herzegovina. The architecture of the place is a mix of the medieval and the Ottoman styles. Despite the damage from the 1990s it's one of the best preserved places from the Ottoman times in the whole country.
The most interesting places in Počitelj are among others Hajji Alija mosque and a clock tower. You must go there and save some time for a good walk. There are more and more tourists travelling there but we got lucky. It was few minutes after the rain and everyone had left so in the end we had all the place for our own. The view from the top makes it up for climbing time. It's a really charming place in Bosnia and Herzegovina.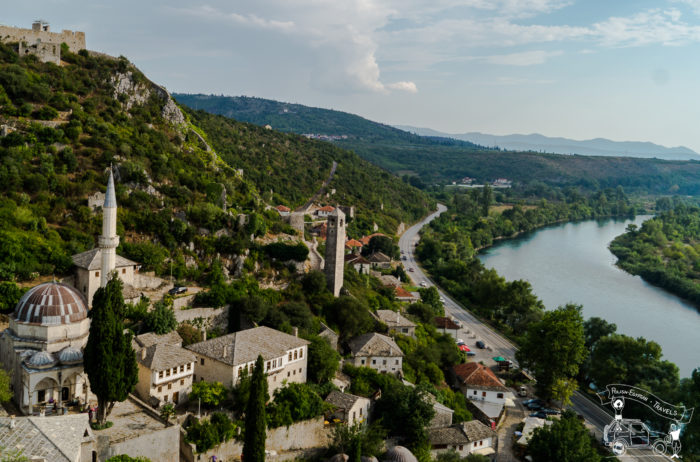 Kravica waterfall
Another pretty popular place in Bosnia and Herzegovina. It's very close to the border with Croatia and there are also places like Medjugorje and Mostar nearby. Anyway, the waterfalls are just wonderful! We went there early in the morning and it was worth it. If you want to avoid crowded place and take some good photos, do the same. You can enter the waterfalls since 7 am. We managed to be there at that time, park the car on an empty parking and there were very few people. After only an hour, it was almost impossible to find a spot for a photo… The advantage and disadvantage of this place if the fact that you can swim in the waterfalls. Of course, it's a disadvantage for those who want to photograph or record something.
The entrance ticket for an adult costs (from 1st of June till 30th of September) 10 km which is around 5 euros and we had the parking fee included in the price.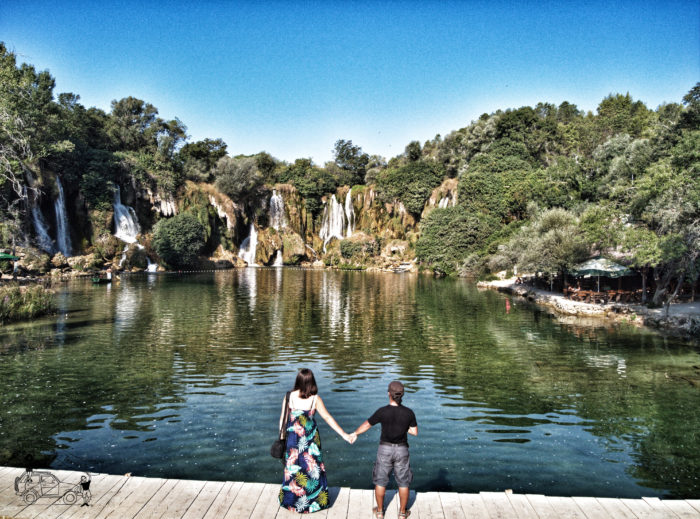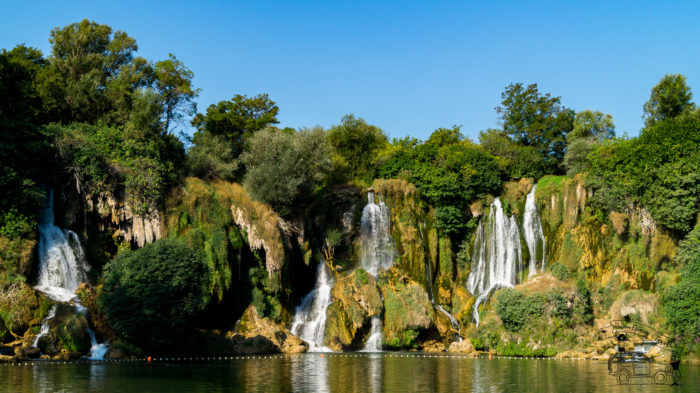 Blagaj
Another small town that is charming and worth visiting at the same time. Blagaj is located at the spring of Buna river and right next to it there is Blagaj Tekke. Tekke is a type of a monastery for a Sufi brotherhood. The one in Blagaj was constructed in 1520 and it's a national monument. It's an extraordinary place that you just must see, especially that it's very close to Mostar which most tourists visit.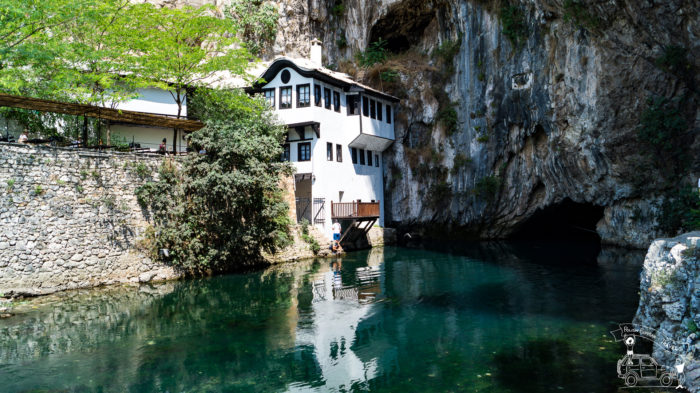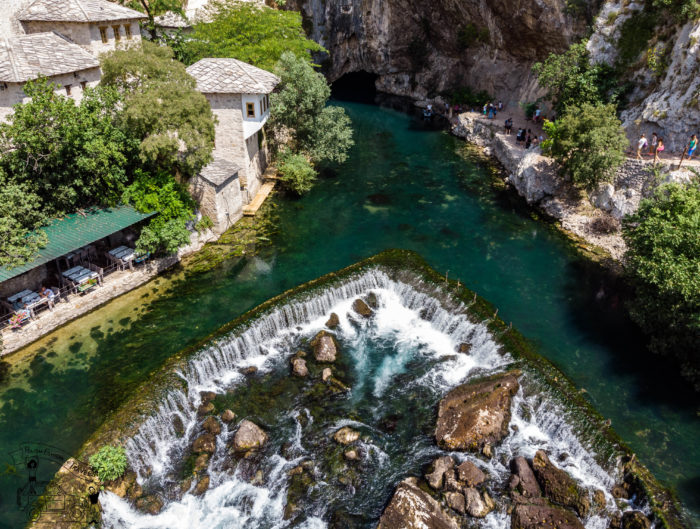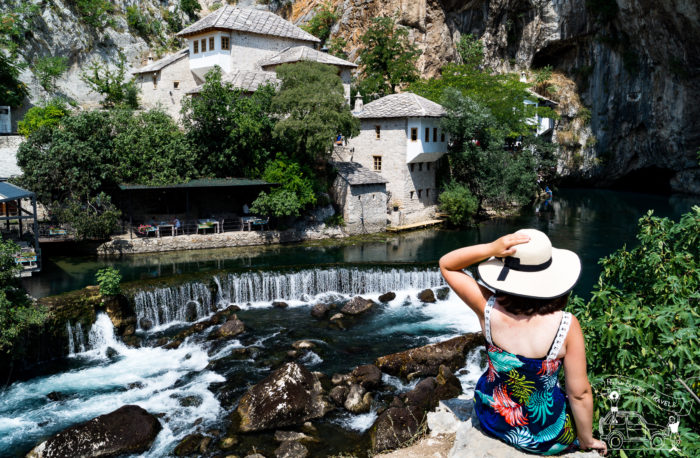 Mostar
Who hasn't heard of Mostar? Whatever you look for that is related to Bosnia and Herzegovina, I'm 100% sure you will find photos from the Old Bridge. We had to go there as well and to be honest I was a bit disappointed… The city is beautiful, no doubt about it, but walking through the crowd on the Old Bridge was driving me crazy. In general, I had the impression that everyone goes to Mostar. People even skip seeing Sarajevo, which in my opinion is amazing, and they go only to Mostar… Anyway, the old town of Mostar is small and if we add tons of tourists there in high season, it's not a place where you can rest. We spent one day there and we were fed up with it. However, I would love to go back there after the high season because what happened in August was mad.
If you go to Mostar, go down the Old Bridge, go to the river side and see how it looks like from down there. You can also walk a bit further and find a good spot to photograph the bridge and the old town. The Old Bridge was destroyed during the war by the Croatian army. After the war it was rebuilt and reopened in 2004. Nowadays it's a UNESCO World Heritage Site
The old town of Mostar is full of mosques. Some are bigger, some are small but you can see their minarets everywhere from the old town. And the best part is when you can hear the adhan, the call for prayer, from all the mosques at the same time. This is really magical. If you travel to Mostar, take a walk on the old town during sunset. The city is wonderful and there is less people.
Igman Olympic Jumps and bobsleigh track
You just have to see how the sport arenas from the Olympic Games in 1984 look like now. We managed to see two places, ski jumps on Igman hill and bobsleigh and luge track on Trebević mountain. There is a special article about those two places with practical information about getting there and sightseeing, but I wanted to write a bit about here as well.
Winter Olympic Games in Sarajevo were a huge event in this part of Europe. The sport arenas that were built especially for this occasion, are now abandoned and not used. Some of them were destroyed during the siege of Sarajevo. People and the passing time added more damage… Now the ski jump hills and the bobsleigh track are an interesting attraction for tourists. Maybe they are not beautiful but it's definitely worth seeing what is now left from the event.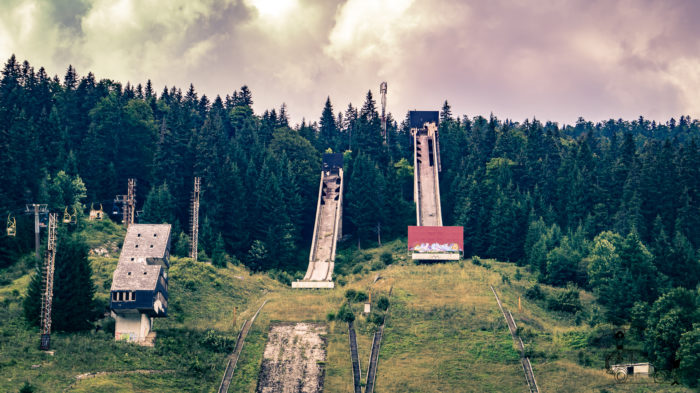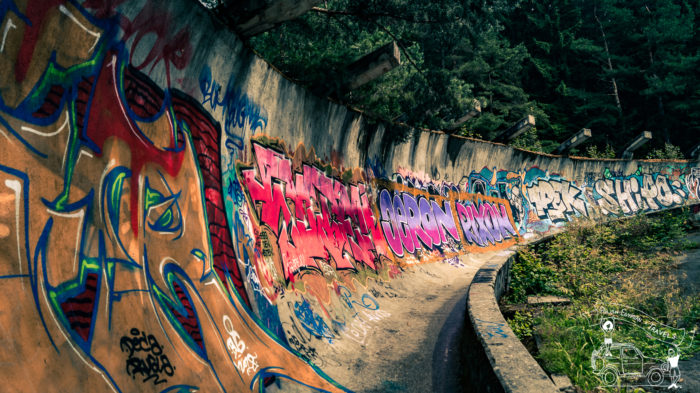 Sarajevo
It's really amazing that if anyone asked me if Sarajevo is nice, I would have a problem to answer… To answer objectively it's not. However this city has something, something that is difficult to describe with words and what makes you love being there and want to stay longer. The city has an amazing but also sad history. Sarajevo is a place where there is an old Ottoman district next to the new Austro-Hungarian part. They don't match at all but at the same time they make something special together. This is Sarajevo, a mix of cultures, nationalities, religions and languages. You will see mosques there, few steps away a Catholic church, an Orthodox church and a synagogue. It's not strange at all. Sarajevo is just diverse.
How much time should you spend on seeing Sarajevo? We went there for two days and I know it was too little. The capital of Bosnia and Herzegovina has a unique atmosphere. It's really worth to stay there for more time and learn about its history. You also have to visit the museum of the Tunnel of Hope which used to connect the city under siege with the free territory. The museum is located next to the airport.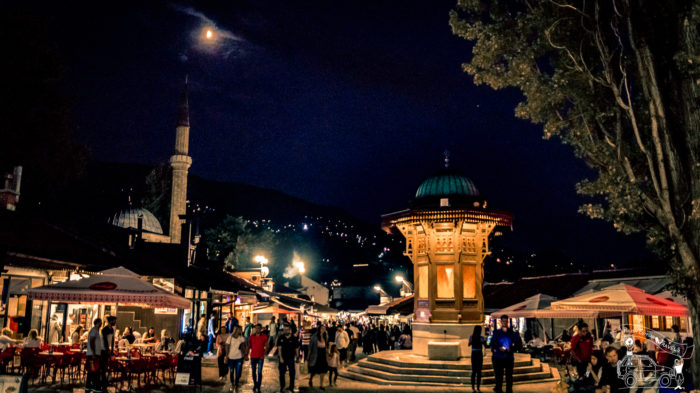 Jajce
That's another little town full of places to see. The best places in Bosnia and Herzegovina are small towns and villages. They have the most interesting attractions.
There is a fortress above the city. We were totally alone there and the view is breathtaking! Apart from that, there are numerous museums, a wonderful waterfall almost in the city center and watermills on Pliva Lake not far from Jajce.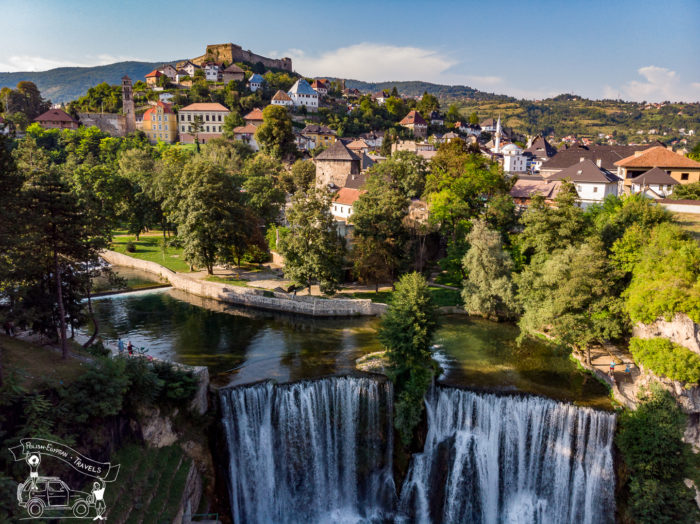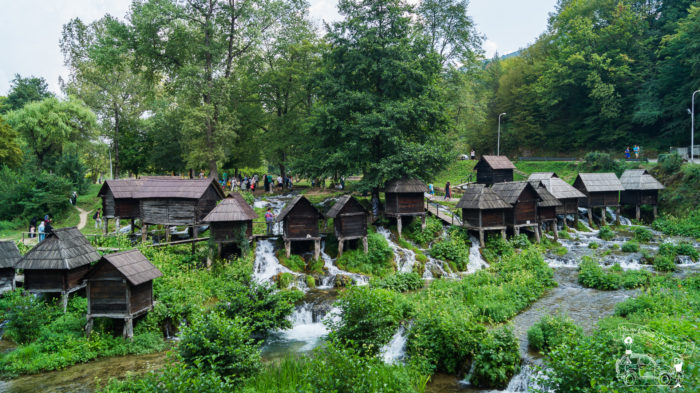 Map
As always, I have prepared a map of all the mentioned places. You can you is while planning your trip do Bosnia.
Summary
We went to other places in Bosnia and Herzegovina as well but I cannot recommend them here because I didn't find them so interesting. There was a city of Banja Luka among them. This time I wanted to focus on places I fell in love with and which everyone should see in Bosnia and Herzegovina. Of course there still many places for us to see because for now on, we visited only a part of this wonderful country. Maybe you can recommend us other places in Bosnia and Herzegovina which we should see during our next trip?