Visiting Venice required from us better organization in our spontaneous trip. We looked for information about car parks and we were thinking if going there by car is a good idea. We were checking prices because we had read that it's expensive. Was it really like that? Check yourself 🙂
Going to Venice by car
Our first problem was: what are we going to do with our car in Venice? In the city you can move around walking or using water buses (vaporetti) or water taxis. It was clear we had to find 24-hour that wouldn't be far from the city and at the same time cheap. The task is not that easy. Our first choice was  S. Giuliano parking in Mestre. The fee for a whole day was 15 euros so it was the cheapest option. The car park is located before the bridge connecting Mestre with Venice and you have to take a bus to get to the city. One way ticket is 1.5 euros. That meant that apart from 15 euros for the parking we would have to pay 6 euros for bus tickets for both of us. In total it would cost us 21 euros.
Tronchetto car park
Then we checked offers of parking in the city and it turned out that Tronchetto has a better one. It's located in the outskirts of Venice on an island Isola Nuova, around 25 minutes' walk from the train station but still closer than the car park in Mestre. The cost of 24-hour parking is 21 euros. From the financial point of view it's the same but here we save time on traveling by bus between Mestre and Venice. In this situation the choice was obvious. Finding the Tronchetto parking was easy too. After crossing the bridge that connects Venice with Mestre, you turn right. You will easily find it if you follow the road signs. The car park has 4000 parking spaces and you don't have to worry about finding a free spot.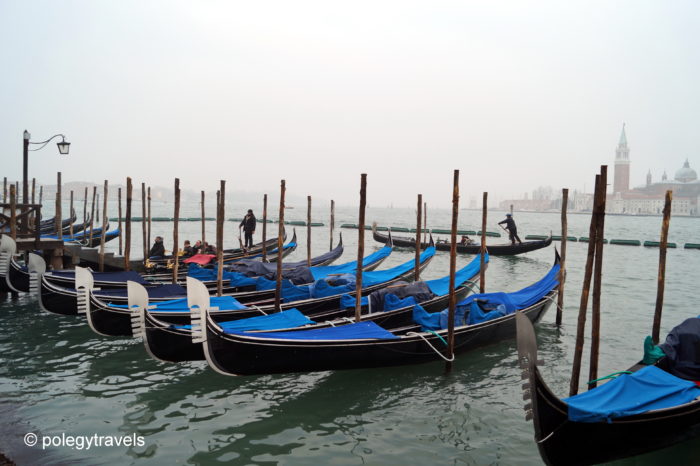 Accommodation
We booked a room one day before using booking.com and we managed to find a double room in a hotel for 45 euros. Apart from that we had to pay 6 euros tax. Our hotel (Art Dreams) had a perfect location, 5-10 minutes from the train station and around 30 minutes from the car park where we left our car. The main attractions were also more or less 30 minutes away, of course if we didn't get lost while walking 😉
Our room was simple but cosy. We had a shared bathroom in the corridor but we had breakfast  included and we could use the kitchen to cook on our own. Comparing to other cities in Italy that we visited (Padova, Milano, Verona, Trento) the price of the room in Venice wasn't higher than in other places. While walking to our B&B we saw countless amount of hotels and B&B, so if you don't book anything in advance you shouldn't have problems with finding a place to sleep.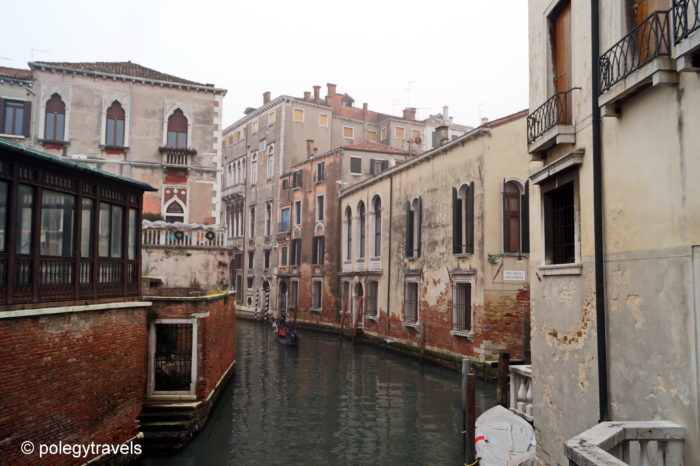 Prices
If anyone asked me if Venice is expensive I would say yes and no. The price of our accommodation, in total 51 euros for a double room, seems high but compared to other Italian cities it is not. We usually paid 50 euros for a night if we wanted to have double room.
Souvenirs
The cost of souvenirs is lower than in other cities. I admit it was surprising for me but taking into account the fact that whole Venice is full of tourists and you can buy souvenirs everywhere, the sellers offer competitive prices.
– postcards – prices start at 30 cents and depend on the size and type. The postcards for 30 cents are really beautiful. It's almost nothing compared to Trento or Bolzano where a card cost us 0.7 – 1 euro.
– magnets – souvenirs shops offer many types of discount on magnets. We can buy single mangets or package of several for example 7 magnets for 5 euros. We found a shop near Rialto Bridge where they had sales on magnets and one cost 75 cents. Again, if we compare it to other cities on our route where the cheapest magnet was 4-5 euros, prices in Venice seem low.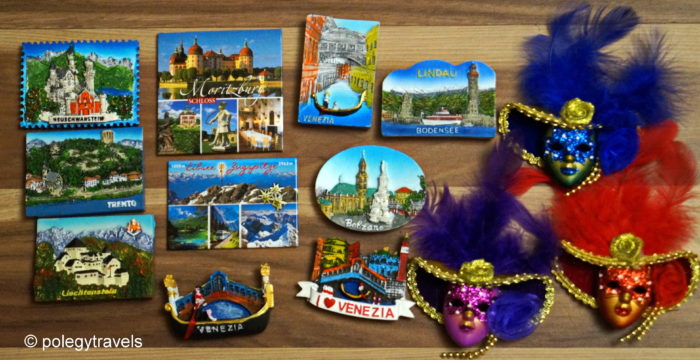 – mugs – the price of a mug starts at 5 euros
– masks – you can find interesting prices of masks everywhere. The simplest ones that cover only the eyes cost 2 euros and more. The bigger ones that cover the whole face cost at least 10 euros. Many shops offer lower prices if you buy more, for example 6 masks for 10 euros.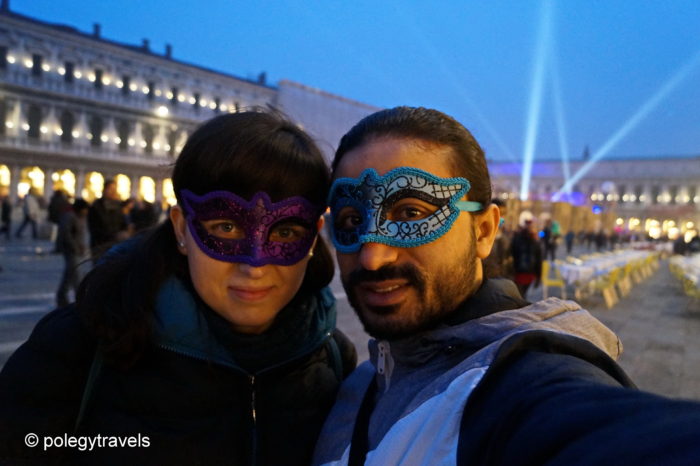 Transport
The cost of the car park as I already said was high but it was the cheapest option. What is for sure expensive in Venice is the water buses (vaporetti) transport. At the same time it's the only way (except for water taxis which will be more expensive) to get to different islands and go to for example famous Burano. One way ticket costs 7 euros and 24-hour ticket costs 20 euros. For 36- hour ticket you will pay 25 euros and for 48-hour 30 euros. We didn't have much time and we didn't want to go to Burano only for 2 hours so we didn't use water buses. Nevertheless, we will go back to Venice for sure and this time we will visit other islands 🙂
Gondola ride is also an expensive attraction. Everyone associates Venice with gondolas on the canals and many people dream of going on a ride like that. The idea is great but not everybody can afford it. A gondola ride which takes 40 minutes cost 80 euros and sometimes even 100 euros. We resigned from that attraction 😉 For that price we paid our accommodation and 24-hour parking which was in total 90% of our expenses in Venice 😉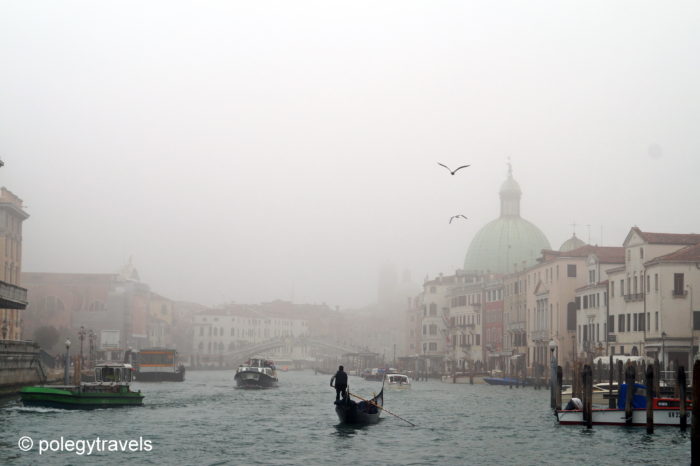 Food
Prices in restaurants in touristic points are always high. As everywhere you will find markets in Venice where prices are more or less the same as in other Italian cities. We used the fact that we could cook in the kitchen in our hotel and we prepared food on our own.
Summary
That's all as for practical information about Venice. Water transport and gondola rides are for sure expensive. Other things like accommodation or souvenirs are comparable to other cities in north Italy and in the case of souvenirs even lower 🙂 If you have any questions about Venice feel free to ask in the comments 🙂