When we travel we always try to cut down the cost. While travelling by plane, the flight ticket is usually the most expensive part. No one will be surprised if I say that we choose the cheapest flights, we don't care about the comfort and we rather have a longer connecting flight as long as we can save few hundreds on it. We prefer to spend money on visiting a place or on another trip instead of the high standard of flights. Because of that I was even more surprised when before entering the plane going from Warsaw to Dubai, I found out that I would fly in business class.
Warsaw – Dubai – Seoul
My trip to Seoul was supposed to take 21 hours. First, I had the flight from Warsaw to Dubai, five hours waiting in Dubai and then a flight to Seoul. The ticket was bought late so I did the check-in in the last moment. I didn't have much options while choosing the seat, the where only ones in the middle. Okay, I will survive somehow. Imagine how surprised I was, when I waited in the queue for boarding and airline representative scanned my passport and told me to go to a counter nearby.
There, they checked my passport again and a woman working for Emirates said that I'm getting a free upgrade to business class in my first flight. Business class instead of economy included in the ticket I didn't even pay for? I won't say no 😉 Especially that it's not just any airline but Emirates, one of the best airlines in the world. I got on the plane and happily took my seat.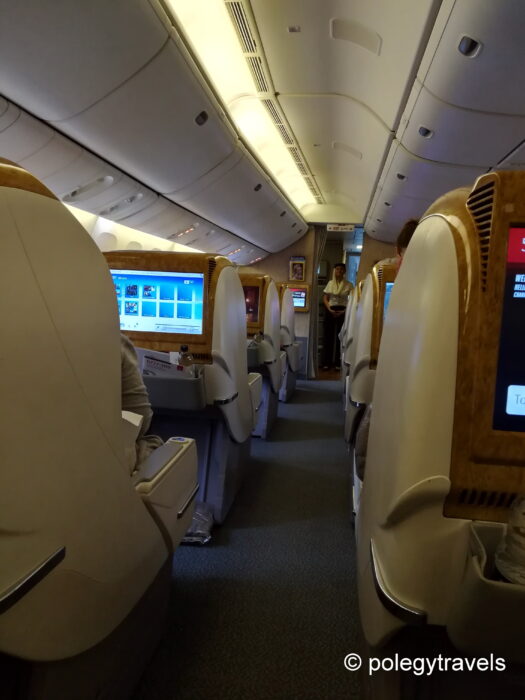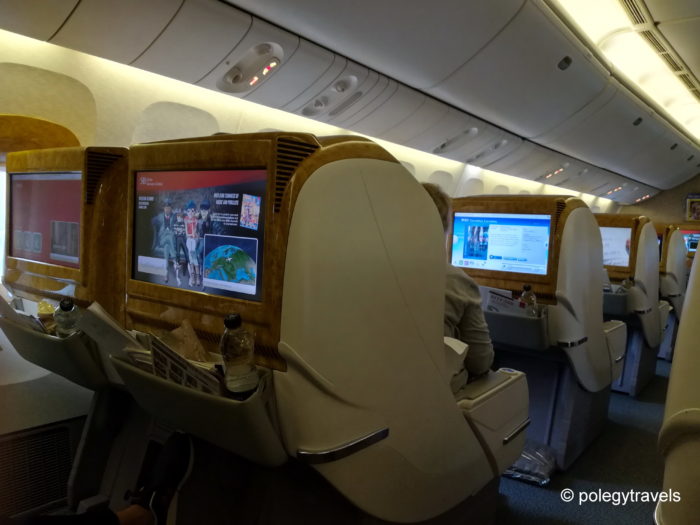 Welcome to business class
The first thing I noticed was a lot of space. I could extend my legs and recline the seat. It's not just moving the back of the seat; here you have free possible options: sitting, half sitting and lying. The seat reclines to the position of a bed. It would be so comfortable to sleep, if only there weren't so many attractions around 🙂
The plane has just taken off and the flight attendants brought hot towels to clean hands and face. In economy class it works the same 🙂 After that, they start offering passengers beverages: alcoholic and soft drinks. I'm drinking orange juice and enjoy everything around. My seat is an aisle seat in the middle of the plane so there are still two seats next to me. However, there is so much space that I don't really notice people sitting next to me. Between the seats there are also small wooden partitions that you can move up and down and separate yourself from other passengers.
It's also interesting that you get a "welcome package" on board. Next to my place there is a bottle of water and a sleeping set: earplugs, a sleep mask, socks, toothbrush and toothpaste. You get a similar set in Emirates also in economy class. There is also a plug-in and a USB port so I can easily charge my phone. Nearby I have a small lamp, in case I wanted to read and in the seat in front of me, a special shelf to put my shoes.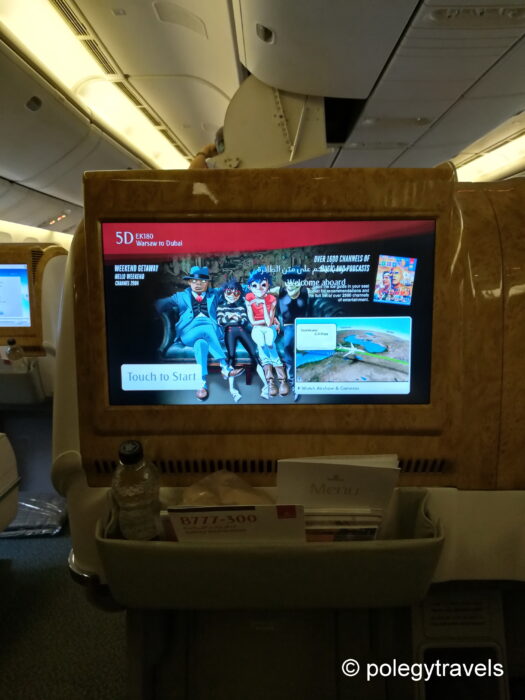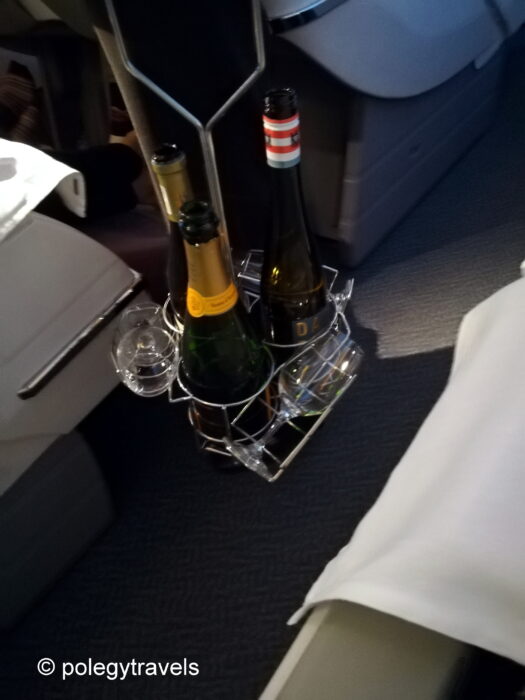 So much of… everything
I sat with the seat half reclined, I covered with the blanket (much fluffier than normally on the planes) and I started watching a movie. There is so much to choose from the collection of movies, TV series, music and TV programs. Everything is available in several languages; everyone can find something to watch. It's even difficult to decide 🙂 The screen is bigger than in economy so we can really enjoy watching. Apart from having a remote control, next to the seat there are buttons to control the screen. In case you want to lie down and watch, you don't need to get up to change the channel or turn the volume down 🙂
I was watching a movie when I remembered that there is Internet on board. It was the first time I flew with airlines which offer free Wi-Fi. In economy class you get 20 MB to use during 2 hours. In business class I have unlimited access to the Internet. What do I do? I open Skype and show my husband how my flight looks like 🙂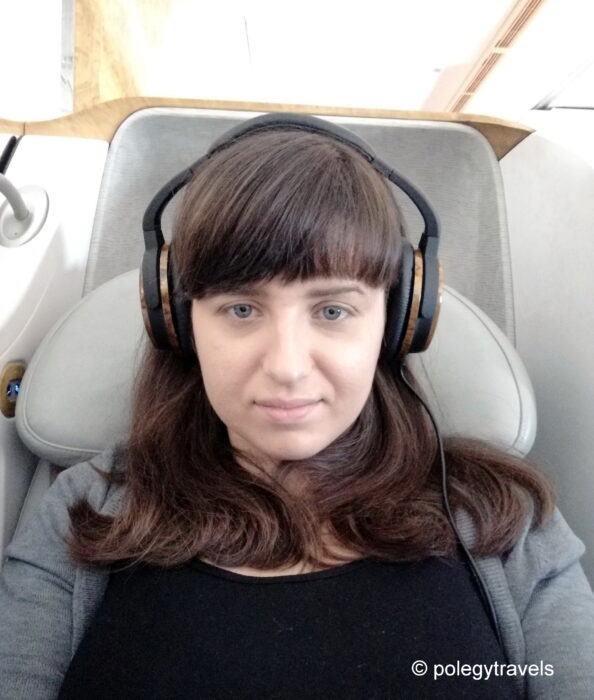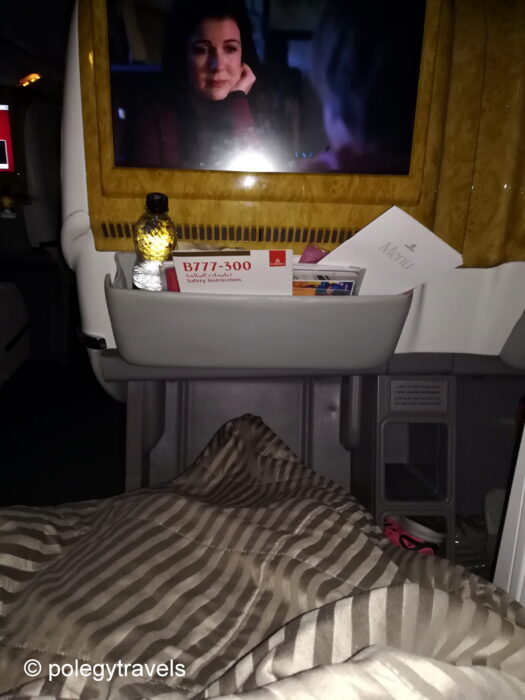 A bit of luxury
I watched one movie, then another. In meantime, the flight attendants bring beverages and nuts; they ask what I want to have for dinner so I choose a starter and a main course. A starter and a main course in my dinner on board 😉 What's more, before I get my meal, they put a… tablecloth on my table. It was the first time I liked the food on the plane so much! After dinner I get dessert and again there are so many types to choose. However, the dessert is not the end because we also get Belgian chocolates.
In general there is so much food. In case you get hungry between eating nuts and the starter or the main course and dessert, at the end of the business class there is a table with snacks, water and chips. Somehow, it's right behind my seat. A coincidence? I don't think so 😉 Anyway, I didn't have time to be hungry between the meal, snacks and drinks.
After dessert of chocolate cake, the flight attendant offered also ice-cream. Unfortunately, I was so busy watching "Beauty and the Beast" that I refused. I regret it until now. It was the biggest mistake of my life. You don't say no to ice-cream. Ever 😉 Of course in business class you have unlimited soft drinks, alcoholic drinks, coffee and tea. You are quietly eating and every few minutes someone comes and asks if you want to have some champagne, wine, water, juice, cola or anything else. Life was beautiful that moment. I had few hours of good time, where they brought me food and more and more coffee and orange juice. I didn't want that flight to end 🙂 But it was over, surprisingly fast.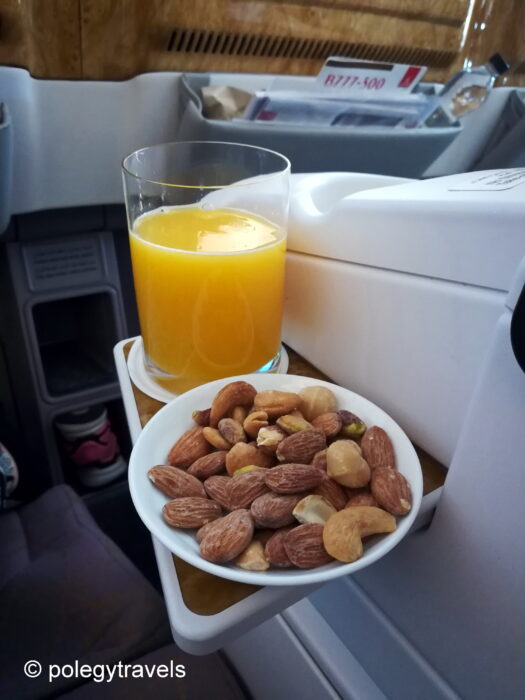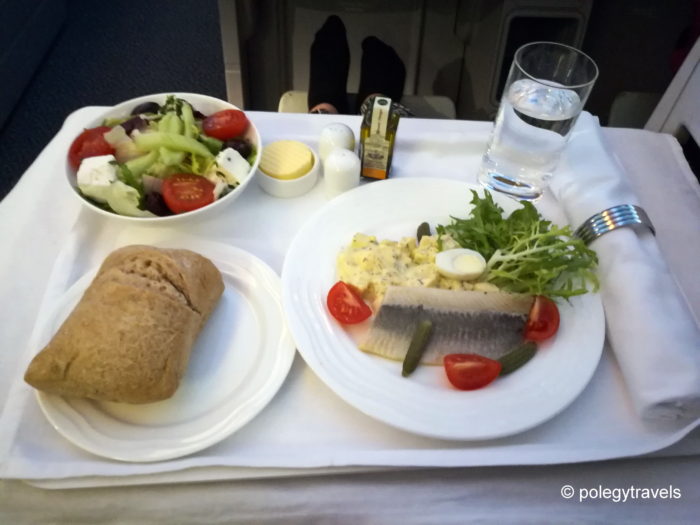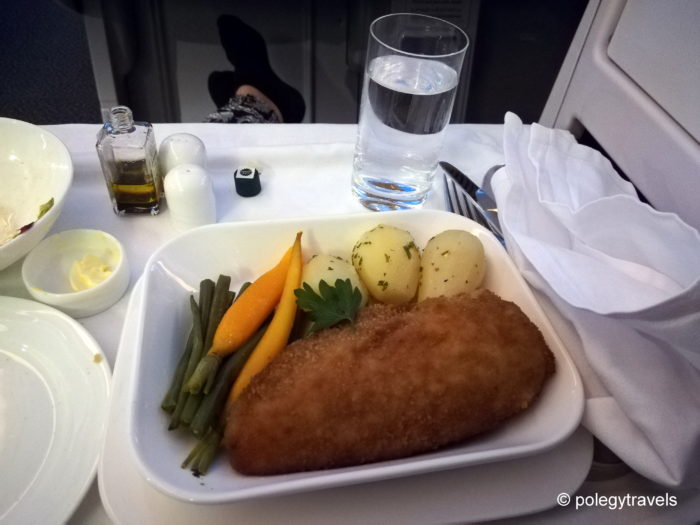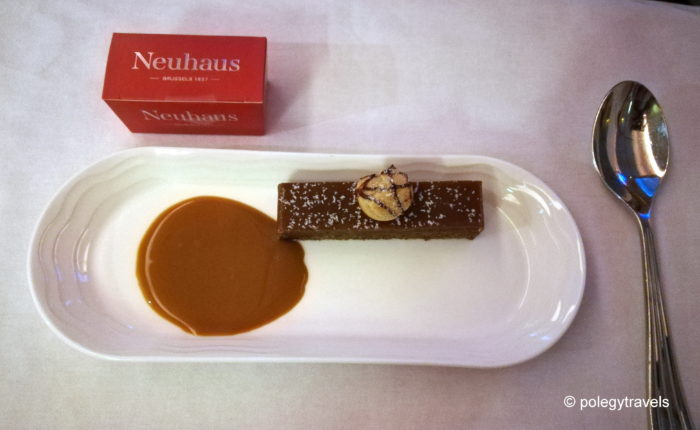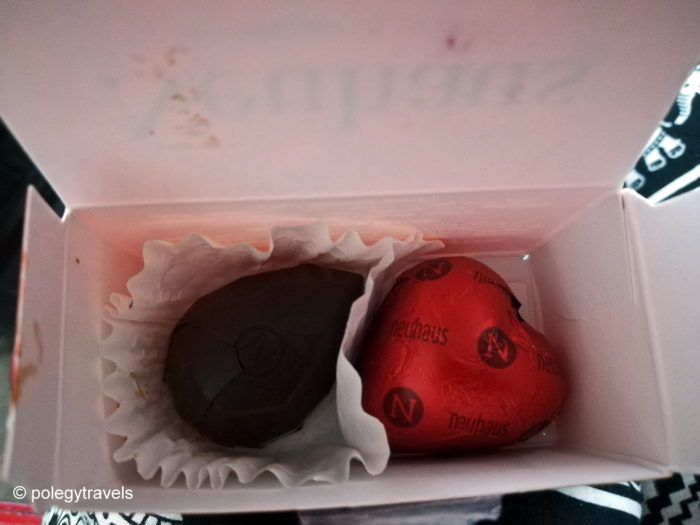 The most beautiful flight of my life
During the whole flight I was sitting comfortably and enjoying a bit of luxury. A luxury I will probably never pay for myself because it exceeds my small travelling budget 😉 For the first time I had enough time for my hand luggage. I also had a very comfortable seat with enough space for my legs which didn't go numb during that flight. It was also the first time I didn't sleep on the plane even for a moment 🙂
I don't think I will ever know why despite having a ticket in economy class I got an upgrade to the business one. The only reason I came up with was the fact that the tickets were bought on the last moment; there was an overbooking so they offered some passengers seats in business class. Was that the real reason? I have no idea but I like this kind of surprises. It could happen more often 😉
Have you ever had a similar situation in any airlines?