2017 was a thrilling year for us from both travelling and professional point of view. We made some of our dreams come true, we travelled a lot despite our limited possibilities. Many things have changed on our blog too. Do you want to know how many days we spent travelling despite working full time or how many countries we have been to? I invite you to read the summary of 2017, another year of our travelling together.
Last year we have travelled really a lot in spite of limited time and money. We both work full time in corporations. What's more, during the first half of the year I also worked in a public school and in a language school. Our trips had to take place when I had days off. It wasn't easy but take a look at the summary of our travels in numbers:
37 days we spent travelling together
4 flights for each of us
13 750 km we drove visiting Poland and Europe
8 countries and 1 overseas territory
40 cities and villages we went to
The numbers will look even better if I counted all my trips. As you know I also had a business trip to South Korea. It wasn't a tourist trip but still, I spent quite some time in a different country. If I add it to our travels, I spent 59 days travelling in Poland and being abroad. I flew 8 times, I visited 10 countries and 42 cities.
This year we also travelled more by car. The only flight we took was to Egypt. Apart from that, we focused on visiting Poland and Europe.
January
The beginning of the year was very calm for us. We were still recovering financially and mentally after the accident and losing our car. I had to rehabilitate my twisted fingers.* Therefore, we didn't go anywhere and we dedicated free weekends to rest at home.
*If you don't remember this story, check the summary of 2016.
February
The next month was much better for us. We gave our first interview for the website CareersinPoland. It was related to our life in Poland. We were very happy about the interview and the positive response from the readers 🙂 On the other hand, I finally decided to cut my hair and donate if for Rak'n'Roll foundation. Out of 40 cm of my hair they made a wig for a brave woman fighting cancer! It's a really motivating feeling, that with such a little thing I could help someone in need. I'm growing my hair now and when they are long enough, I will donate them to the foundation again. I also recommend you to choose a hairdressing salon which cooperates with the foundation and donate your hair!
At the end of the month we went for the first trip by car outside Poland. In Bavaria we visited the Neuschwenstein Castle, we were in Garmish-Partenkirchen and Lindau. We travelled to Vaduz, the capital of Liechtenstein and then through the Alpes to Italy. There, we visited Trento, Bolzano and Venice during the carnival. Later we went to Slovenia to participate in Civil March Berlin-Aleppo.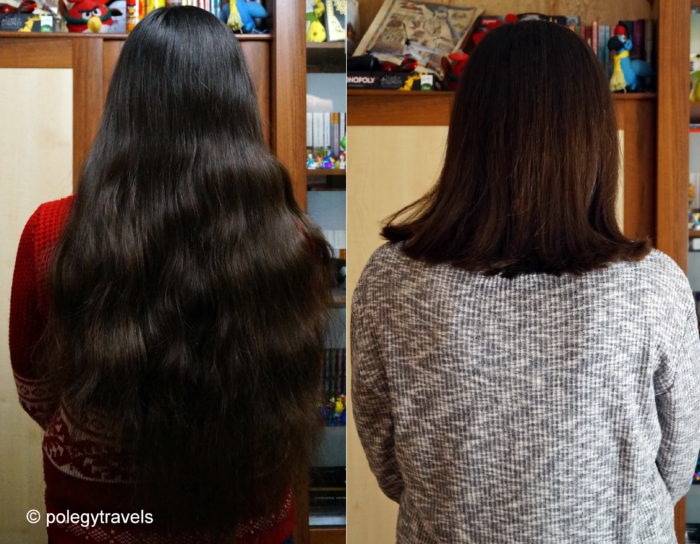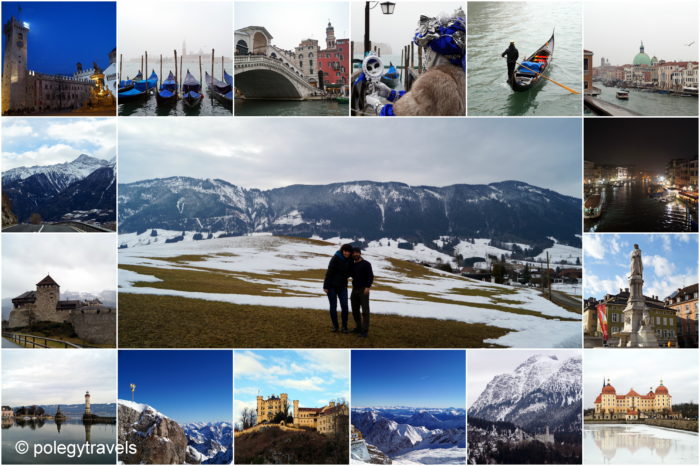 March/April
Another two months we spent without traveling. Nevertheless, we worked a lot and saved money to be able to complete our plans.
May
Actually in the last days of April we started the only trip by plane this year to Egypt. We had bought the tickets in January with a really good price and we had to go. It was a wonderful week with family and friends. We visited the Old Cairo and Al-Azhar Park. In our hometown, Port Said, we also found some new places. We ate our favorite local dishes, we had rest and we recharged our batteries for next months.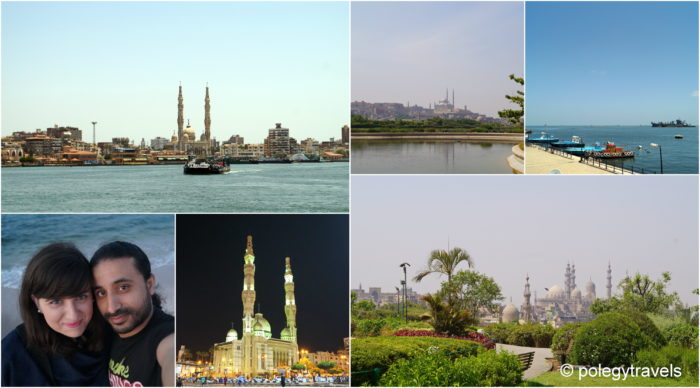 June
At the beginning of the month we took part in a campaign of planting trees. Thanks to that, during an event in Warsaw we met a Polish traveler, Martyna Wojciechowska. The last weekend of June we went to a lavender field and it was not in Provence!  We were in "Ogród pełen lawendy" (Lavender garden) in Ostrów near Cracow and we marveled at the blooming purple field. After that we went to one of the loveliest places in Poland, and for sure the most colorful, Zalipie. We had a chance to enter the Museum of Felicja Curyłowa before it was closed for renovation. On the way back home we passed by Pacanów, the city of Matołek the Billy-Goat.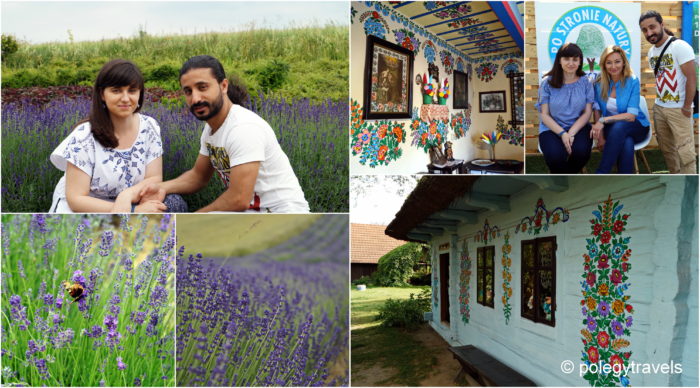 July
Sunny July was full of work for us. Luckily, in June I finished my work in a public and language schools. Finally, I could rest and work only in one place. However, we still worked a lot because our dream trip was coming in August. At the end of the month we celebrated another, 4th to be precise, wedding anniversary.  Also, we participated again in volunteering for the Football World Cup of Children from Care Homes. Because of the languages we speak, I took care of the group from Spain and Mohamed the one from Palestine. You can't imagine how stressful and at the end happy I was when after two exhausting days my team won the World Cup! The happiness of the kids was huge and we were delighted that we could participate in this beautiful project again.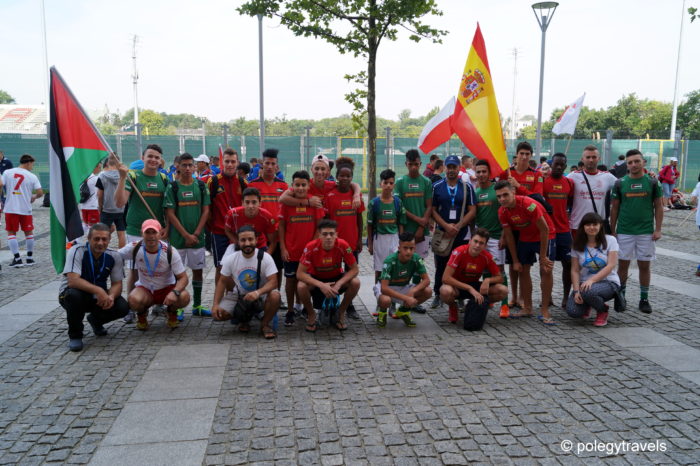 August
At the beginning of the month we had fun at my sister's wedding and right after we left to make our dream come true and visit Andalusia. After almost 3 weeks we saw Strasbourg in France, part of the Basque Country, Castile, Andalucia, Murcia and Catalonia. We were in lovely San Sebastián and San Juan de Gaztelugatxe where we celebrated my birthday. Then we visited Salamanca, Toledo, Segovia, Ávila, in Daimiel we met our friends and kids from the event we had participated in a month earlier. We walked in the streets of Cordova, we rested in Seville, we were delighted to see small Ronda and magical Granada. Despite our concern, we managed to enter Gibraltar and see the coast of Africa from the top of the Rock. In Murcia we celebrated Mohamed's birthday and in Cabo de Gata we observed flamingos.
It's impossible to mention all the places we've been to in Spain so if you want to get back to that trip in details, here is the post: Road trip to Andalusia.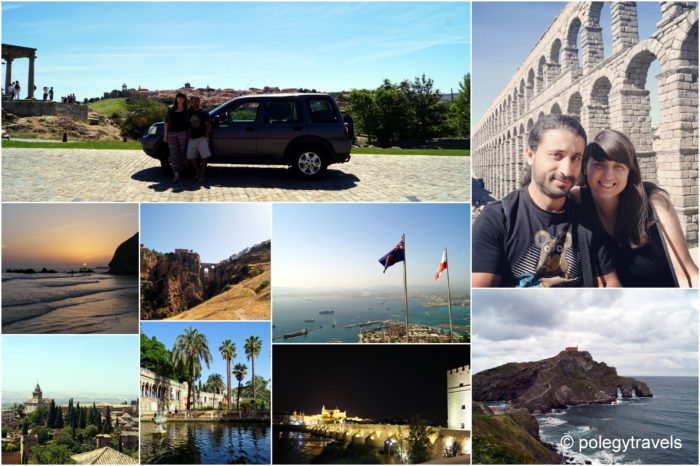 September
We have just come back from Spain and started working again when I got an offer of going for a business trip to South Korea. It wasn't an easy decision for us, the trip was supposed to last two months. Nevertheless I agreed to go and in mid-September I landed in Seoul.
October
My stay in South Korea was really tiring because of the amount of work and using all free time to travel. I spent two weekends I had off sightseeing in Seoul. Despite difficult start, I really liked the city. I ate the local cuisine, I tried to learn Korean alphabet and get to know the local culture. At the end, my trip was shortened so I came back from South Korea after three weeks.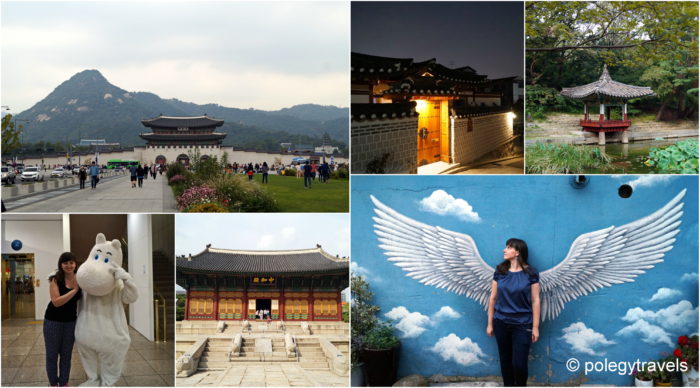 November
As we didn't have money to travel far, we spent a weekend in Malbork and Gdańsk. For the first time we went to those cities together. We could also have some "slow travel" and really have some rest. In Malbork we visited the Castle of the Teutonic Order and in Gdańsk we went to the Old Town, Museum of the Second World War and Westerplatte.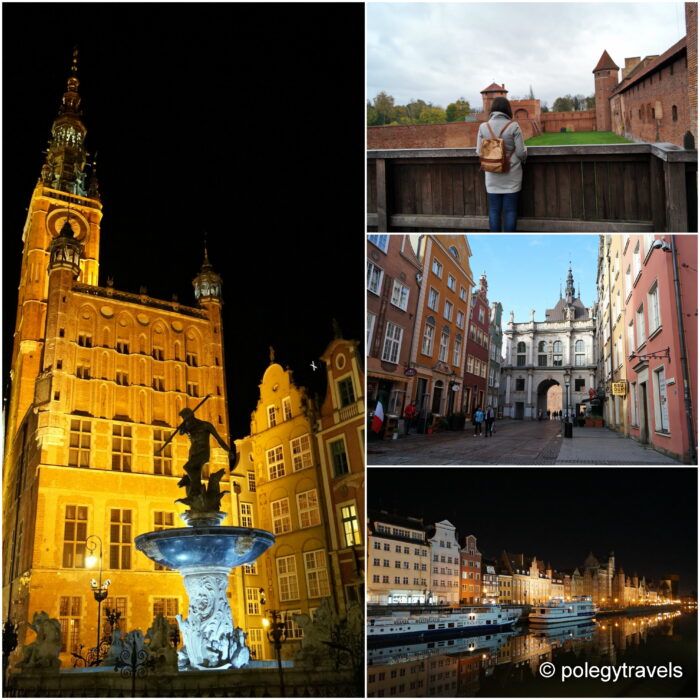 December
The end of the year, the same as its beginning, is for us time to rest. No travelling, no rushing, we have time for each other, family and friends. We spend Christmas and the New Year's Eve at home. Just like that. I guess we still need a break 😉
Blog summary
We are delighted that our blog changed so much during the last year. Firstly, I wrote articles regularly. Altogether, 33 new texts were published in Polish and 28 of them also in English. Obviously, there could have been more, I still didn't write about many places we had visited this year 😉 However, with all the work we have apart from the blog, I'm really happy about this number. What's more, we care more about the quality not quantity. Our articles are more detailed, they contain better photos. Preparing all that takes a lot of time but it has a positive response among the readers.
Social media
On regular basis we update our Facebook and Instagram. We pay much more attention and put more work into taking pictures. Our photos are getting better and better and we just want to share more of them. Of course, they are far from being perfect, but we see the difference and we want it to keep improving in the future.
For few months we tested Snapchat but the application didn't convince us to use it. We rather publish stuff on Insta Stories where you can see our travels and a bit of daily life.
We are glad to see that there more of you on our blog, Facebook, Instagram and Twitter. I don't have the exact numbers to compare with the previous year but we see we have more readers. So many of you have been with us since the beginning and others joined this year. More and more people follow our Facebook, Instagram and Twitter which motivates us to keep on writing the blog 🙂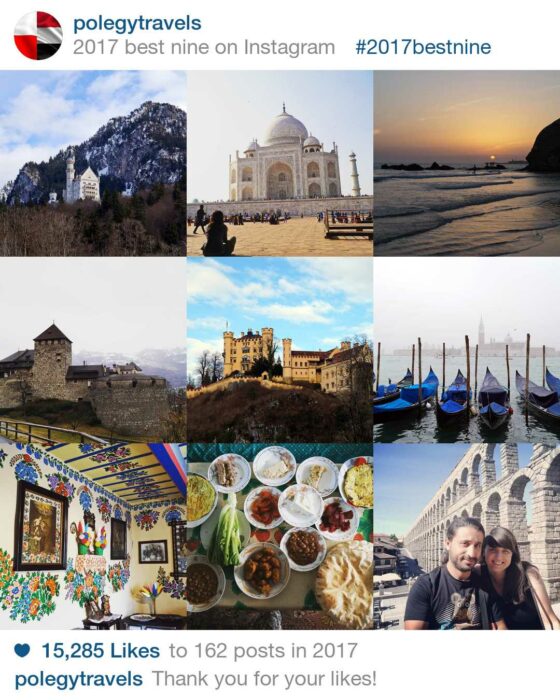 All the rest
Apart from travels, this year we have published several reviews of travel books and one recipe for an Egyptian dish. I want to continue those two topics next year. The first one because I read a lot anyway and travel books are ones of my favorite types. I want to use it and recommend you books worth reading. Unfortunately so far all the books I've read were in Polish so I didn't publish any review in English. The second idea which is Egyptian cuisine, started because we experiment a lot with cooking. Actually, our Egyptian half does. Mohamed misses Egyptian food so he looks for recipes for his favorite dishes, test them, improve and this is how our recipes for homemade Egyptian food are created. We thought it would be a shame if only we used it and to be honest, there aren't many reliable Egyptian recipes online.
This year I also managed to join the Arabic course again. After one year and a half which I needed to focus on my graduation and writing my essay, I started the classes. You can't imagine how relieved I was when I could communicate with my husband's family during our stay in Egypt in May. Obviously, I can't talk about things more complicated than asking how the weather is or saying that the food was tasty. However, if I remember the first moments I spent with family when my husband had to translate each and every thing, I see a huge difference. I know basics, I can talk about simple things and thanks to that I feel more comfortable. Maybe the Arabic language will appear on our blog too if I have an idea for thematic posts 🙂
Plans, plans, plans
We should mention here what our plans for 2018 are. Unfortunately, we don't have any 😉 It's not right for travel bloggers, but what can we do it this is the truth? We don't have any plans for trips yet, although we still have many travel dreams. First of all, we want to focus on other things before we plan any trip. Don't worry, we are not going anywhere and we are not abandoning the blog 😉 On the contrary, we are staying, we will keep on writing, creating the blog, I hope at least as regularly as we did this year. We will still travel to but before we decide when and where, we need to arrange some stuff.
Thank you so much for being with us this year, reading, following, commenting, liking, sending messages and emails. You have no idea how happy we are after receiving a message that our text was useful and interesting for you. We hope you will stay with us for another year 🙂 And taking this opportunity, we wish you all the best for the New Year! We don't wish you only interesting travels but also time for yourselves, your families, good health (because without it nothing really matters), make your dreams come true and enjoy everyday life 🙂
How was your 2017? What are your travel (and all other) plans for the upcoming 2018? 🙂 And how do you like changes on our blog and new types of posts? 🙂