Are you planning to go to the capital of South Korea and you need to prepare for your trip? Great, this text will be perfect for you. Seoul is a city full of attractions so I will write about places to see in another post. Here I will tell you about practical aspects of visiting South Korea. You will find information about transport in Seoul, useful applications which will help you survive in the city, what you should eat and places where you can do shopping.
I wanted to write for you a practical guide about South Korea in general, but taking into account that I was only in two Korean cities, it wouldn't be complete. However, many information will be useful not only in visiting Seoul but also other places in the country.
1. Transport in Seoul
There are 9 lines of metro in Seoul and they will take you everywhere. What's more nearby cities are connected to the capital with 12 lines of trains. You can buy tickets in special machines on the stations.
Which ticket should you buy?
There are two types of tickets. One way ticket which you can buy before each trip or transport card that you can top up with bigger amount of money. If you buy the one way ticket, you must select your destination on the screen and pay the given amount of money. The lowest price for a ticket is 1250 won but you also pay 500 won of deposit. In case you travel to a further station than you chose while buying the ticket. After your trip, you just insert the ticket in the machine and receive your deposit.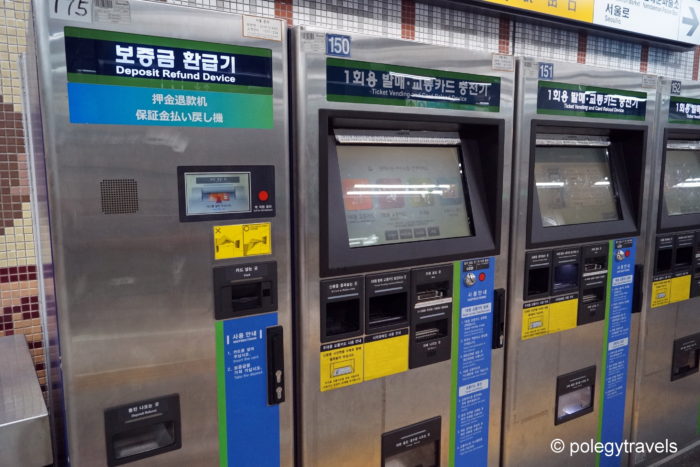 On the other hand, if you want to save time on buying ticket before each trip by metro, you can buy a transport card in any information point in metro stations. The deposit of a card like this is 2000 won and you can top it up with amount of money you choose. You can use the card for metro, trains and buses so it's really more comfortable. The only disadvantage is that you can't return the card. I tried to do it before leaving in the information center where I bought the card and that's what they told me. I left it then as a souvenir 😉
Apart from that, there are several types of tourist cards. You can use transport without any limits for the whole validity time of the pass and also get some discounts for sightseeing or shopping. If you want to read more about those cards check the website.
2. Useful aplications
Mapy
Before going to Korea I didn't have enough information. I didn't know which applications would be useful in visiting. When I got there, it turned out that Google Maps is not working in South Korea very well. The map isn't precise and doesn't show directions. It's better to use another app instead. I can recommend you Maps.me which shows all tourist attractions, names of the streets and what's most important, you can use it offline. I used it many times while visiting different districts of Seoul. KakaoMap is also a good app but unfortunately, it requires Internet access.
Transport
The Kakao applications are good while using public transport. KakaoMetro has maps of metro and KakaoBus schedule of buses. Both apps work in several Korean cities and you can use them offline. It's a really good idea to have them on your phone. With KakaoMetro you won't get lost in metro in Seoul.
Korean language
Before travelling it's good to invest time and learn the Korean alphabet and basic expressions. The language may seem complicated at the beginning but the alphabet is not that difficult. There are many English word used in Korean so if you know the alphabet, you will be able to read and understand basic words. A good way to learn the alphabet is using the application WriteItKorean. Each lessons teaches you two new letters and how it connects to others. You learn how to write it step by step and in the proper sequence and you also listen to its pronunciation. I started learning already in South Korea while I was travelling by metro. Every time Korean people saw that, they smiled 😉
To learn basic expressions you can use Duolingo. It's interesting that Korean appeared on Duolingo in September when I actually went to South Korea. The first lessons are also about alphabet so I recommend you start with WriteItKorean to learn first how to write. Then use Duolingo for revision. After that, you can learn basic expressions without any problem.
3. Food
If you go to Korea and you don't speak Korean, you may encounter many difficulties if it comes to food. In most restaurants the menu is only in Korean and you can't be sure what you order and what you will eat. In general, in Korea people eat a lot of meat, mostly pork and beef. So if you are vegetarians or you can't eat some products, you can prepare its names in Korean on a piece of paper. Even if you can't pronounce the words, you can show them in the restaurant and explain that you don't want that in your meal. Koreans are very nice and helpful people. However, if you don't have any allergies and you can eat everything, going to a restaurant with Korean menu only, might be an interesting experience 😉
Sometimes when the menu is not translated to English, it has pictures of the dishes. This way, at least you get an idea of how the meal looks like and it's possible to recognize some ingredients. To be honest, the best food is in places which have only Korean menu and where there are a lot of people. Golden rule of choosing a place to eat: are there many people and menu is only in Korean? The food is tasty.
What to eat in Korea?
If you eat meat, for sure you should try Korean grilled pork. You grill the meat yourself at you table. Another popular dish with meat is called bulgogi. Those are pieces of roasted of grilled beef. Also, you have to try street food. You will find grilles seafood, fruit snacks or sweets with red beans (really tasty!).
The national dish is kimchi. Kimchi is made of fermented vegetables, mostly napa cabbage. There are many types of kimchi and they also use turnip and cucumber to prepare it. Kimchi is spicy and Koreans just love it. I'm sure you will have a chance to try it. It's a side dish of all the meals.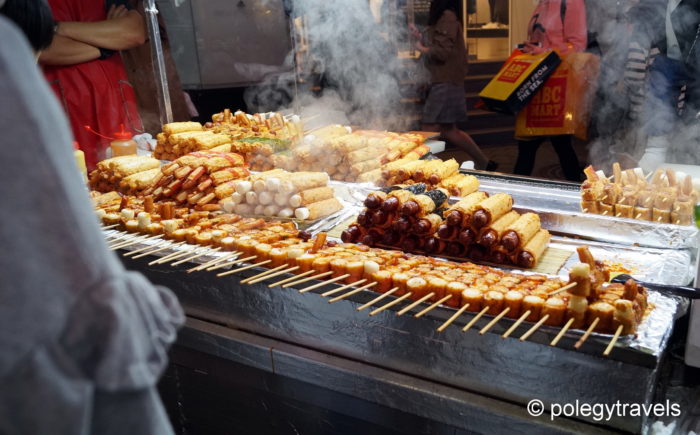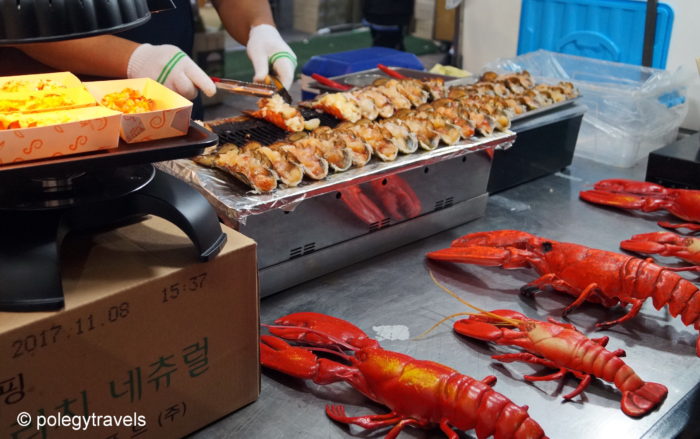 Where to eat?
Myeong-dong and the one around Jogyesa temple, are perfect are perfect to try street food. Apart from that, look for places in smaller streets, further from the tourist attractions. The prices will be lower and the food better. If you don't like Korean cuisine at all, you will find many restaurants with European food in Seoul. There are also fast foods we know in Europe. You will survive and find something to eat 😉
4. What to buy in South Korea?
I wrote about it before but shopping in Korea deserves a special paragraph. It's worth buying cosmetics and clothes in South Korea. There are many local brands of cosmetics with products which are difficult to find in Poland or their prices are few times higher. Korean cosmetics are good quality products, so save some money for shopping 😉 I recommend face masks.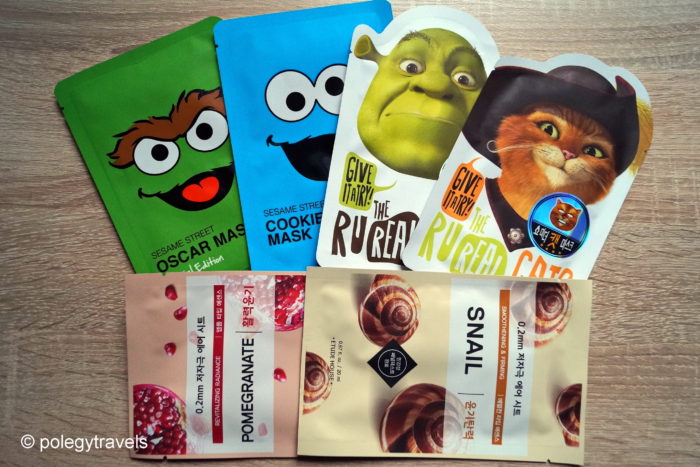 Clothes are another thing mostly bought by tourists. The same as with cosmetics, there are many local brands and you won't find them anywhere else. As one of my friends said: all Koreans are well dressed. That's true. The clothes they produce are practical and elegant at the same time. I also recommend you buy socks. Koreans love socks with characters from comic books, Disney movies, animals etc. Many of them are produced in Korea, they have good quality and tey are cheap. A pair of socks costs 1000 won, around 0.75 euro.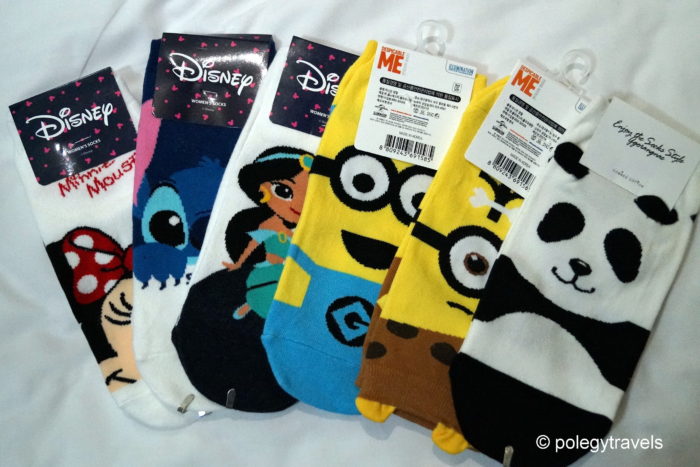 You will also find many shops with phone cases and headphones with all possible patterns and colors. There are so many accessories for mobile phones but if you own a different model than a Samsung or an iPhone, you won't be able to find anything for your phone.
I almost forgot that apart from shopping, many people come to South Korea because of K-pop! Before going there myself, I had no idea that this type of music is so popular in Europe. So if you listen to K-pop or any of your friends like this music, you will definitely find CDs to buy.
Where to do shopping?
The best place to buy clothes and cosmetics is Myeong-dong. Many shops and many discounts 🙂 You can find stuff with really good prices. Also there is much more to choose from. At the beginning you may feel a bit tired with the shop assistants who like to follow customers and show them products even if you don't ask for it. Don't become discouraged. Say thank you and tell them that you will ask for help when you choose something.
On the other hand, the best place to find souvenirs is Insadong. You will find everything there, magnets, postcards, local ceramics and traditional dresses.
5. Money and prices
I wrote a lot about prices in another text. The topic is too big to talk about it here too so if you want to know if South Korea is expensive, check it here.
I think the useful information for you will be about changing money and using ATMs. The currency of Korea is won. You won't find them in Poland and most probably in other European countries and if you do, the exchange rate will be high. I recommend you take dollars with you and exchange it in a local bank, where you find a good rate. Also it's good to have a note of 10-20 dollars to exchange it at the airport and get to your hotel. The rate at the airport will be higher than in a bank I n the city, so it's a waste of money to change more than that.
If it comes to withdrawing money from a foreign card, you will be able to use only ATMs marked with "Global". Other won't accept your card. Based on the amount you withdraw the bank takes the commission of few thousand won. Check if it's more practical to withdraw bigger amount at once. Sometimes it was difficult for me to find a "Global" ATM in Seoul, so make sure you have enough cash to buy food and pay for the transport.
I also paid several times with the card and I didn't have any problems. However, topping up the transport card was possible only with cash. If you buy more things in one shop, have your passport with you! You will get few thousand won of tax back 🙂
Before going to Korea, check what will be more economic in your bank, use the card in your local currency or creating an account in dollar. I used one in dollars and thanks to that, I saved money on exchanging my local currency to won.
6. Internet in South Korea
At the airport you can buy a SIM card with Internet and it will be valid up to a month. The place to buy it is located near the entrance to the arrival terminal. Make sure that you need the card before you buy it. In tourist places and in commercial districts there is public Wi-Fi and it works quite well. I didn't have problems with connecting to Internet in Myeong-dong or Insadong and you could see the proof on my Instastories from Seoul 🙂 For three weeks I used only Internet in the hotel and the public one while visiting Seoul.
7. Do Koreans speak English?
I wrote many times that Koreans are helpful people. If happened to me several times that someone approached me at the metro station and asked if I needed help or just wanted to know where I come from and what I do in South Korea. Nevertheless, it doesn't change the fact that the knowledge of English in Korean society is rather low. Usually, people who are in their forties speak English. In tourist places, when you buy tickets or in information points, you will be able to communicate in English. Apart from those places, it may be difficult. That's why at the beginning of this post I recommended you learn Korean alphabet and basic expressions.
8. Accommodation
I don't have much experience if it comes to accommodation in South Korea because I have spent my whole stay in one hotel in Suwon. However, I did some research on Booking when I was planning to stay in Seoul for the weekend and I found many interesting offers. I will present you three hotels where you will pay even less than 25 euro per night for a double room. All of them are located near one of many metro station:
K-pop Guesthouse Seoul Station
It's not that expensive in Korea when you see accommodations offers like that.
Are you going to South Korea and you have other questions? Ask in the comment or on our Facebook page. If I can, I will be happy to help you 🙂
I worked a lot on preparing this practical post so I will glad if you could share it. I hope you will find it useful too.