Seoul is full of tourist attractions. I found it hard to decide which places I should see and which ones I could skip. There wasn't a chance to see everything because I had only two weekends to visit the capital of South Korea. Four days are too little to visit everything; however it's enough to know the city a bit.
Seoul is a metropolis of more than 10 million inhabitants. It's a city with really advanced technology, with a mixture of modernity and tradition, city where many wars and invasions left their mark until now. Seoul is an intriguing city. Between high-rises and modern buildings we can see palaces and traditional hanok houses and all that surrounded by mountains. Sounds interesting, doesn't it? So what should you see in Seoul?
1. Gyeongbokgung Palace and Guard-Changing Ceremony
In my opinion it's the most interesting attraction in Seoul. Gyeongbokgung Palace was built in 1395 by Joseon dynasty. It was destroyed and rebuilt many times. Since the 15th century royal guards protected the Gwanghwamun Gate. In 1996 the tradition was restored and nowadays guard changing ceremony is a tourist attraction. It takes place every day (apart from Tuesdays when the palace is closed) at 11 am and 1 pm. The guards wear traditional costumes and carry arms. Whole ceremony is spectacular and very popular among people visiting Seoul.
Practical information:
– the palace is closed on Tuesdays
– entrance ticket for an adult costs 3000 won and for children 1500 won
– there are many palaces in Seoul and after visiting few of them you get the feeling that they look the same… They were built during the reign of Joseon dynasty so they are all in the same style. I recommend you choose one or two palaces if you don't have much time in Seoul. Gyeongbokgung Palace with guard change and Changdeokgung which I will describe for you below, are a good choice.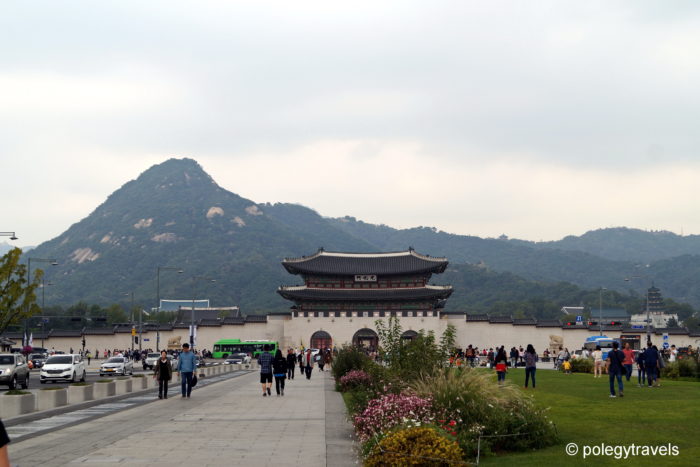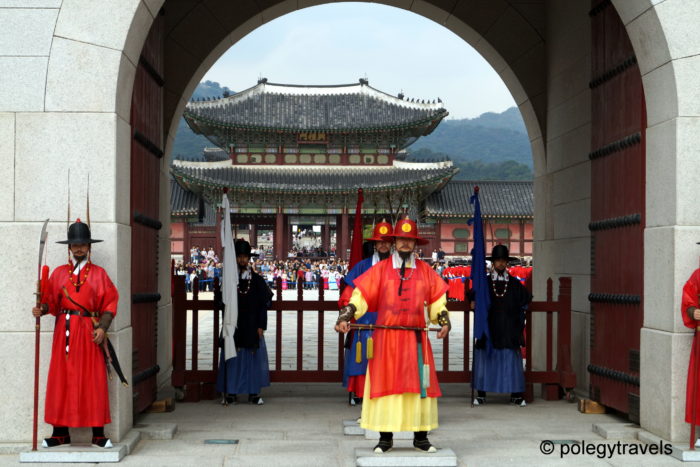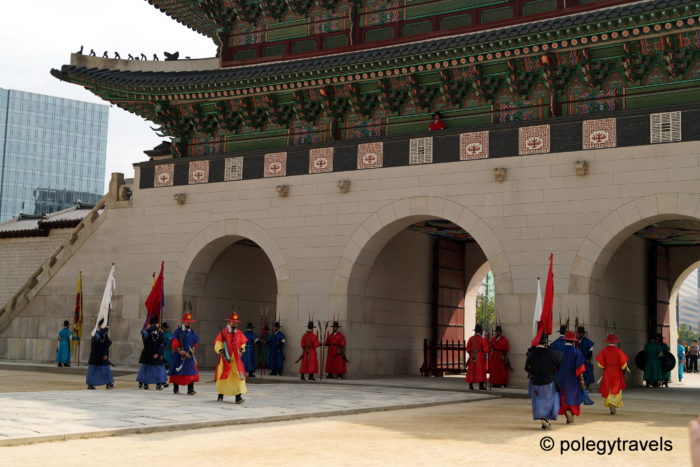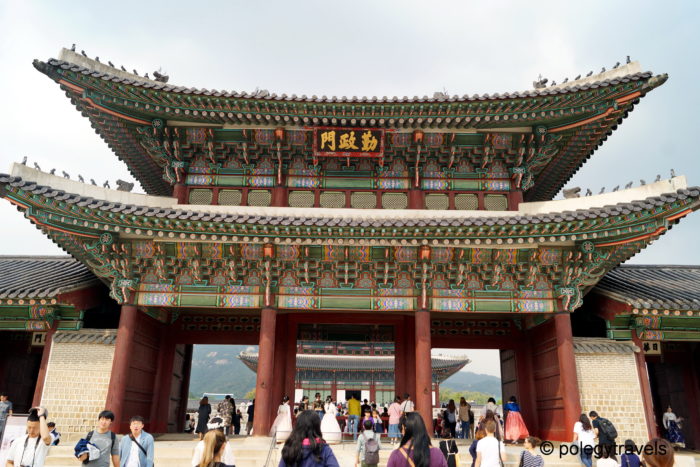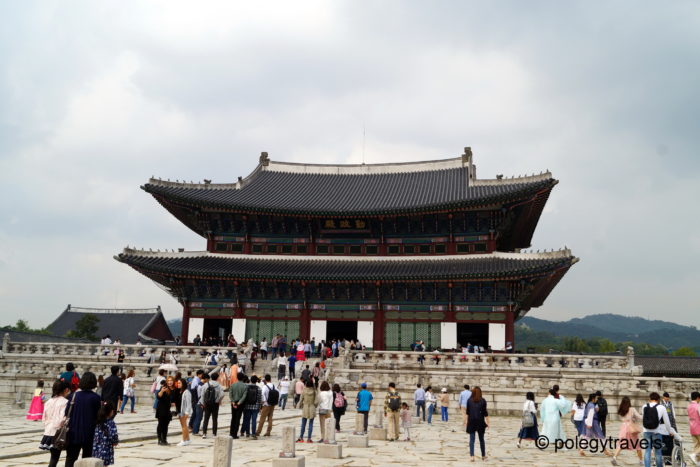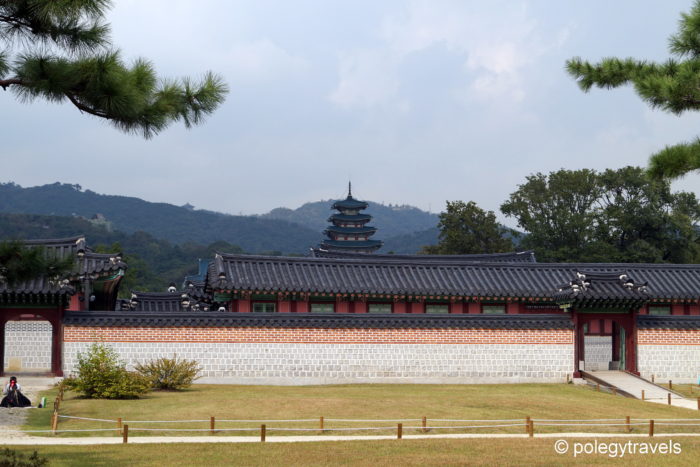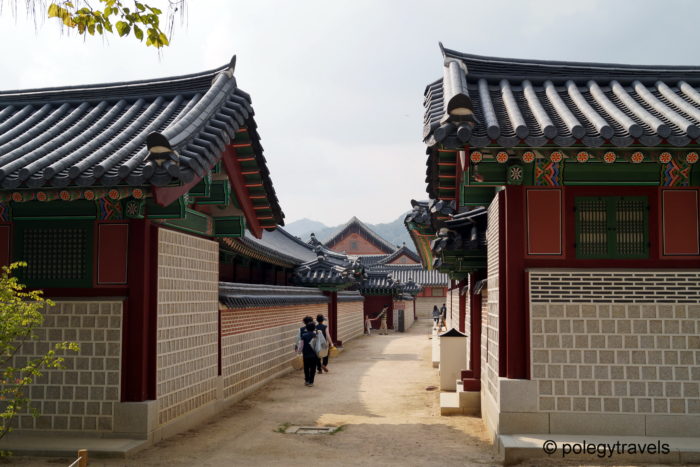 2. Changdeokgung Palace and Secret Garden
It's also called Changdeok and as Gyeongbokgung, it was built by Joseon dynasty. In 1997 it was added to UNESCO World Heritage List. Undoubtedly, the biggest attraction of the palace is Huwon, which means 'rear garden'. The garden has 32 ha and there are ponds, hundreds of types of tress and some of them are even more than 300 years old! It's called Secret Garden because it was made for the royal family and even high officials couldn't enter it without king's permission.
Practical information:
– entrance ticket to the palace cots 3000 won and the combined ticket to both palace and garden cost 8000 won
– entering the Secret Garden is possible only with a guided tour. Group visits in English is possible three times a day. It's good to book tickets for the hour you choose, sometimes they are sold out and they aren't available at the ticket office. You can book tickets here.
– the palace is closed on Mondays
– guided tour in the Secret Garden takes around 1 hour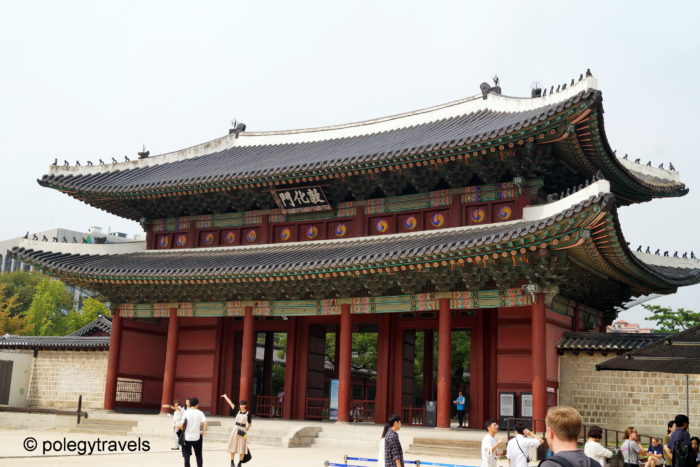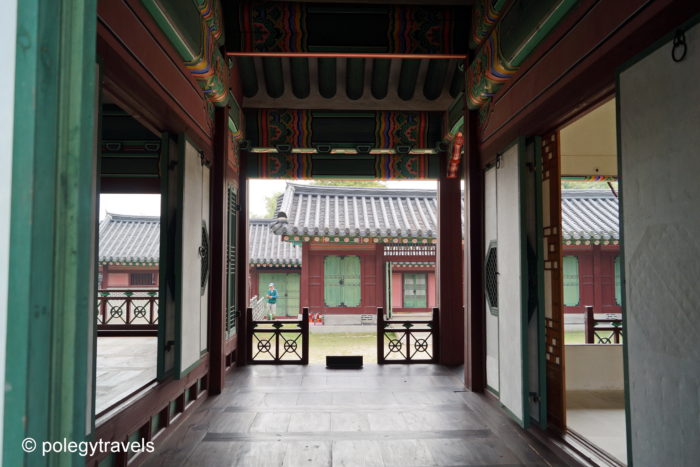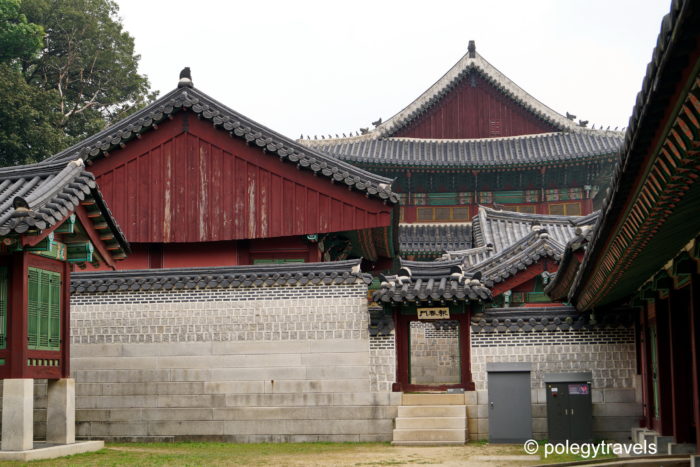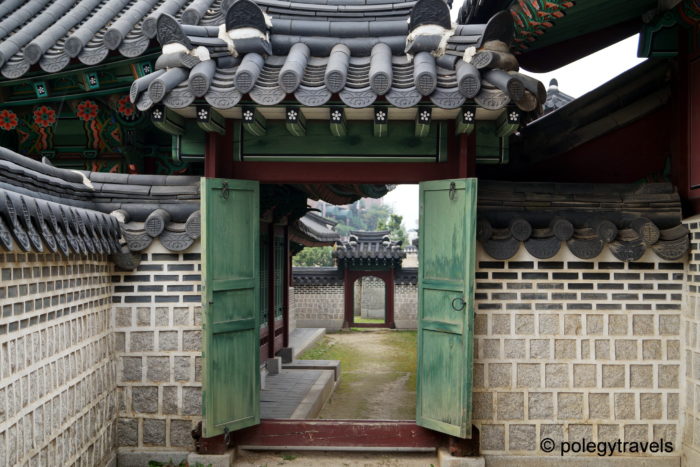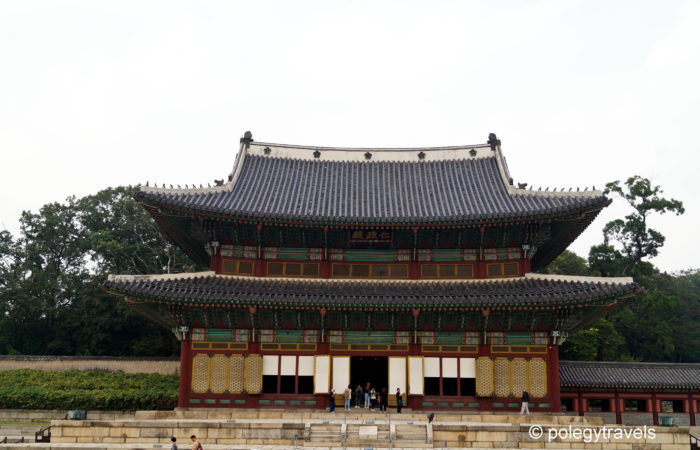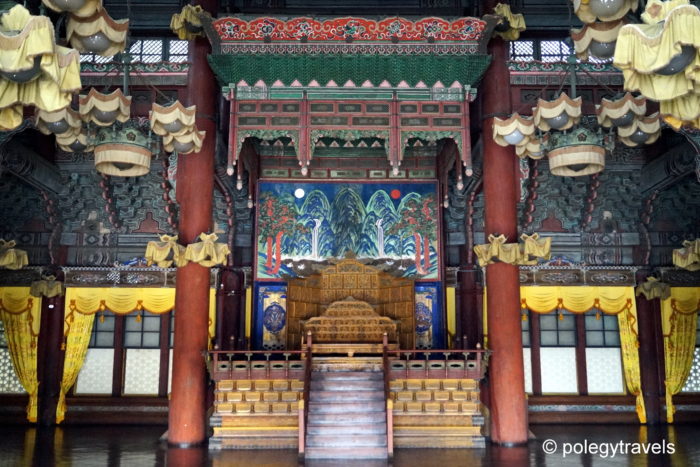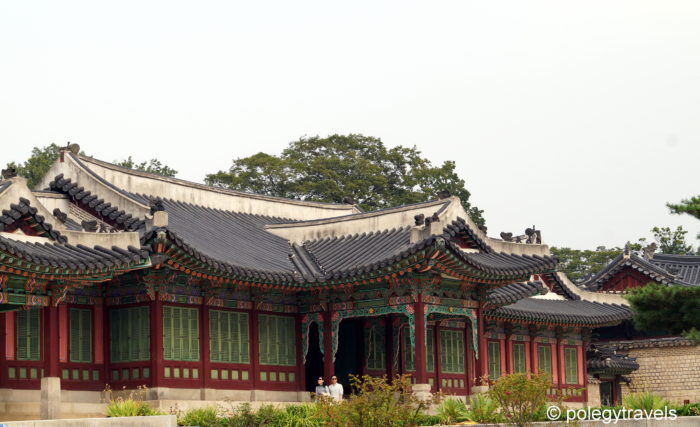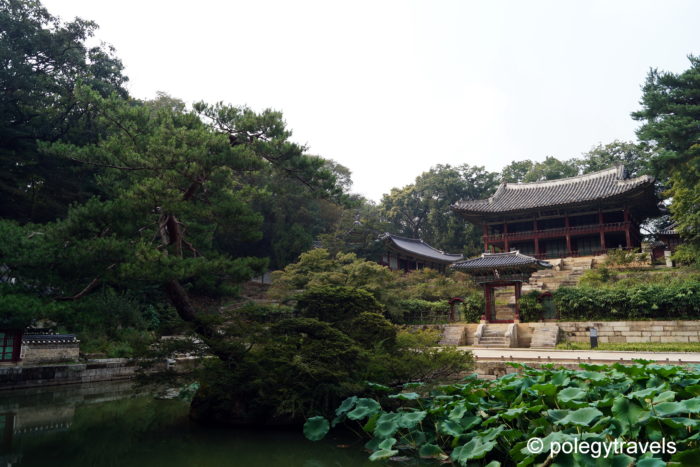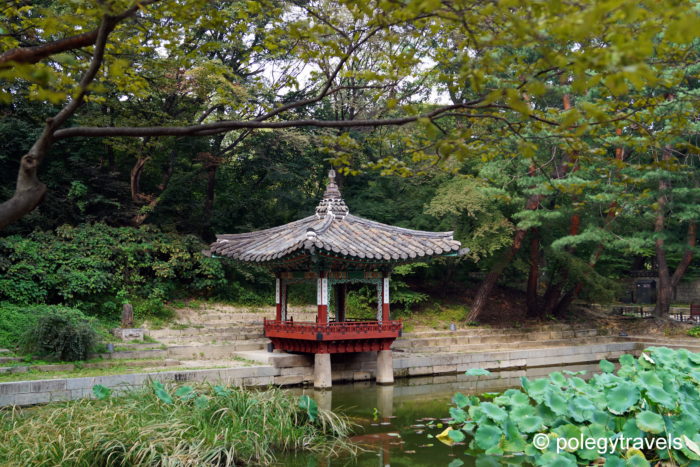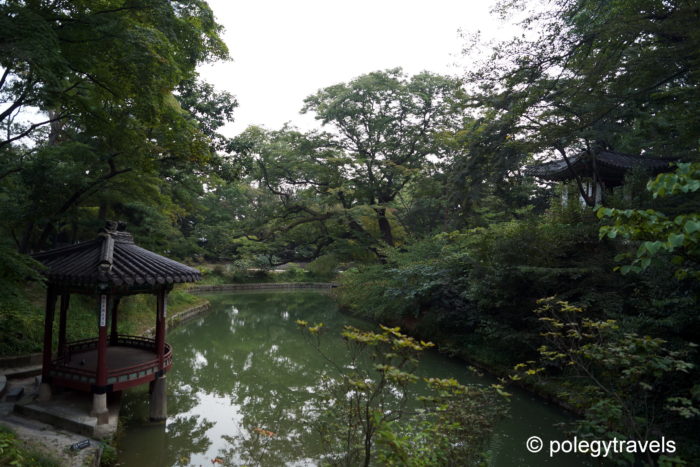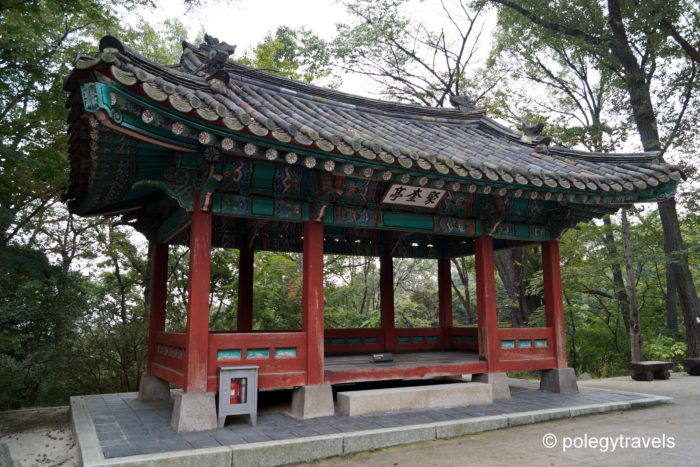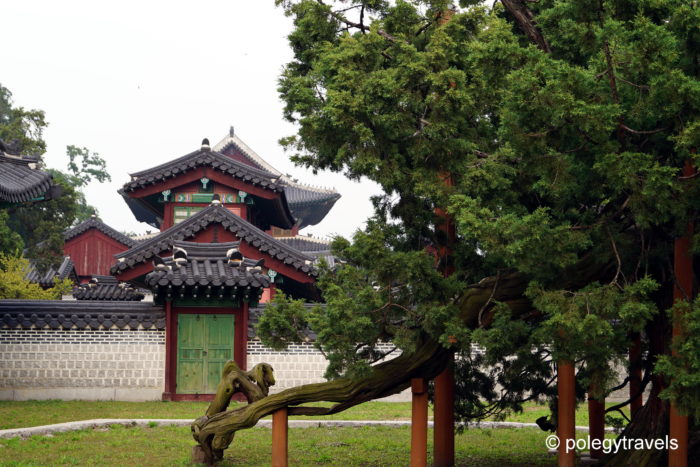 3. Ihwa Mural Village
It's the most colorful place in Seoul. Ihwa Mural Village is located in Ihwa-dong on of the oldest districts in the city. It used to be inhabited by poor families and old people and it was ruined. Thanks to 'Art in the City' campaign of the Ministry of Culture, Sport and Tourism in 2006 the area was renovated with paintings and artistic installations of around 70 artists. 'Ihwa-dong Naksan Project' influenced the popularity of the zone. Many tourists and inhabitants of Seoul visit it nowadays. The place is full of colors and has a unique atmosphere.
Practical information:
– from time to time some murals are removed so you should ask in information points for actual mural map
– it's not easy to get to Ihwa Mural Village. The best way is to get out of metro line 4 on Hyehwa Station. For further instructions in English read here.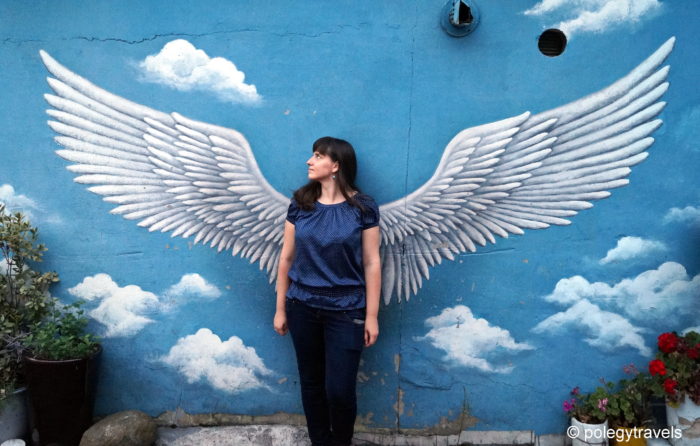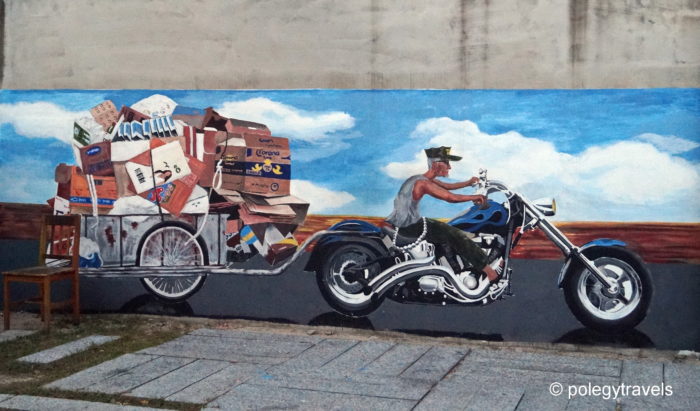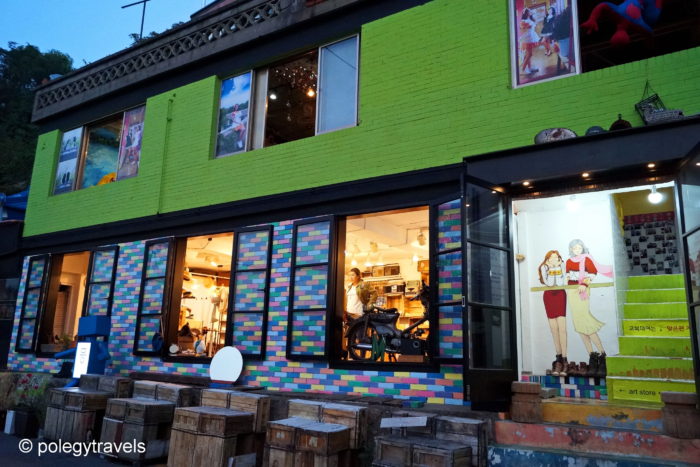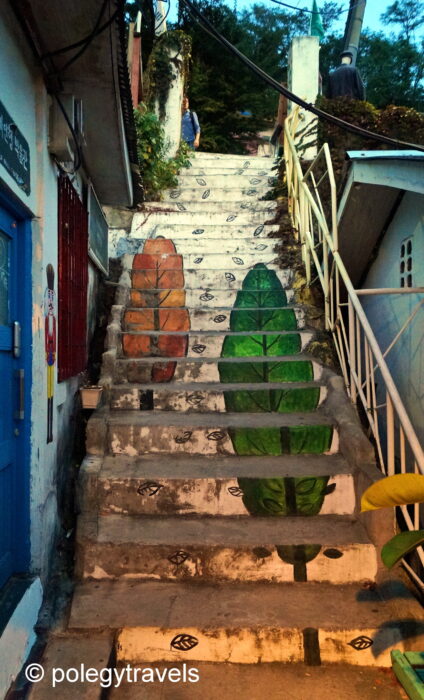 4.National Folk Museum of Korea
If you visit Gyeongbokgung Palace, remember to go to the Folk Museum, it's nearby the palace. Even if you are not a fan of museums, I believe it's worth visiting this one. You will learn a lot about the history of Korea, since prehistoric times until 1910. There are reconstructions of traditional Korean houses, many artefacts related to daily life and even an exposition of kimchi production. Outside the museum you can also see how the Korean school used to look like.
Practical information:
-admission is free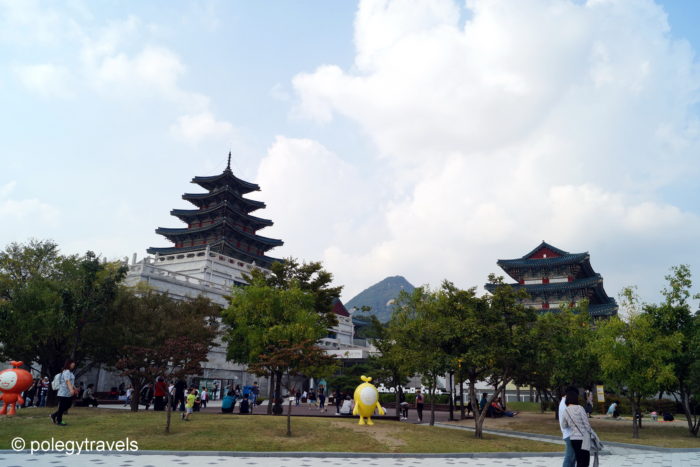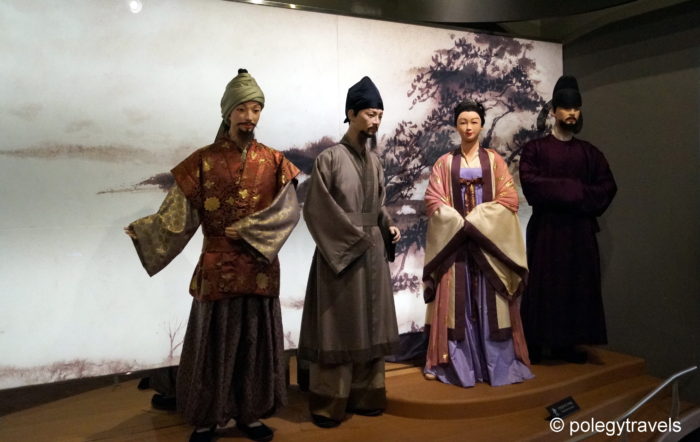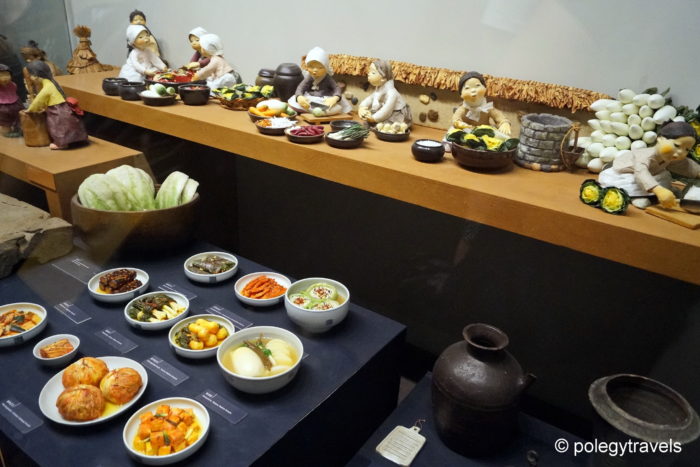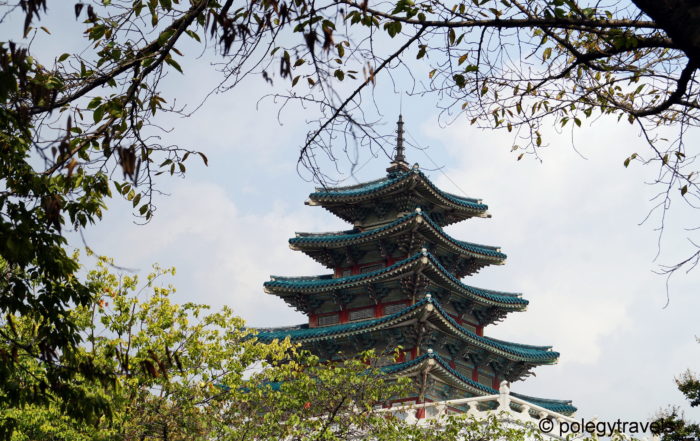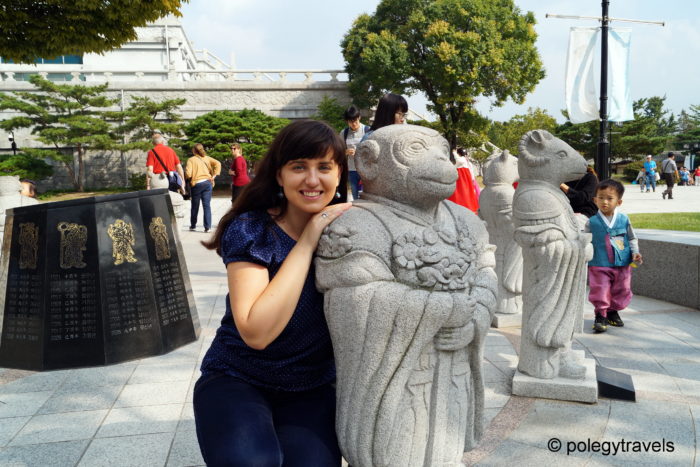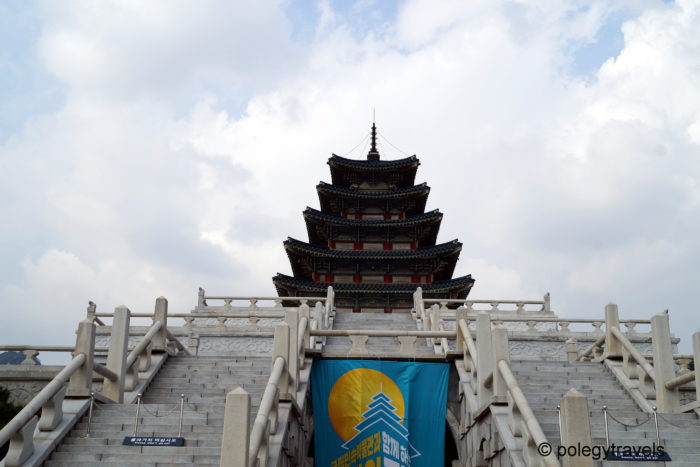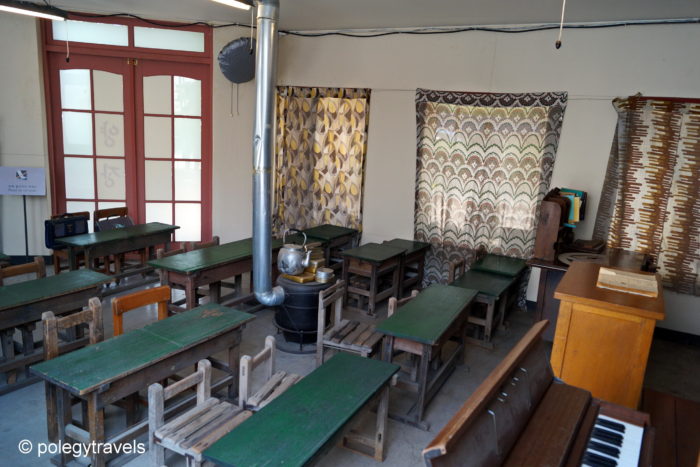 5. King Sejong Statue and an exhibition hall
You can see King Sejong Statue on Gwanghawmun Square from far distance. The bronze statue is 9.5 m high. Sejong was famous for inventing hangul, the Korean alphabet. During his reign, South Korea developed in science, agriculture, literature and medicine. For the king's influence in the country's progress, he is also called Sejong the Great. Under the statue there is an exhibition hall 'Sejong's Story' where you can learn more about king's life and achievements.
Practical information:
– entrance to the exhibition hall is free
– the statue is near Gyeongbokgung Palace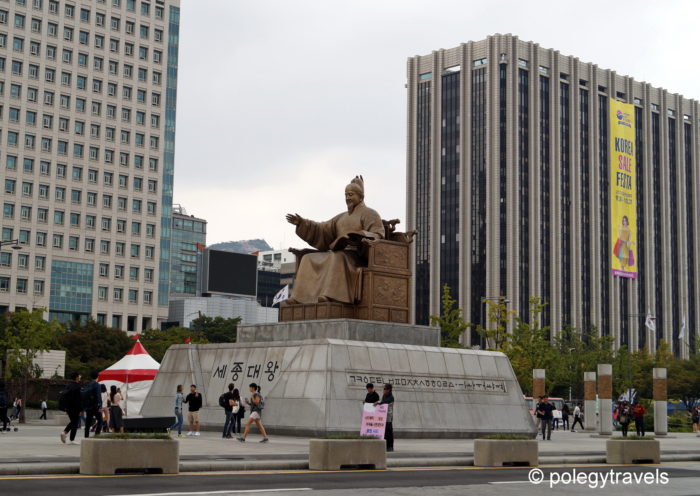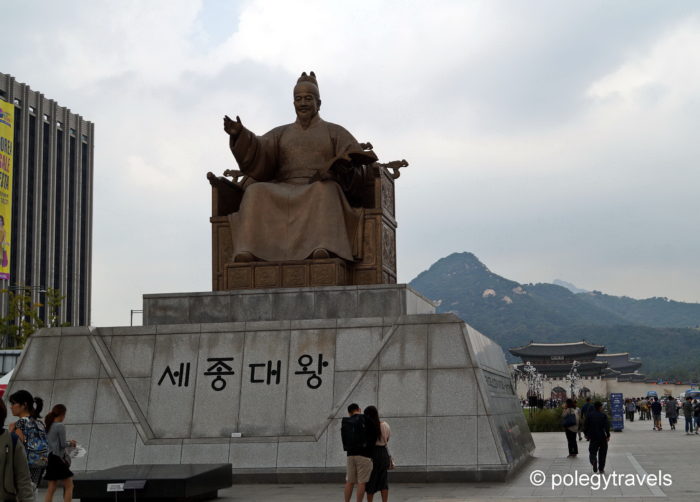 6. Jogyesa Temple
According to data of Pew Research Center from 2010, 46% of Koreans doesn't belong to any religion, 29% are Christians (mostly Protestants and Catholics) and 22% are Buddhists. Jogyesa Temple was built at the end of 14th century and it's the most important Buddhist temple in South Korea. The temple itself and its surroundings are impressive. Check it on the pictures yourself.
Practical information:
– entrance to the temple is free
– you can't take pictures inside the temple
– the temple is 15 minutes' walk away from Gwanghawmun Square with Sejong Statue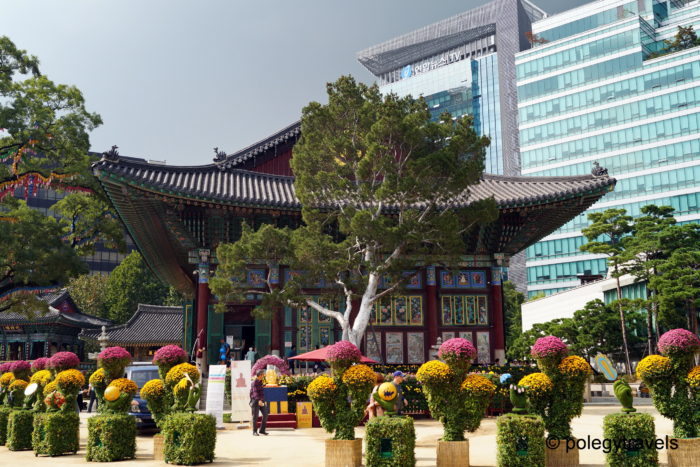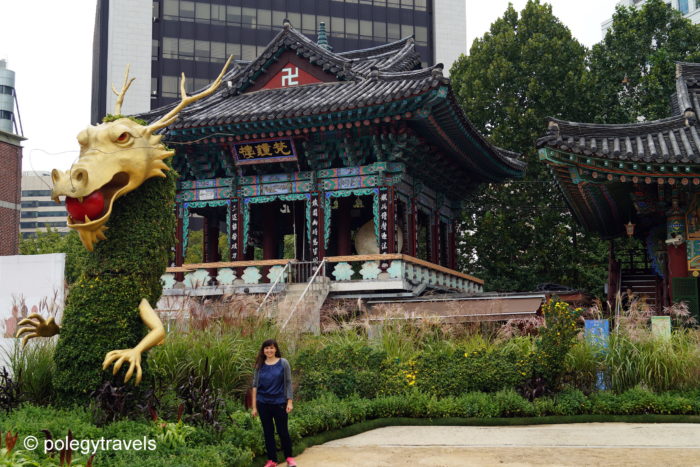 7. Bukchon Hanok Village
Hanok is a traditional house known in the times of Joseon dynasty. There are several places in Seoul where you can see those traditional buildings. Bukchon Hanok Village and Namsangol Hanok Village are the most popular. Nowadays there are hotels, restaurants and tea shops in hanoks and they give people an opportunity to learn about Korean culture. Unfortunately, I went to Bukchon late in the afternoon and most of the places were already closed. It's a good experience to have a walk around the traditional houses, they are really impressive.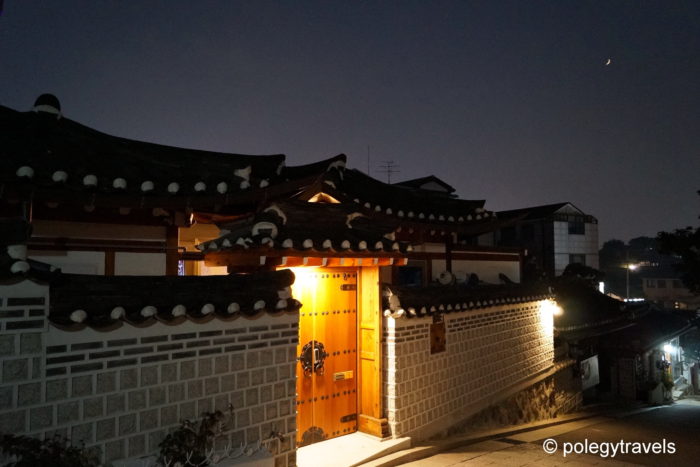 8. Deoksugung Palace
Yes, another palace and it also belonged to Joseon dynasty. If you have time, you can visit it. It's smaller and less spectacular than Gyeongbokgung and Changdeok. What I liked in this palace is the contrast between the building and high-rises around it. In Deoksugung there is also traditional guard change ceremony held three times a day.
Practical information:
-the palace is closed on Mondays
-entrance ticket costs only 1000 won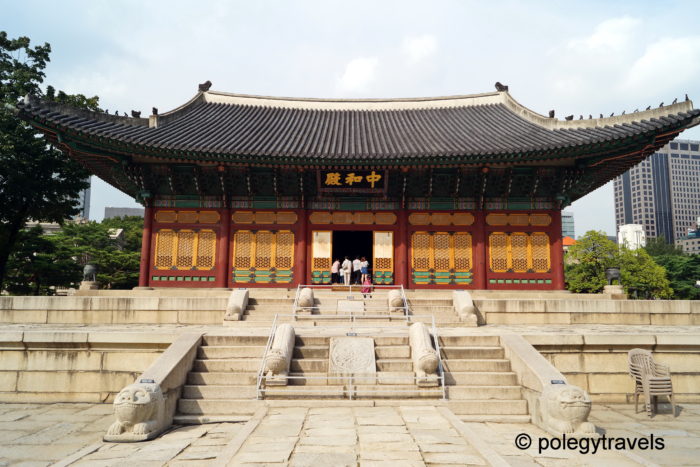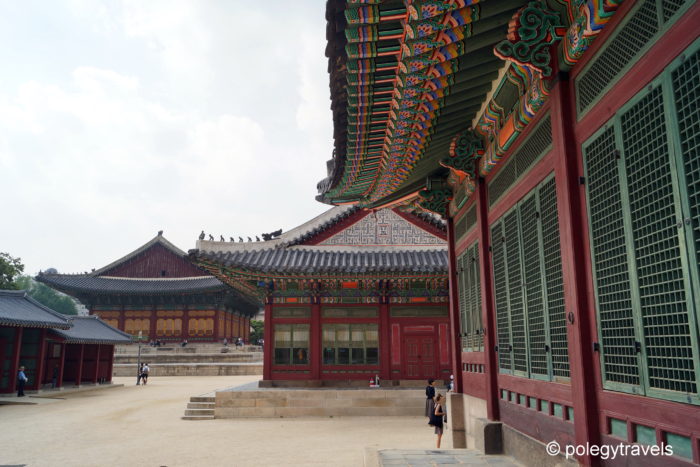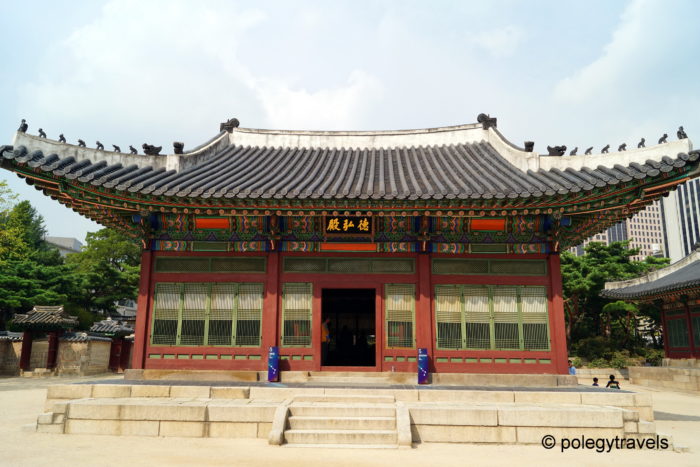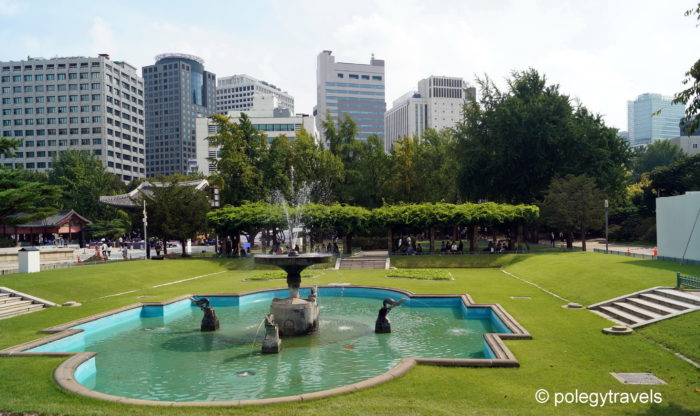 9. Myeongdong Cathedral
The cathedral was built at the end of 19th century in Gothic Revival style and it's the birthplace of Roman Catholic Church in South Korea. It may seem small. When we think of a cathedral we see a lot of space and many decorations. Myeongdong Cathedral is nothing like that. It has size of a normal church in Europe and it's only a bit more than 100 years old. However, it's worth to see is, it's location is really lovely.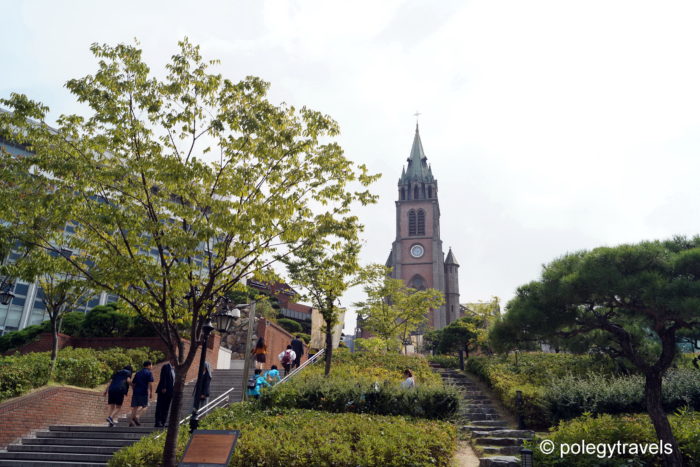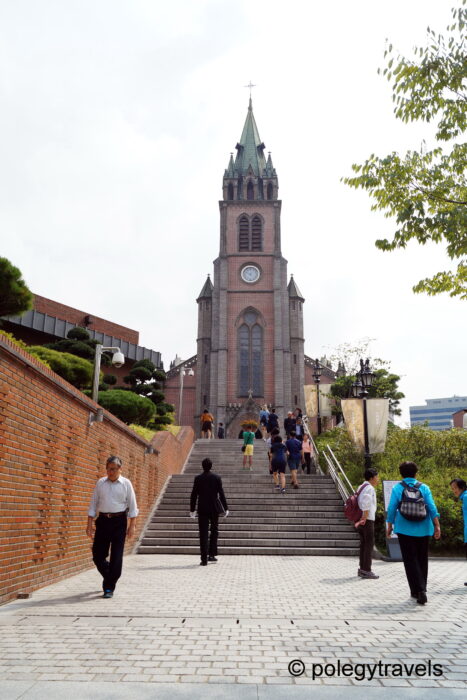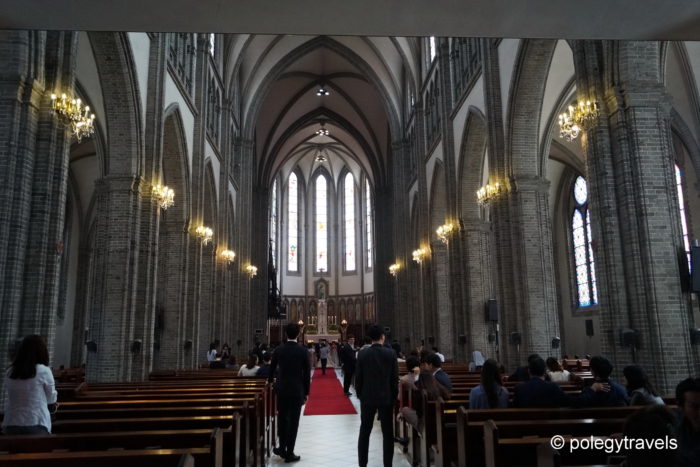 10. Seoul City Wall and the Gates
Seoul City Wall was constructed at the end of 14th century to defend the city. Until now there are fragments of the wall preserved. One is near Naksan Park (close to Ihwa Mural Village). According to the history the wall contained eight gates but only six still exist. Heunginjimun Gate (also called Dongdaemun Gate) and Sungnyemun are two of them that are best preserved and renovated.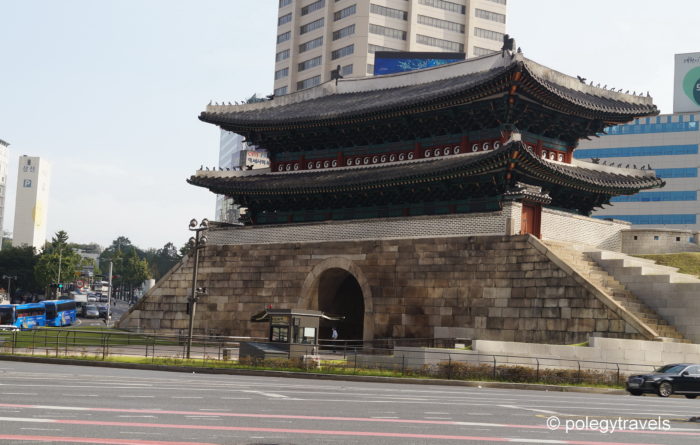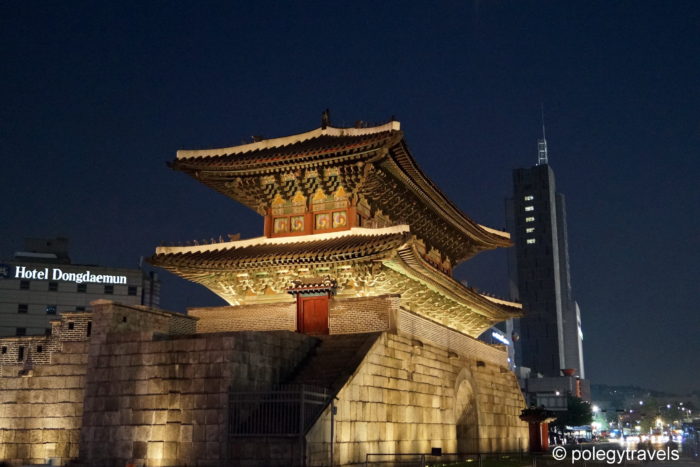 11. Museums
I have already recommended you a museum related to the history of South Korea. However, I must also mention that Seoul is full of interesting museums. Everyone would find something there. You can go the Museum of Modern and Contemporary Art, Museum of History or choose less popular ones like Museum Kimchikan (kimchi museum), Trick Eye Museum, Lock Museum or an Owl Museum! If it comes to museums, Koreans are very ingenious. I didn't have enough time although I wanted to go to the Tricky Eye Museum. Here you can see ow it looks like.
I hope you will find this post useful in planning your trip to Seoul 🙂
You have already been there? Which places did you like most? Could you recommend something else?