Are you planning to go to Lisbon and you want to plan your budget? We dreamt of travelling to Portugal for some time. However, expensive plane tickets always stopped us. We were worried that we wouldn't find a good offer and our trip to Lisbon is not going to be low budget. Finally we got tickets in pretty good price. Now you can see how much did our weekend in Portugal cost.
We went to Portugal for three days for a longer weekend in March. In Lisbon we spent two days and one day we spent in Sintra. We used public transport, slept in a cheap hotel and tried to find places with not expensive meals.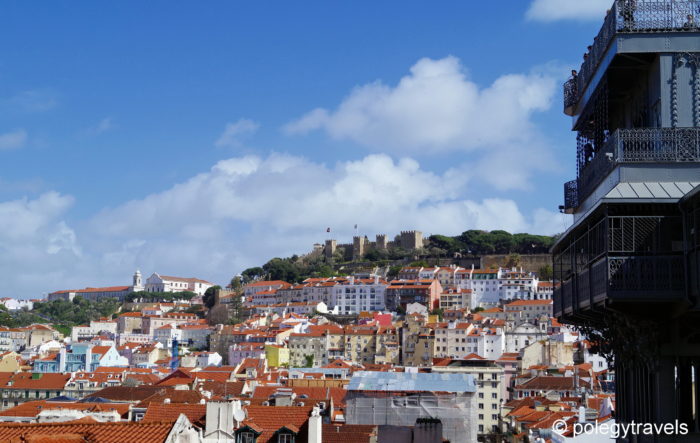 Transport
We went to Lisbon with Wizzair. In January, a bit more than a month before the trip, we booked the tickets. The flight was on Friday evening and we came back on Tuesday morning. This way we had three days for sightseeing and two nights less to book the hotel for. For round trip tickets we paid 438 zł per person, which is around 105 euros. All together for both us we paid 210 euros. The important thing is that we flew on the weekend when the tickets are more expensive. I believe that taking that into account, the price is affordable.
In Lisbon we used public transport. For two day we bought daily tickets which cost 6.30 euro. What's more, when we were getting the first ticket, we had to pay 50 cents for a card which we charged later with new tickets. We went for one day to Sintra and although we walked everywhere there, we got train tickets to get there for 4.5 euro per person round trip. Altogether for public transport for two people we paid: 35.2 euro (4 x 6.3 + 2 + 0.5 + 2 + 4.5).
Price for transport in general for both us: 210 (plane tickets) + 35.2 euro
Prices for public transport in Lisbon (March 2018)
When you buy tickets remember to get them in ticket machines for example on metro stations. If you buy the tickets from a driver in a bus of in machines inside trams, you will pay much more. The ticket prices in March 2018 were as following:
One way ticket for metro, bus, lifts or tram – 1.45 euro
Daily ticket (24 hours) – 6.3 euro
Card to charge your tickets – 0.5 euro
Bus ticket bought inside the bus – 1.85 euro
Tram ticket bought inside the tram – 2.9 euro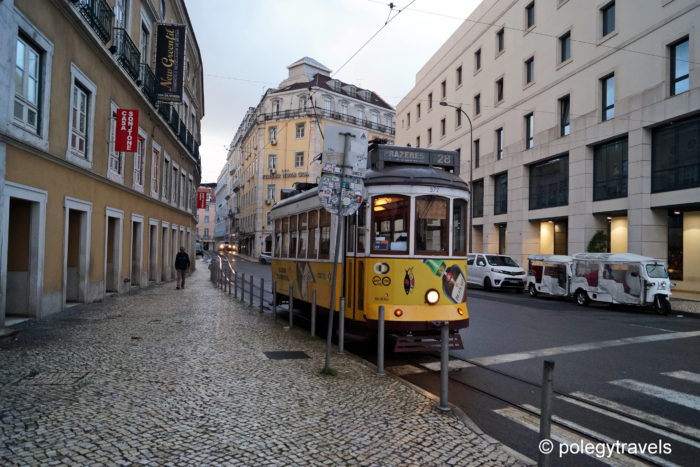 Sightseeing
We padi kind of a lot to visit several places. In Lisbon we couldn't see museums I wanted to visit (we planned it for Monday and then the museums are closed) and many other sttractions like taking the tram 28 or using the Santa Justa lift, were included in our daily transport tickets. On the other hand, in Sintra we went to many places. Entering Quinta da Regaleira cost 6 euro per person, tickets to Pena Palace and the Park 11.5 and the Castle of the Moors was for 7.5 euro.
In total: 50 euro (2 x (6 + 11.5 + 7.5))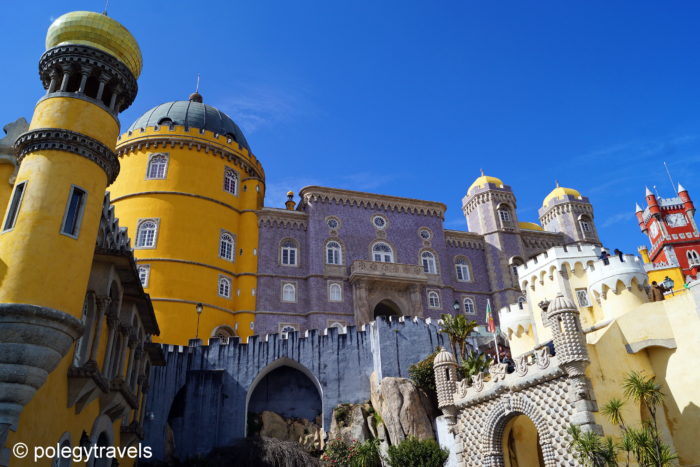 Accommodation
There are many accommodation options in Lisbon, you can find different places with various prices. We booked a cheap place and for double room for two nights we paid 44 euro, which means 11 euro per night per person. Apart from that we had to pay a tax of 1 euro per day per person, so it was 4 euro extra.
In total: 48 euro.
I believe it's a decent price. In Italy or Spain we sometimes had to pay this amount of money for one night… The place we stayed at in Lisbon is called Portugal Ways Culture Guesthouse. If you are looking for a cheap accommodation in good location, I recommend you this place. It's 2 minutes' walk from metro station Intendente and 10 minutes from train station Rossio. Many tourist attractions are nearby so you can easily walk everywhere. The tram 28 passes on the street where the hotel is 😉 Many people may find it noisy but it wasn't like this for us.
The furniture in our room was very basic but we had everything we needed for a short stay. There is a kitchen in the hotel so you can prepare something quick to eat. Our room didn't have separate bathroom (we chose it because this option was cheaper) so used shared ones. The place was clean and the staff was helpful. If you don't have high expectations and you want a place with good location and price, you can choose this one 🙂
Food
Restaurants
As always we wanted to try local cuisine and don't spend all our savings. In Lisbon it's worth to try grilled fish and seafood. A lunch like this in a restaurant costs at least 10 euros. We tried the local food in Sintra. For dinner of fish, potatoes and grille spinach we paid 12 euro. It was a portion for one person but we found it so big that we shared it. The food was delicious but we couldn't afford this "luxury" every day. We went to Apeadeiro restaurant. If you go to Sintra and you want to try local food, I recommend that place. It's located very close to the train station.
Coffeee houses and sweet shops
Unlike the restaurant we let ourselves go to coffee houses and sweetshops a lot. In Portugal you just have to try pastes de nata 😉 For 1 euro you can get a coffee and pastel de nata in many places. Usually an espresso costs around 0.7 euro. Prices of other types of coffee start at 0.8 up to 2 euro. Sweets in sweetshops cost between 1 and 2 euro. I recommend you always look for sweet shops away from tourist places and less popular ones if you don't want to play double price. Below you can see prices from a sweet shop we went to in Sintra.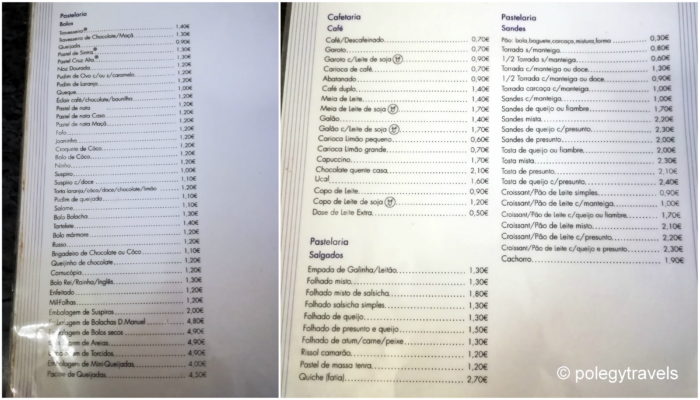 Buying in supermarkets
If you have a low budget for your trip and you still want to try local sweets, you can just do shopping in supermarkets. A very popular one is Pingo Doce and it usually also has a sweet shop inside where for 1 euro you get a coffee and pastel de nata. Prices for pastel de nata in supermarkets vary from 0.3 to 0.65 euro (depends on the type). While in sweet shops you pay 1 euro for one. Generally products in supermarkets have similar prices to the ones in Poland. I will show you prices of some products from Pingo Doce in Lisbon below:
1.5 l of water – 0.18 euro
Mango juice (1 l) – 1.49 euro
6 rolls – 0.85 euro
Cheese 150g – 0.99 euro
Yogurt 125 g – 0.19 euro
Box of 4 ice creams – 1.69 euro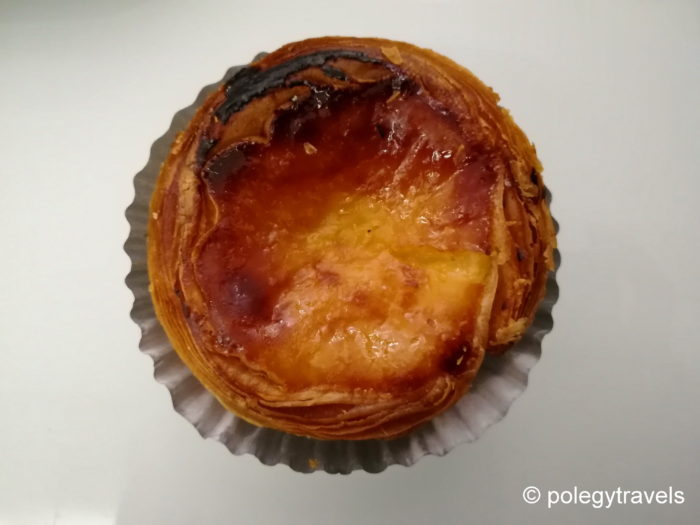 Fast food restaurants
We never recommend to eat in fast food restaurant but if someone likes and wants to have it, in Portugal you will find all the popular restaurant with prices similar to the Polish ones. For example in McDonald's food cost:
Coffee – from 0.7 euro
Coffee with milk – 0.85 euro
Happy Meal – 3.4 euro
Coffee + cookie – 1 euro
Summing up all our breakfasts in sweet shops, shopping in the supermarkets, coffees in coffee houses and a dinner at a restaurant, we spent 52.29 euro on food.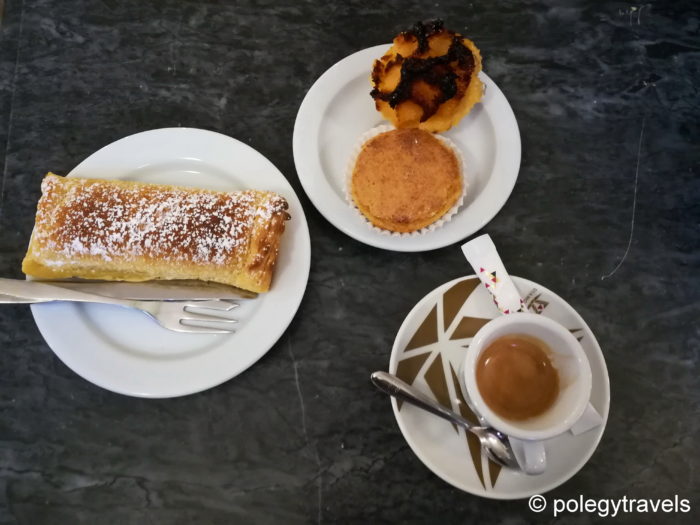 Souvenirs
Prices of souvenirs in Lisbon are comparable to other countries of Western Europe or even cheaper sometimes. If you buy different types of souvenirs, try to compare the prices in several shops. In one you may find cheaper postcards while in another one magnets or mugs. Generally souvenirs cost:
Postcard – 0.35 – 0.5 euro (usually it's 0.5 euro but I found some for 0.35 near Santa Justa lift. You can also find there offers 10 postcards for 3 euro)
Magnet – 1 – 2.5 euro
Bookmark – 0.5 euro
Mug – 4.5 – 8 euro
Stamps – 0.8 euro (to European countries)
In total for souvenirs and stamps we spent 24.2 euro.
Summary
To sum up, we spent 419.69 euro which means that the plane tickets were exactly half of our expenses 😉 We spent this amount of money during 3 days of active sightseeing and for two people, so the trip cost 209.84 euro per person.
Is it a lot or not? Everyone should answer the question on their own 😉 Remember that plane tickets to Lisbon are not very cheap if you don't find a really good offer. Apart from that, days off at work are very valuable to us, so we chose more expensive tickets to travel on the weekend. If it comes to sightseeing in Portugal, we didn't save on that. We wanted to see several places in Sintra so we just went there. As you have seen, the admission tickets don't cost that much but if you visit few places it becomes a bigger amount. Also if it comes to food of souvenirs everyone has their own preferences and may spend more or less money. We had a great weekend in an amazing and beautiful place, we visited a lot and we think that the price of so many attractions wasn't very high 🙂