During last few months the prices in Egypt changed totally. Everything got expensive even several times. When we compare prices from two years ago, when we went to Egypt last time, we see a huge difference. The Egyptian pound lost its value. What does it mean for people visiting Egypt? Is it more expensive now?
For an ordinary tourist nothing really changed. If you come to Egypt with foreign currency it's still cheap for you. Two years ago 1 euro equalled 8 Egyptian pounds. Nowadays for 1 euro you get 20 EGP. With this rate you have the feeling that you have a lot of money after you change euro for pounds. Nevertheless you can buy less things with this amount. On the other hand the problem starts when you live in Egypt and for 2000 EGP salary you have to maintain your family. The prices went up overnight and it turned out that many people can't afford basic products.
I'll present you prices of some products in different categories. The prices may differ in different regions. In touristic cities it will be more expensive. The list we prepared was based on our stay in Cairo and Port Said in May 2017. As currency rate we assumed that 1 EUR = 20 LE*.
*In Egypt very often when you look at prices you will see LE abbreviation. It comes from the French name of the currency "livre égyptienne".
Transport
We moved between Cairo and Port Said by a rented car. In Port Said we used taxis and microbuses.
A car for one day 200-300 LE (10-15 EUR)
A taxi (depends on the distance) – up to 10 LE (0.5 EUR)
A microbus ticket – 1.25 LE (0.06 EUR)
Fuel
We heard that at the end of the money the price of the fuel will go up again. During our stay and still now the prices look like this:
Petrol 80 – 2.35 LE (0.12 EUR)
Petrol 92 – 3.50 LE (0.18 EUR)
Diesel – 2.35 LE (0.12 EUR)
Gas – 1.60 LE (0.08 EUR)
At the end of the month the price will be 3.10 and 3.50 LE for Petrol, 2.9 LE diesel and 2 LE for gas.
Food
We always have lunch with family at home. My mother in-law makes the best Egyptian food 😉 However in the evening we go out with friends and we often go to a restaurant or a café. Prices of some dishes and drinks in restaurants:
Breakfast (fried egg, bread, ful, falafel, juice and coffee) – 60 LE (3 EUR)
Feteer (Egyptian pizza) – 60-80 LE (3–4 EUR)
Kushari – 7.5 LE (0.38 EUR)
Waffles – 40-50 LE (2-2.5 EUR)
Shawerma – 15 LE (0.75 EUR)
Big latte – 28 LE (1.4 EUR)
Shake with chocolate and ice cream – 37 LE (1.85 EUR)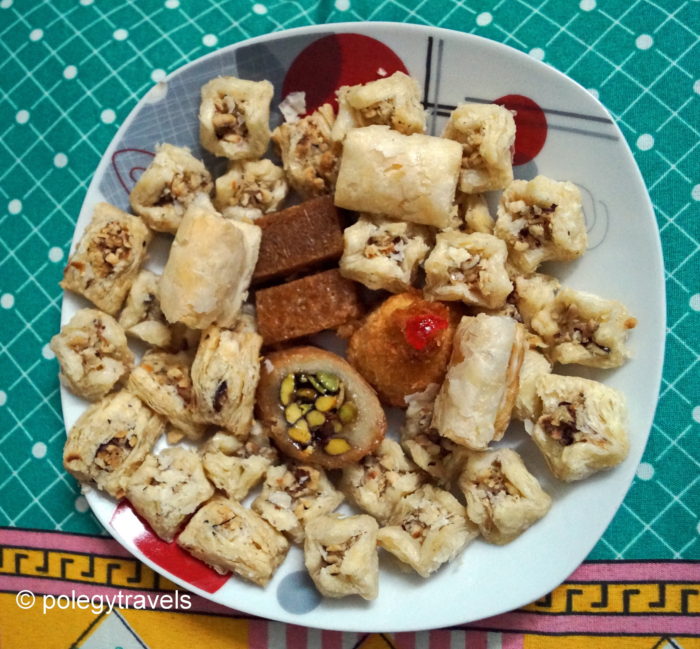 Other products:
1l of water in the bottle– 5 LE (0.25 EUR)
A glass of juice in a juice shop – 2.5 LE (0.13 EUR)
Schweppes (can) – 5 LE (0.25 EUR), (bottle) – 4 LE (0.2 EUR)
Ice cream (2 scoops) – 8 LE (0.4 EUR)
0,5 kg of sweets (baklava, kunafa etc.) – 50 LE (2.5 EUR)
1 kg of bananas – 10 LE (0.5 EUR)
1 kg of melon – 6.5 LE (0.3 EUR)
1 kg of guava – 10 LE (0.5 EUR)
1 kg of watermelon – 15 LE (0.75 EUR)
Souvenirs
We always buy souvenirs in the same shops in Port Said. Of course prices in touristic places or at the airport will be doubled or tripled. We compared prices of things we bought with those at the airport and we were really surprised that the difference is that big. Buying souvenirs at the airport is not worth it.
A mug – 30 LE (1.5 EUR)
A postcard – 1 LE (0.05 EUR)
A stamp abroad – 4 LE (0.2 EUR)
A magnet – 15 LE (0.75 EUR)
Aladdin's lamp – 75 LE (3.75 EUR)
A figure of a camel – 100 LE (5 EUR)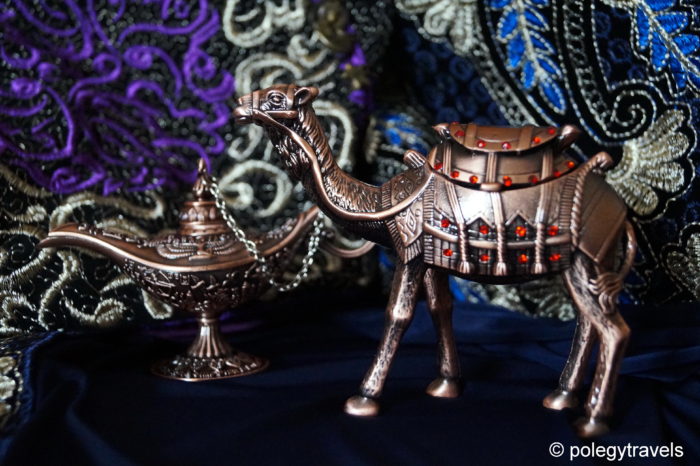 Admission tickets
We didn't visit many places but for admission tickets we paid:
Al-Azhar Park – 10 LE (0.5 EUR)
Army Museum in Port Said – 5 LE (0.25 EUR) for Egyptian citizen and 50 LE (2.5 EUR) for a foreigner
To compare: visiting pyramides in Giza costs 120 LE (6 EUR) for a foreigner (without a ticket that allows to go inside a pyramid) and 10 LE (0.5 EUR) for an Egyptian.
These are illustrative prices of several products. Remember that in tourist places the prices may be higher. I hope this text will be useful for you in planning your budget for visiting Egypt 🙂