We usually associate cemeteries with something sad and we hardly ever think about them as interesting tourist attractions. However, it's different in Romania and it's like that, thanks to the Merry Cemetery. Have you ever heard of Merry Cemetery in Sapanta? Have you been there? If not, put it on the list of attractions if you are planning a trip to Romania. In the meantime, look how this unusual tourist attraction looks like.
Merry Cemetery in Sapanta
When I heard that there is a Merry Cemetery in Romania, I wanted to go there right away. I put that place on our plan for a trip to Romania before I knew that we were travelling there. When we decided to make a trip to Romania and Bulgaria in May, Sapanta became the first place to visit on our map.
Where is Merry Cemetery located?
Merry Cemetery is located in a small village of Săpânța in the north or Romania in Maramureş county, near the border with Ukraine.
Why is this place unique?
It's a unique cemetery. All tombstones are wooden, blue and they represent the dead person in an interesting way. Some have crafted the moment of death, some represent the profession or another characteristic of the dead person's life. What's more, you can also find small poems on the tombstones. Those ones, in a funny way, describe the life or the moment of death of the certain person.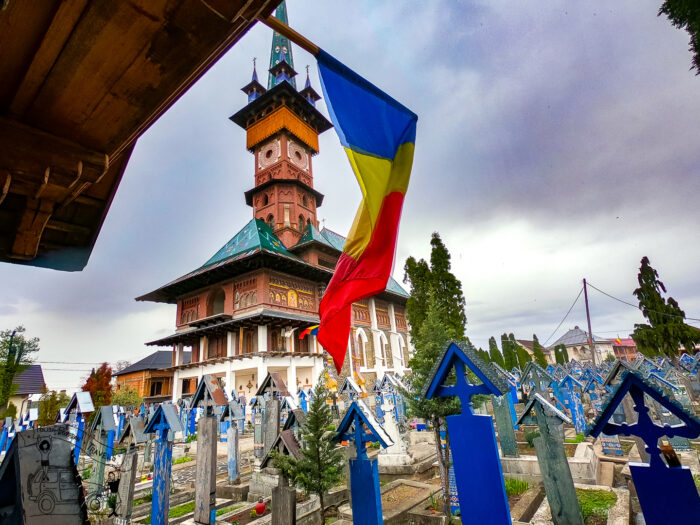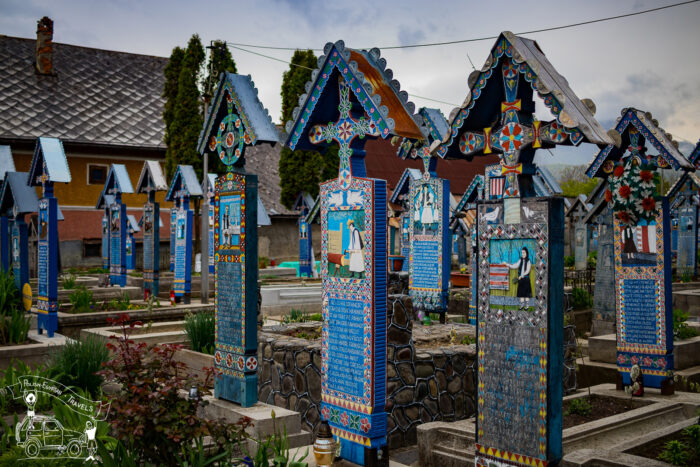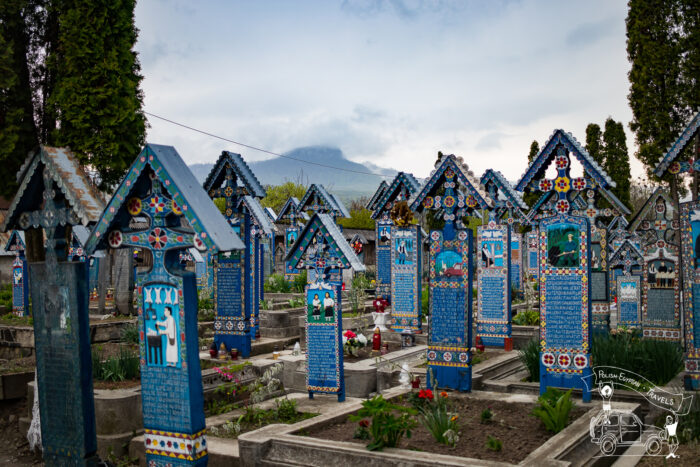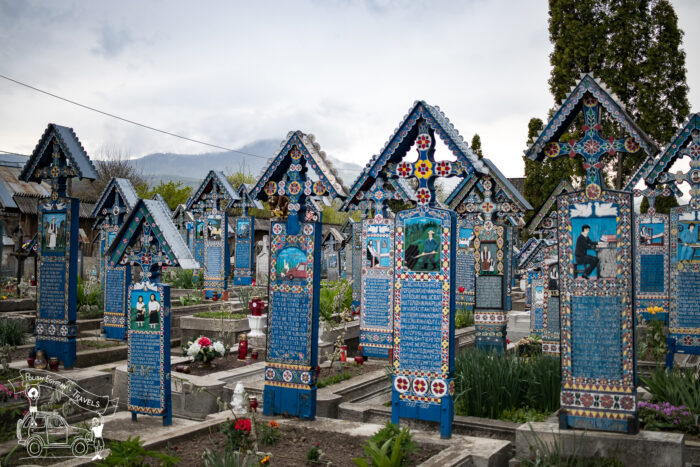 History of Merry Cemetery
Stan Ioan Pătraş, the local artist who lived in Sapanta, started creating the tombstones. The first one was created in 1935 and until his death, Patras made around 600 tombstones. Nowadays there are more than 800 and even the author is buried on that cemetery. Before Patras died, he found and taught his successor and he prepared his own tombstone. Dimitru Pop Tincu continues the work, creates the small poems and paints the scenes on the wooden tombstones.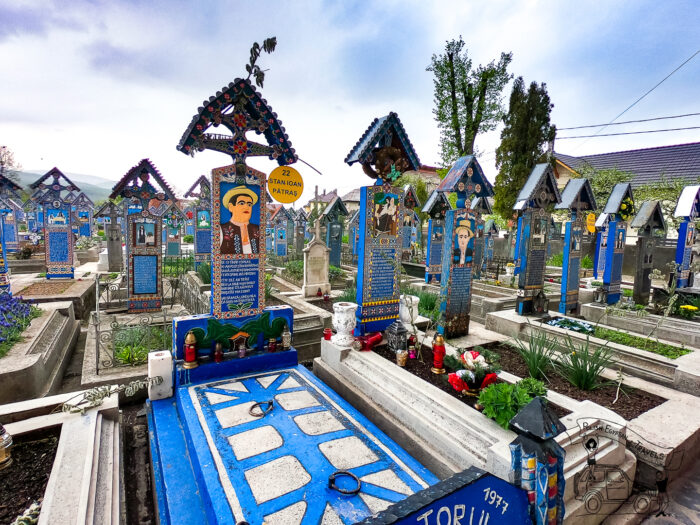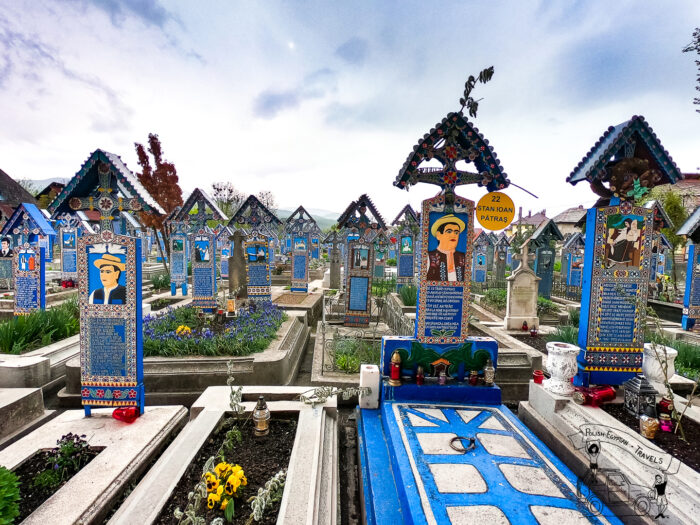 National tourist attraction
The Merry Cemetery became very famous and now it's one of the most visited places in whole Romania. I guess that Stan Ioan Patras himself, didn't expect that his tombstones would make small Sapanta so popular. Now the cemetery is an open-air museum and thousands of tourists visit it every year.
I have to say that the cemetery impressed me. The only thing I regretted was the bad weather. It was cold and raining that day. Apart from that, the small poems on the tombstones are written in Romanian so the tourists from abroad can't really understand it. We could only read few of them that can be found translated online. That's a shame because for sure, others are funny too.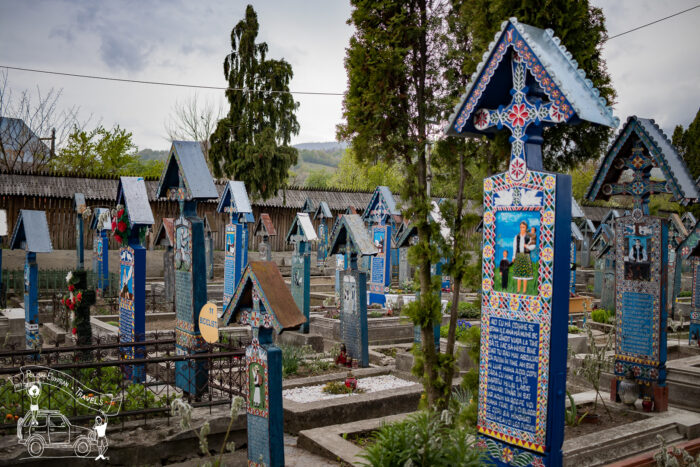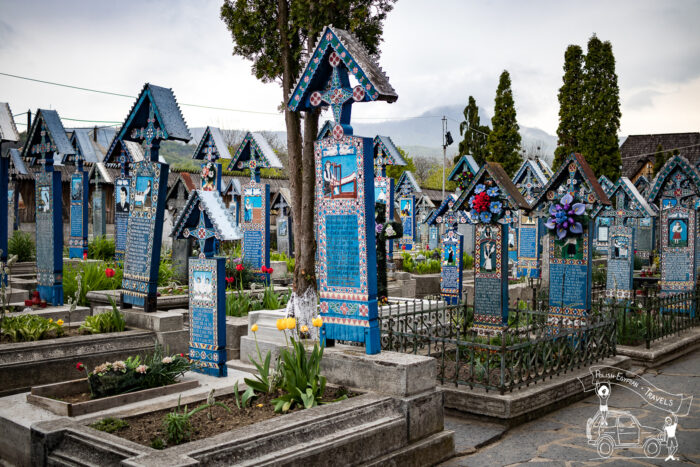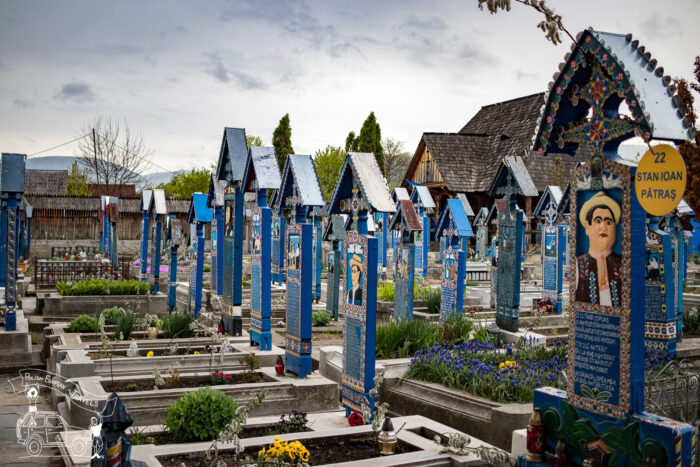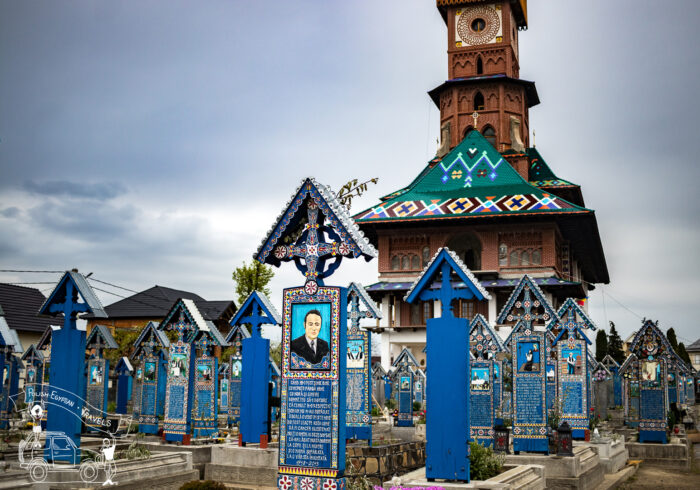 Practical information
Entrance fee
The ticket for adult costs 5 leu (1 euro). You can pay only in cash.
Parking
You can park your car next to the cemetery wall. Parking there is free. The only problem you may have is finding a place. We avoided that because we went there late afternoon.
Summary
Merry Cemetery is an exceptional place to see. It doesn't happen every day that people are interested in visiting a cemetery. It's worth going there and seeing the place with your own eyes. What do you think about the Merry Cemetery? Would you like to visit it?