We like visiting abandoned places so Kupari has been on our list for quite some time. It's a small village in the south of Dubrovnik. In the past it was full of life, thanks to the holiday resort. Now the place is abandoned and almost forgotten. Today we will tell you the history of Kupari and we will show you how this place looks like today.
The history of Kupari
The complex in Kupari was built as a holiday resort for the military officers of the Yugoslav People's Army and the members of the government. Its construction cost more than billion dollars and before the war it was the best resort on the whole Yugoslavia. Even Josip Broz Tito had his summer residence there. Hotels Grand, Goričina I, Goričina II, Kupari, Pelegrin, Mladost and Galeb could host around 2,000 people at the same time and a nearby campsite had space for 4,500 people.
In October 1991 the resort in Kupari was bombarded from the sea by the Yugoslav People's Army and later on occupied by Serbs. Since 1992 Kupari belongs to Croatia again.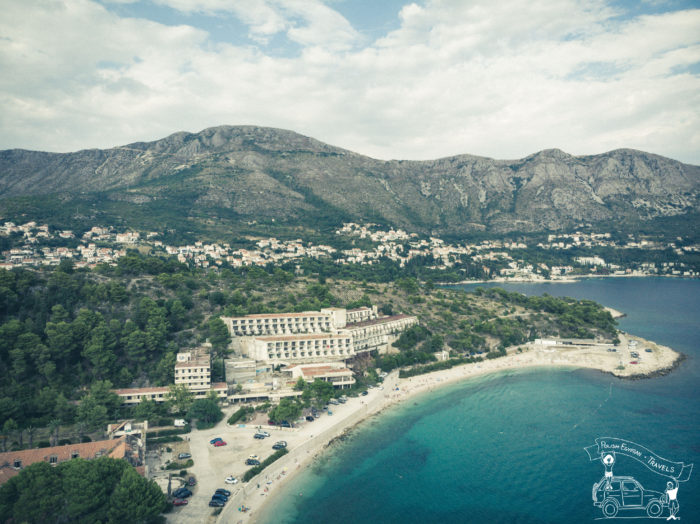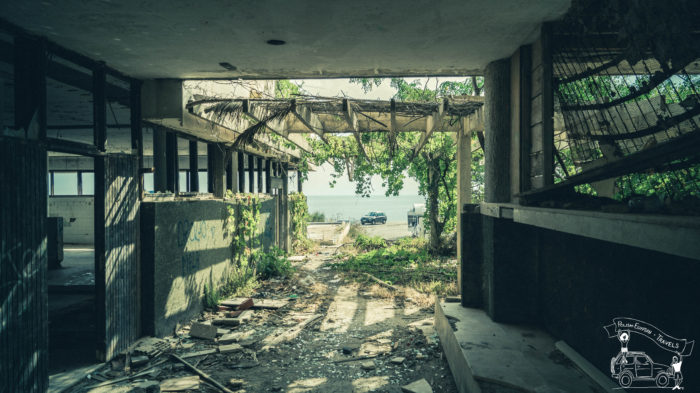 What is happening now with the Kupari resort?
The resort was abandoned for more than 20 years. The buildings were falling down and nobody showed any interest in this place. In 2012 a chance for changes appeared together with the Turkish investors who wanted to rebuild the hotels. Unfortunately, it ended up being only plans. In 2015 the government opened a tender to renovate the area of the hotels. The plan was simple, renovate the Grand hotel and demolition of hotels Kupari, Pelegrin, Goričina I and Goričina II. Only one investor took part in the tender. It was Avenue Company.
The developer's plans have changed many times for few years. They changed the starting date of the renovation, the types of hotels they were going to build. Finally the beginning of work was planned or the beginning of 2019 but to be honest, I don't think it will ever start. If an investor changes his mind so often, it's difficult to trust anything will ever change.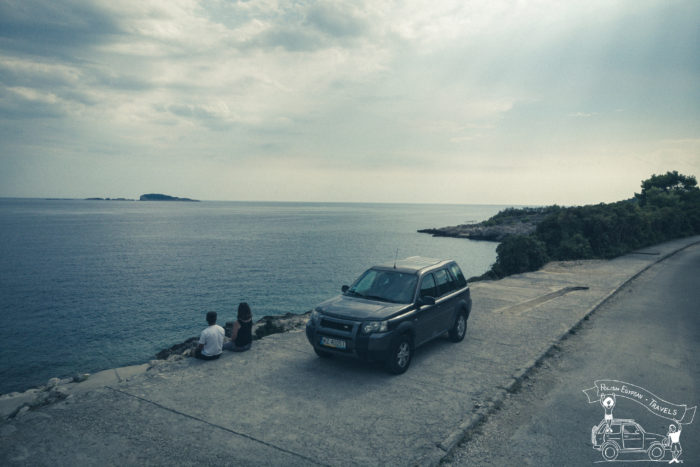 How does the resort in Kupari look like today?
Nowadays the resort attracts people like us, who love visiting abandoned places. We saw many tourists there and we were even more surprised to find out that most of them were Polish 😉 There are also many people who go to the beach in Kupari. The location is just perfect. It's near Dubrovnik and it's not that crowded. It's also a good spot to sleep, either in a car or in a tent.
Apart from that, the hotels a complete ruin. Everything that was useful inside, has already been taken away. A place that used to be full of life and was a holiday resort for thousands of people, today it doesn't look like in those times at all. It totally fell down. Old buildings, holes in the windows where there used to be glass, broken rests of furniture and doors, marks on the walls left after the war… This is how the biggest resort of former Yugoslavia looks like today.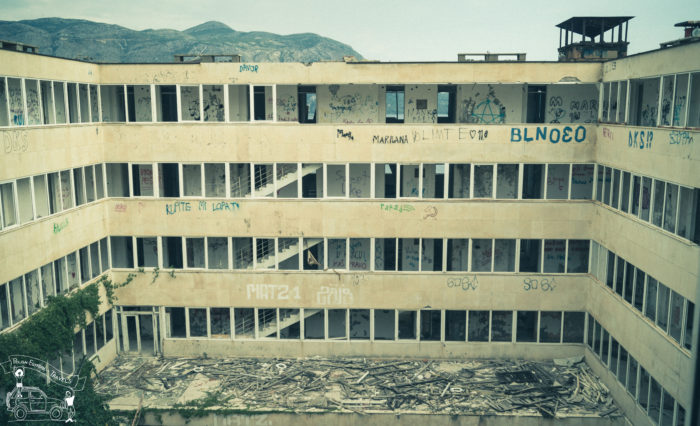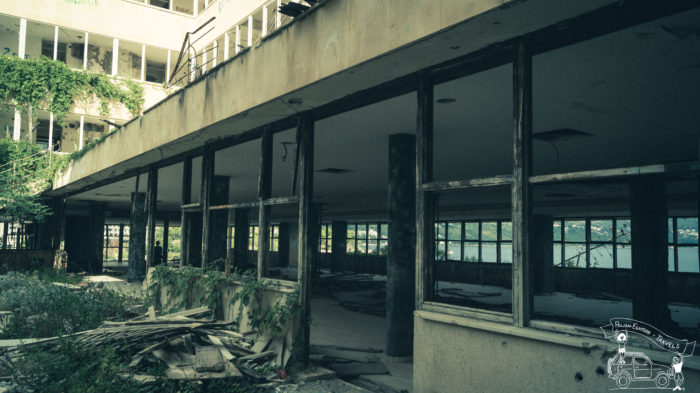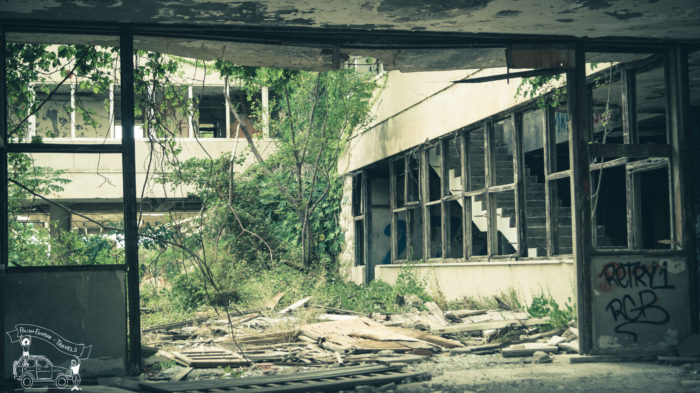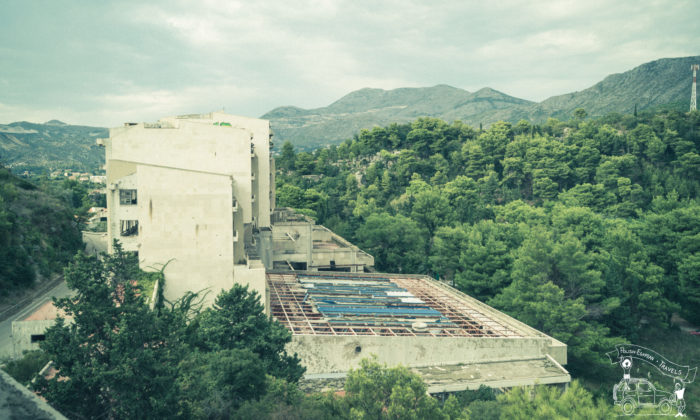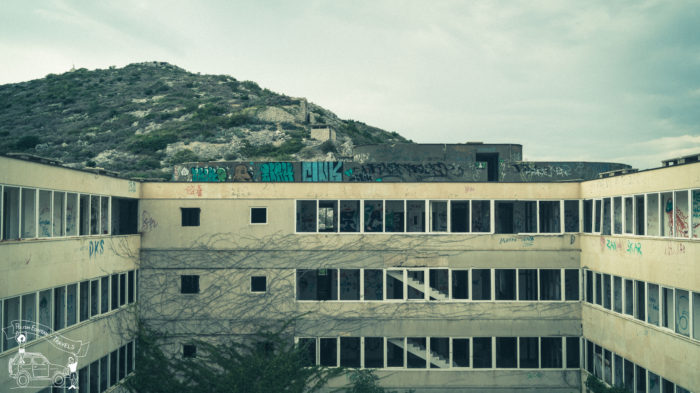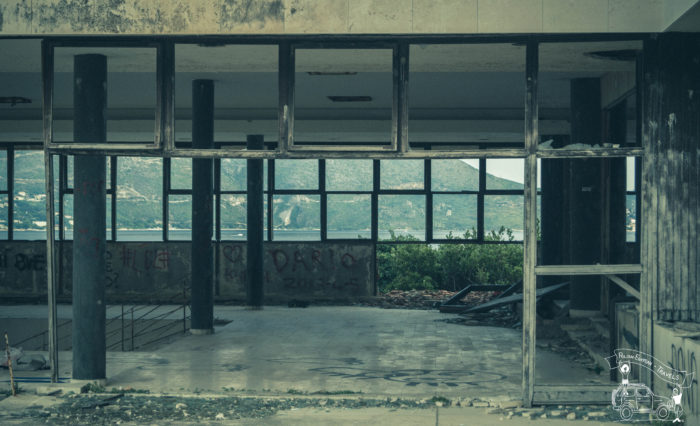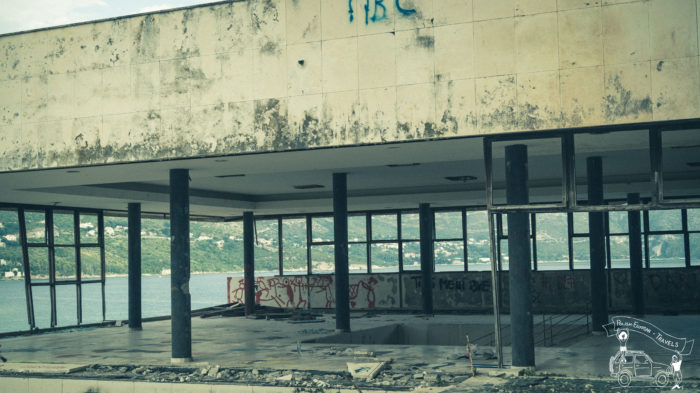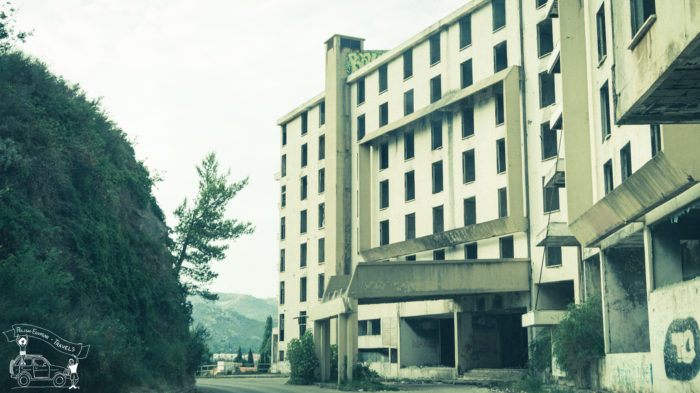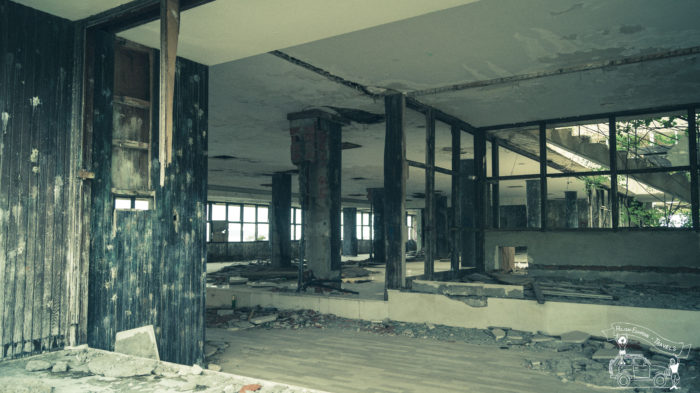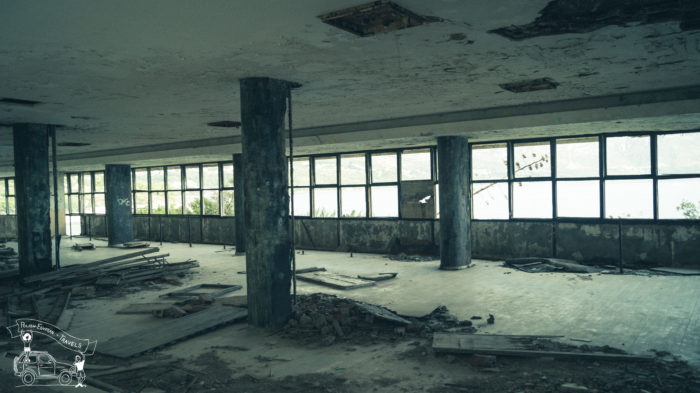 A bit of colors in an abandoned place
We didn't expect that seeing the abandoned hotels would take so much time. At the beginning we stopped near Pelegrin hotel and we visited it all. Someone ever connected some doors and other pieces of wood to create a ladder to get to the roof of the hotel. The construction was not very stable and I didn't have enough courage to go up. However, many people we saw there that day, went up and down without any problems.
Before leaving the Pelegrin hotel, we saw two young girls who were painting something on the floor. We approached them and this is how we met Karmen and Laura, two 13-year-old girls who paint manga characters on the floor of the hotel. Karmen has been painting for one year and Laura for two years. The paintings they make are really beautiful and they bring colors to this sad place. When I asked them where they learnt how to paint like that, they said they learnt everything on their own and that manga is their passion. If you go to Kupari, you have to go to Pelegrin hotel and see what the girls have created. You may be lucky and meet the authors of those lovely paintings in person.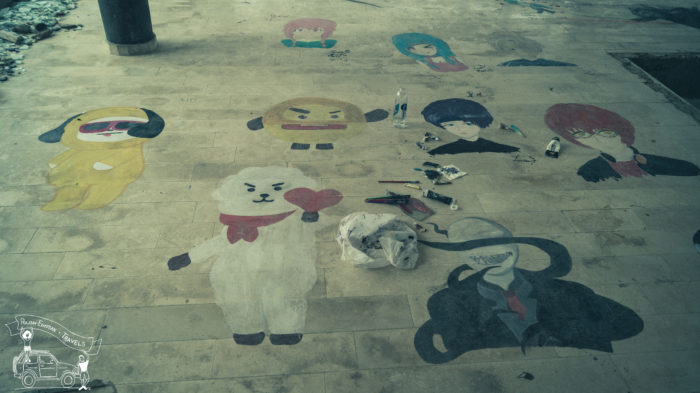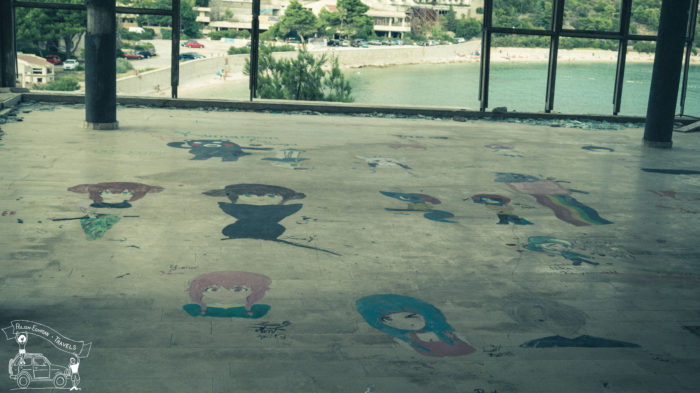 Practical information
– you can reach Kupari easily by car. If you are going there from Dubrovnik, go to the south by road number 8 and turn right before the Ina gas station. The abandoned resort is already visible from there. From Dubrovnik it's about 10 km.
– remember that you enter the abandoned hotels as your own responsibility. Entering the building is not dangerous but climbing up the roof on a ladder made of pieces of wood may not be very safe. Just watch out for your safety.
– I am adding a map for you to show you more or less where each of the hotels is and where you can park a car