Are you planning to go to Kosovo by car and you don't know how to plan the trip? Are making a road trip in the Balkans and you want to go to Kosovo as well? Do you want to know what kind of documents are needed for a trip like that? What should you know and how to prepare? Read our car guide about Kosovo.
Unfortunately there are so many outdated and wrong information about travelling through Kosovo by car. They describe the country as dangerous and not worth visiting. I have already written one article about reasons to visit Kosovo. We went there in August 2017 and today I have prepared a driving guide for Kosovo with all up-to-date information. How does driving look like in Kosovo? Is there anything to be scared of?
Mandatory documents
If you are going to Kosovo by car, you will need:
– passport or another identity document. Check which document is obligatory for citizens of your country. Polish citizens need passport to enter Kosovo.
– driving license. Polish driving license is accepted in Kosovo
– registration document of the car with valid vehicle inspection
– insurance. The green card insurance is not valid in Kosovo. You have to buy BKS insurance while crossing the border.
BKS insurance in Kosovo
When you enter Kosovo, you have to buy BKS insurance. You can do it in every bigger city or at the border crossing. We crossed the border in Merdare and there you can get the insurance without any problems. You just need to show your car registration document and after few minutes the insurance is ready. It costs 15 € for 15 days and 20 € for a whole month. You can check the actual prices on BKS website.
Car equipment
It's advisable to carry:
– a warning triangle
– first-aid kit and rubber gloves
– high-visibility jacket
– set of spare bulbs
– a tow rope
Lights
Driving with passing beam during the daylight is not obligatory.
Roads and fees
Many people complain about the quality of the roads in Kosovo. We were actually surprised because we expected it to be worse. Nowadays there are around 230 km of motorways in Kosovo. Many kilometers are still under construction. We used motorways whenever we could and our route was as follows: Merdare-Pristina-Fush Kosovo- Gračanica-Prizren-Skopje. None of the road on that route was paid. The first toll road was introduced in April 2018 on a highway between Kosovo and Albania and it costs from 2.5 up to 22.5 €. Other parts of the highway as free of charge for now.
Road quality
We were positively surprised with the roads. Everyone told us that they are awful in Kosovo but I think it's not that bad. Kosovo is changing a lot and new roads are being built all the time. Not long ago there wasn't even one kilometer of highway! Right after crossing the border in Merdare we got on a road that was under construction. When you drive in Kosovo you can see many road like that which means that soon it will be even better 🙂 And in August 2018 we really couldn't complain about it.
Speed limits
Speed limits for cars are as follows:
-built-up area 50km/h
-outside the built-up area 80km/h
-motorways 130km/h
Parking
Parking in most places in Kosovo is free. In bigger cities like Pristina or Prizren there are private car parks which cost few euros, but as long as it's not a private zone, then parking is free.
In general it's not easy to find a parking place in the city center. Especially in the evening the streets are full of cars and there is hardly any space. If you are planning to spend a night in those two cities, I recommend you to sleep in a hostel which has parking included in the price. In Pristine I recommend Hostel Tuba and in Prizren Hostel Beni. Both have parking spots for guests included in room price and the night for 2 people in a private room with a bathroom doesn't cost more than 20 euro.
People in Kosovo tend to park however and wherever they want. Don't be surprised if someone blocks your car or leaves a car on the right line in the middle of the city. That happens often because of lack of parking spots in the centers of the cities.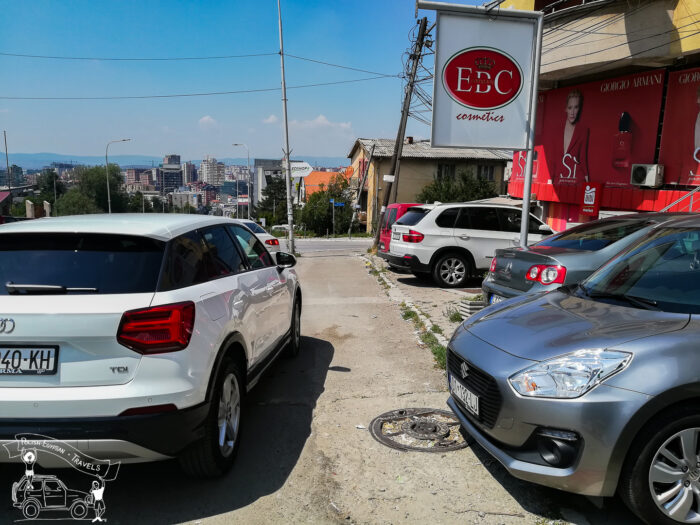 Sleeping in the car
Prices of accommodation  in Kosovo were low so we didn't even sleep in the car. We chose hostels instead. Unfortunately, this time I cannot tell you how sleeping in the car works in this country.
Fuel prices
Fuel prices in Kosovo were comparable with the ones in Poland. In August 2018 the fuel prices were as follows:
Diesel – 1.19 euro 
Gasoline 95 – 1.20 euro
Gas – 0.6 euro
Safety on the road
The only thing you should be concerned about while driving in Kosovo are other drivers. People don't respect the rules of the road. If you are turning form a side road to the main road, you need nerves of steel because no one will stop to let you go. You just have to start driving and start squeezing the car and hope that somehow you will make the turn. Apart from that the cities in Kosovo have so much traffic. I had a feeling that there are disproportionally many cars compared to the number of inhabitants. Just keep that in mind when you are driving in Kosovo.