It's been our dream to go to Gibraltar. However we knew, we may face problems to get there. Finally we managed to visit Gibraltar so we want to share some practical information about it. If you are planning to travel there, you want to know how quick it is to cross the border, what kind of transport to use in Gibraltar and what should you visit, I recommend you read this article.
When we were planning our road trip to Spain, we knew we would try to go to Gibraltar too. We were going to Andalusia, why shouldn't we make our dream about Gibraltar come true? Until the last moment we weren't sure if we would manage to cross the border. Why? We didn't have a visa.
Passport or ID
Polish citizens can enter Gibraltar with a passport or identity card. They don't need any extra documents. The situation is completely different for Egyptians.
Visa to Gibraltar
Most of people are probably thinking why do I talk about visa if Polish citizens don't need it to go to Gibraltar. Unfortunately, if you have a different passport than one of the EU members, it may turn out that it's not that easy. Egyptians need a visa to Gibraltar.
Entering Gibraltar with residence permit
We knew we wouldn't manage to apply for a visa. It was too late to do it. We also thought it didn't make much sense to apply if we wanted to spend only one day in Gibraltar. We started looking for information about a possibility to enter Gibraltar with the residence permit. As you know, our Egyptian half already has a permanent residence card in Poland.
As always there was no certain information about it. On the one hand, you can enter Gibraltar if you have a visa valid in Schengen zone. Residence permit allows you to travel within the Schengen. On the other hand, we read that visa to Gibraltar is required for everyone who needs a visa to UK. Of course Egyptians need it.
We could of course contact the embassy but we thought it wouldn't change anything. We had no time to apply for a visa and we had a plan to pass near Gibraltar anyway, so why shouldn't we just check it on the border?
That's exactly what we did. We took our passports, residence card, and multilingual marriage certificate and we went to the border control.
On the British side
The Spansh control was easy. We showed our passport, residence permit and merriage certificate and we explained everything. We are not entirely sure it the border guard understood but he let us go. It was a bit worse in the British control. But what did we have to lose? We explained the same story, that we are coming as toursits for one day, that my husband doesn't have a visa but a permanent residence permit in Poland and showed the same documents, hoping that it would be enough. A queue was formed behind us really quickly. We felt a relief that at least we left our car on the parking, otherwise we would block everyone from crossing the border.
The border guard took our documents and went to ask her supervisor what to do with us. And we waited. Almost 20 minutes passed and finally the guard came back and said we could go to Gibraltar! Just like that, they let us enter 🙂
So, is it possible to cross the border of Gibraltar only with the residence permit in Poland? Unfortunately, I can't answer this question. I can only say that we managed, with the permanent residence and multilingual marriage certificate. For sure, you can enter Gibraltar if your residence card is based on being family member of EU citizen. I am not sure how it works In case of other reasons of residence permit. If you really want to go there, check with the embassy about formalities.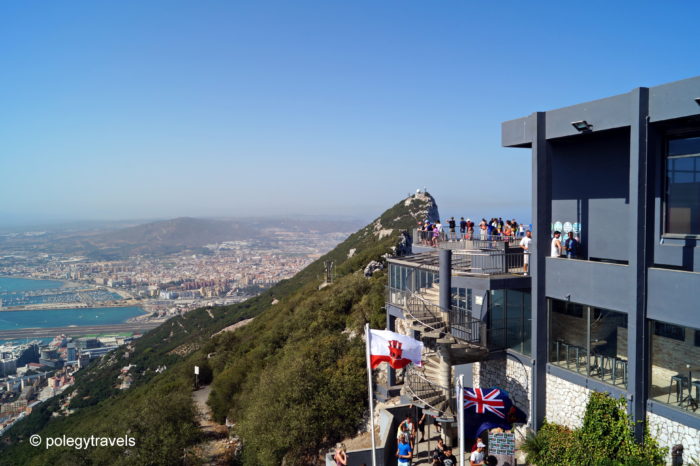 Visiting Gibraltar
We left the car on a car park in Spain so after crossing the border we went to a bus stop. It's located right behind the border and the bus takes you to the city center. You can buy tickets from the driver and pay in euro or pounds.
The curious fact is that the bus crosses the… airport! The street connecting the border with the rest of Gibraltar crosses the runway. We were lucky. When an airplane takes off or lands, the road is closed 😉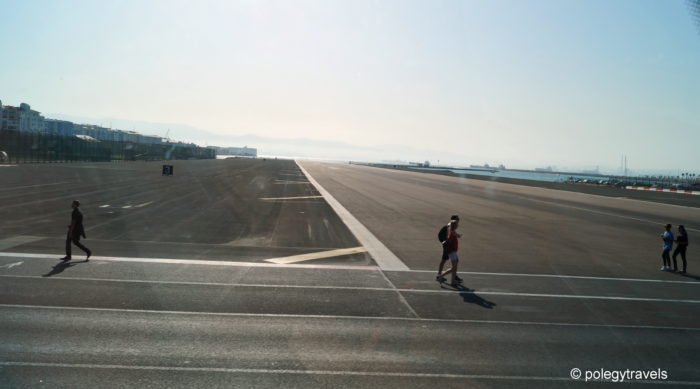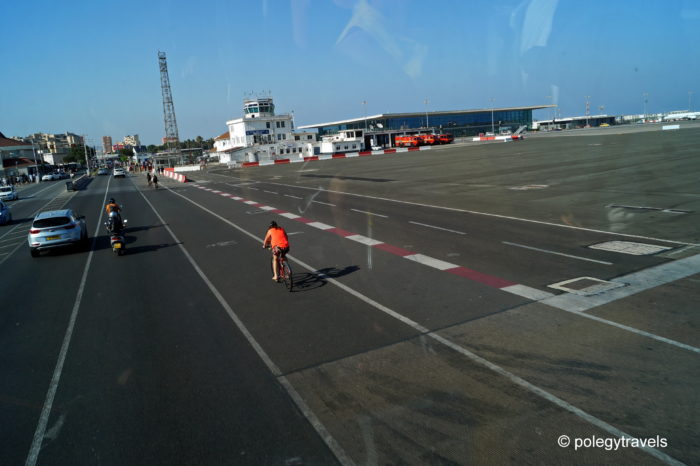 We arrive to the center, pass through Grand Casemates Square and start visiting by walking down the Main Street. We stop to buy souvenirs and send postcards. They say it's a good place for shipping and it's cheaper than in Spain. Shopping is not the purpose of our visit so we just continue sightseeing. Everywhere you can see symbols which remind that Gibraltar is an overseas territory of UK. You can also take a picture in a red telephone box 😉
On the Main Street we see many churches and cathedrals; we pass by the Trafalgar Cemetery. Few steps behind it we get to the cable car that will take us to the top of the Rock of Gibraltar.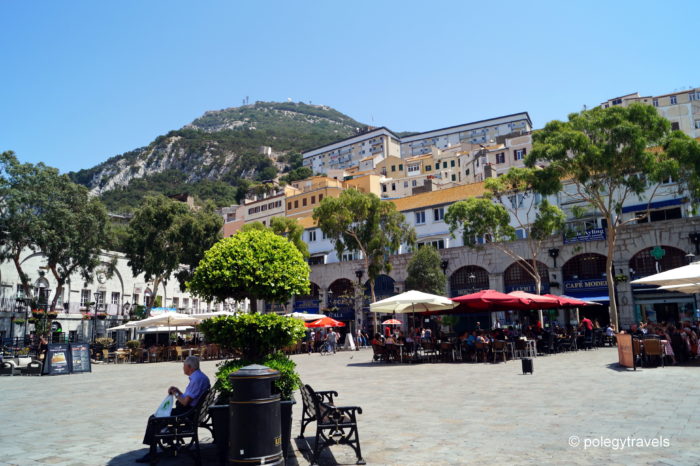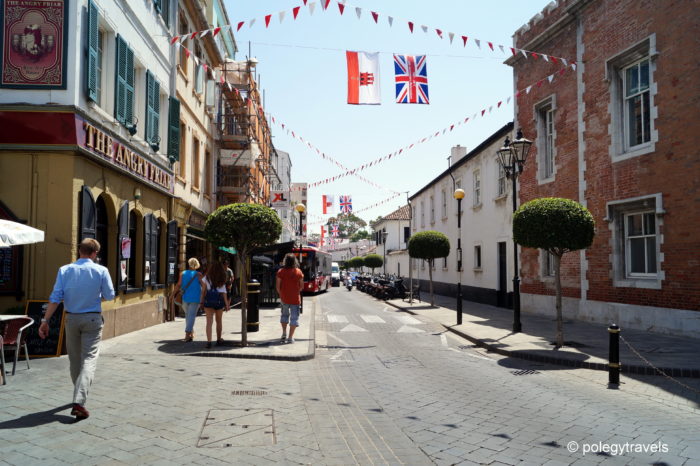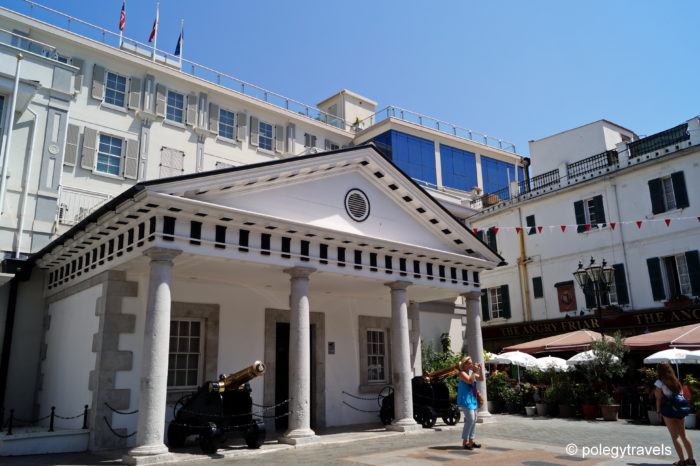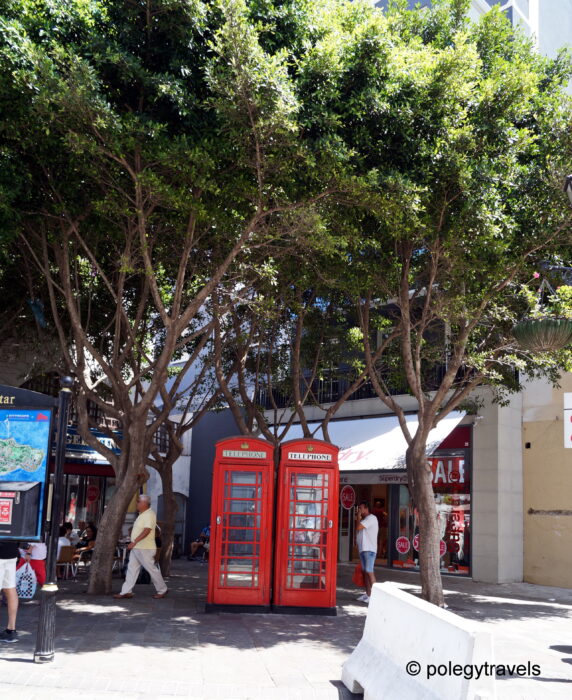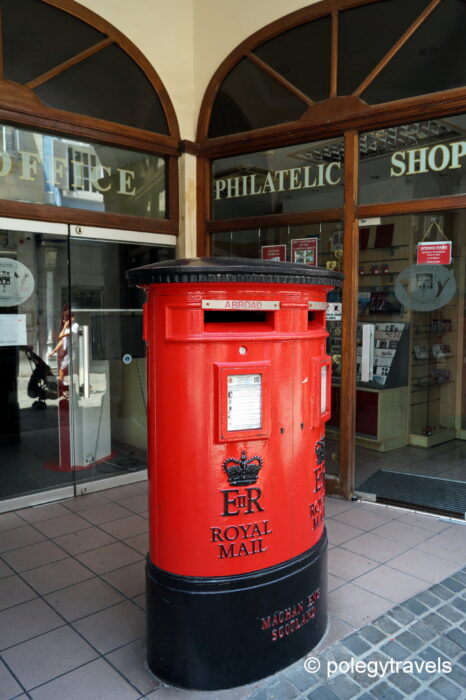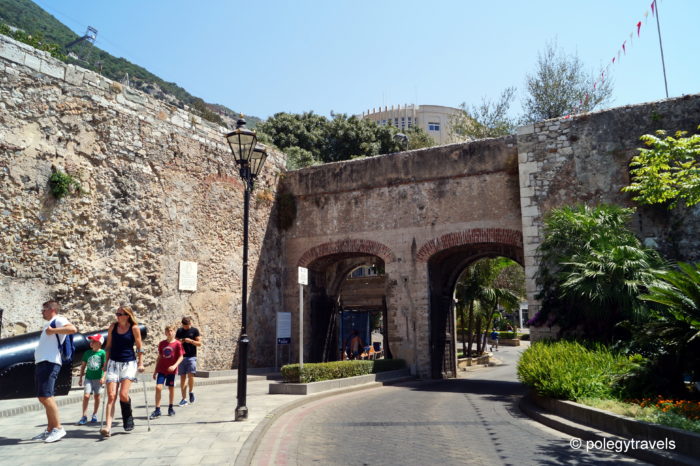 The Rock of Gibraltar and… macaques
The rock was named after Tariq ibn-Ziyad who led the conquest of the peninsula in 711. It was called Jabal Tariq in Arabic which means Tariq's Mountain. This is also where the current name Gibraltar comes from. From the top of the Rock you can see the coast of Africa on one side and Spain on the other side. Unfortunately, that day there was a lot of fog and the African coast, wasn't very visible.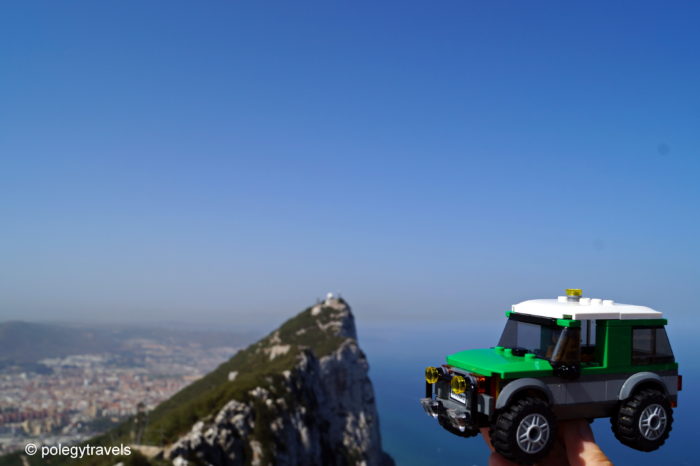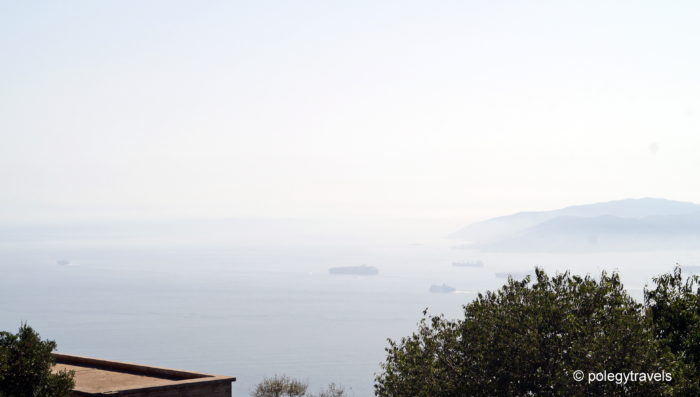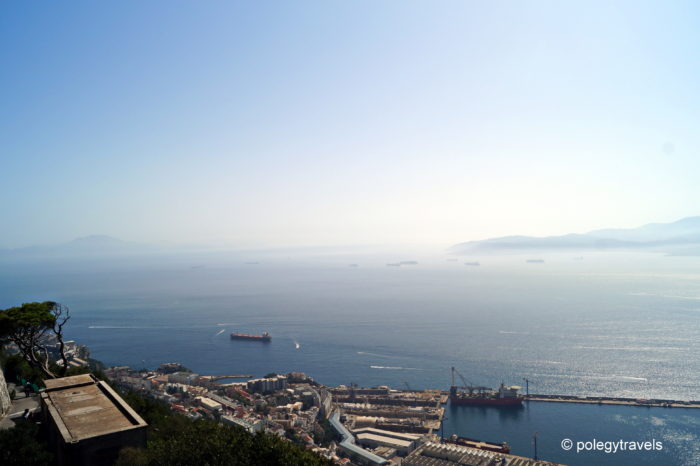 In whole Gibraltar and especially on the Rock you will see signs warning not to feed the macaques. The monkeys living in that area are wild. It doesn't matter how sweet the small macaques may look like, you need to be careful because they may bite. When you are visiting the Rock of Gibraltar it's advisable not to carry plastic bags. The sound of the bags attracts the monkeys, which will simply take them away looking for food There are still many ignorant tourists who don't care about the warnings and later complain because they lost a bag with shopping 😉 Macaques may be dangerous in situations like that so it's better no to provoke them.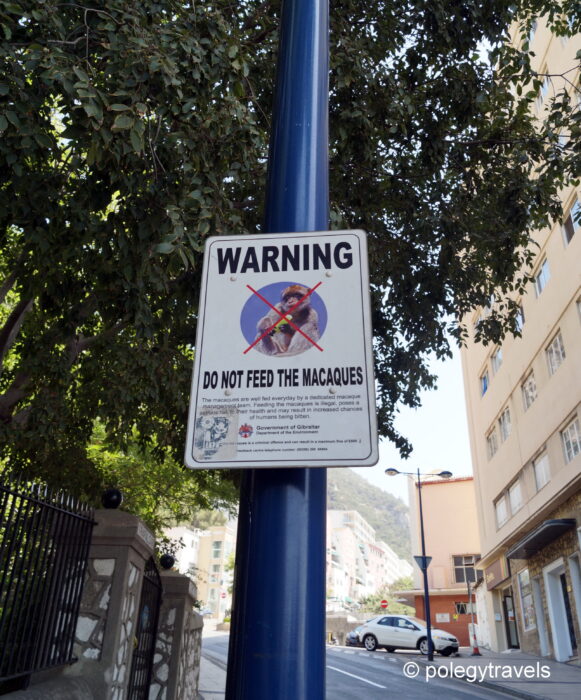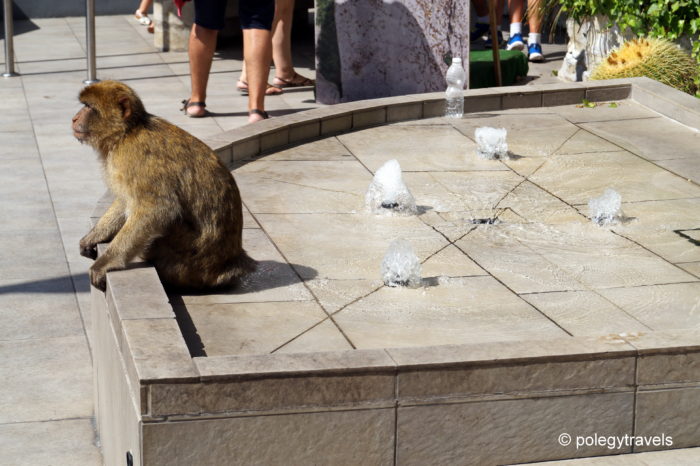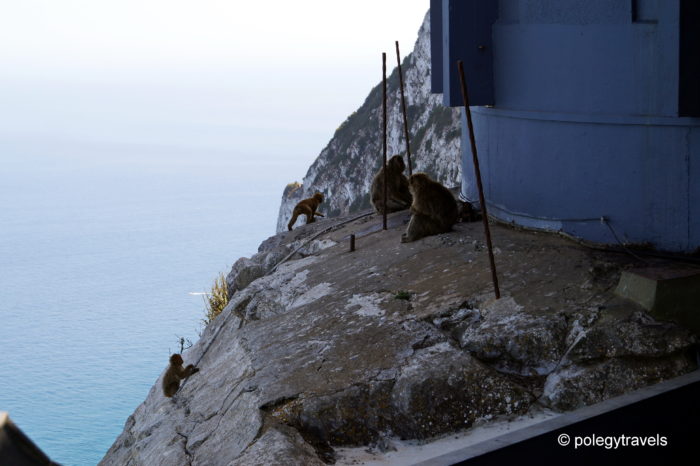 Although there was fog above th African coast, the weather was beautiful. We could enjoy the view from the top of the Rock. On the way to the top you can also visit the siege tunnels used as defense system and caves. We didn't see those places and we came back by cable car. We walked around the center of Gibraltar and moved back to Spain to continue our trip in Andalusia. The curious thing is that on the way back, the border guards hardly looked at our passports.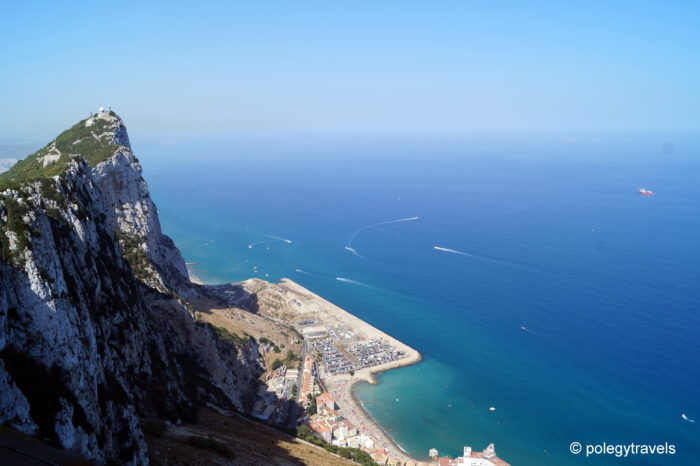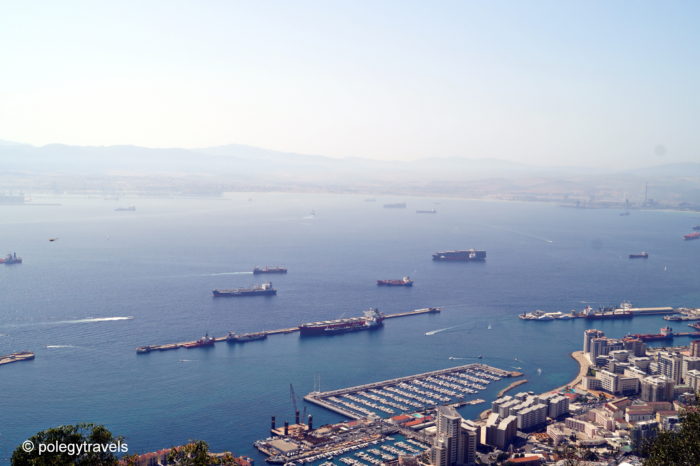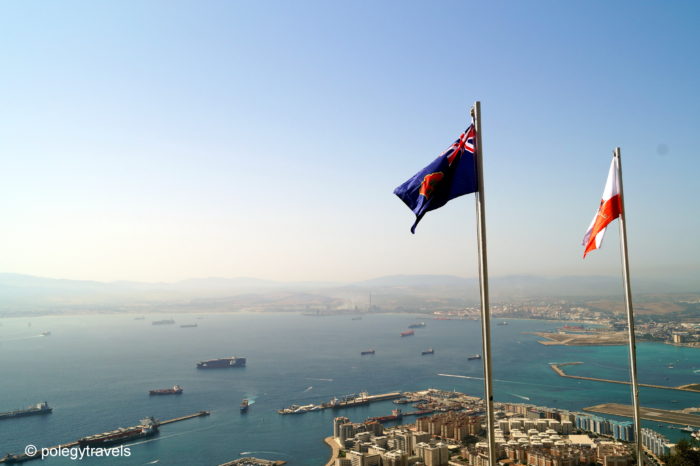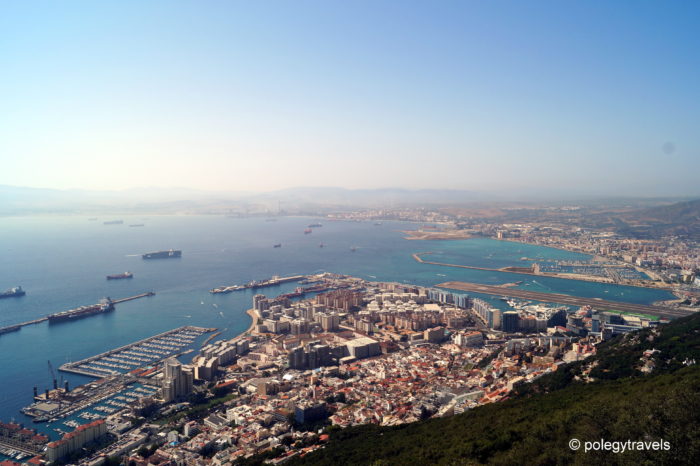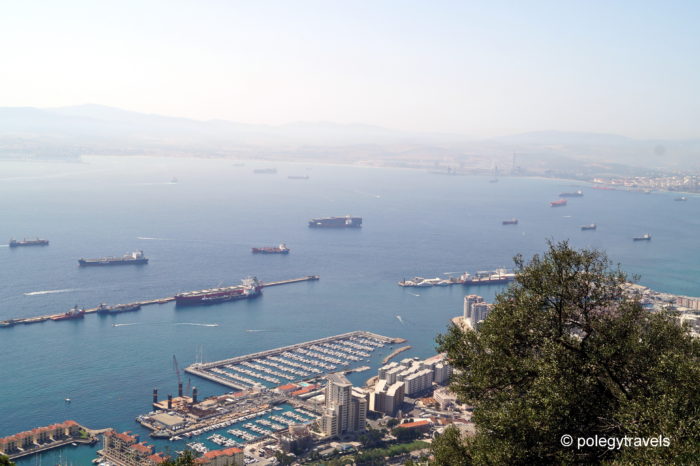 Souvenirs' prices
– a mug: 5-6 euro
– 4 postcards:1.5 euro
– a magnet: 3.5 euro
Useful information
– one way bus ticket costs 2 euro, round trip is 3 euro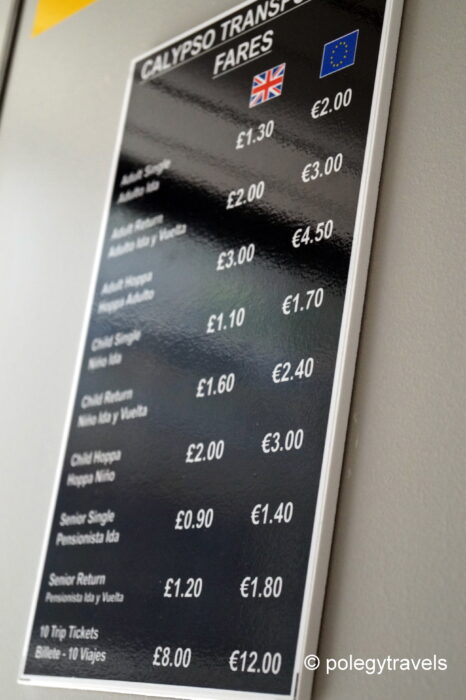 – you can pay with euro without any problems. However if you pay with banknotes with higher value, consider that the change will be given to you in pounds. So either you use lower value bills or just change some money into pounds
– a round trip cable car ticket to the Rock of Gibraltar costs 14.5 pounds per person
– it's a good idea to book cable car tickets online and pick them up in the ticket office, you will save time waiting in the queue
– while waiting to buy tickets for the cable car trip you will see people offering private trips to the Rock by bus. They will try to convince you that their offer is better because it's cheaper and you will see more. Don't believe them it's cheaper! They will offer private trips for 30 pounds, saying it's only 1 pound more than the cable. That's not true. 14.5 pound for the cable car is a round trip ticket not one way, as people offering private trips say. So the price is actually doubled! Other attractions like visiting the caves or tunnels you can do on your own, walking down the rock. We skipped that because we were really tired after two weeks of intensive visiting of Spain.
-you can enter Gibraltar by car but you must be aware of queues at the border. If you want to go on foot, there are car parks on the Spanish side. We left the car on a nearby parking as we were not sure if we would manage to cross the border or not. For more or less 4 hours we paid around 8 euro.
If you have any other questions about visiting Gibraltar, feel free to ask in the comment. We may have forgotten about something and that will help us to add more information 🙂