Another road trip is over. For three weeks we were exploring the Balkans with our car. We visited 7 countries, we travelled a lot, and we saw many places. For all those who are planning their own road trip to the Balkans, we have prepared finance summary of our trip. If you are curious how much does it cost to travel by car to the Balkans for three weeks, read till the end.
Summary of our trip in numbers
Firstly, a quick summary of our trip in numbers for those who didn't follow it before.
21 days
7 countries
4503 kilometers
3353 photos taken
36 drone flights
4 hitchhikers picked up on the way
2 of us
and 1 Land Rover 😉
Where did we go?
As always we travelled by our brave Land Rover. We went to Serbia, Kosovo, Macedonia, Albania, Montenegro, Croatia and Bosnia and Herzegovina. In some countries we spent only one day, for example in Croatia we visited only Dubrovnik. On the other hand, in others like in Bosnia and Herzegovina we spent a week. We visited a lot of places. Articles about specific countries and places will appear on the blog soon.
How much did our trip to the Balkans cost?
We try to travel low cost and save money as much as we can. Generally we travel by car which generates high cost of fuel but on the other hand the car serves us later as a hotel and restaurant. We sleep in the car; we cook on our own from what we take from Poland or buy on the way. Also thanks to the car we don't need to use local transport. However, in the Balkans we travelled a bit differently. We stayed in hostels more and we tried more local cuisine because it was much cheaper than in the countries we have visited so far.
It's not easy to find information about cost of road trips online. We decided to share our experience because later it will be easier for others to plan their own trip. To make it easier, we divided our expenses in several categories.
Fuel
Fuel is always at least half of our expenses. We drove 4503 km during our Balkan trip. To do that, we needed 384 liters of diesel. I would say that our car doesn't consume a lot and doesn't consume little. The average consumption of the Land Rover is 8.5l/100km. We tried to fill up in gas station with lower prices, but anyway, we paid a lot for the fuel. In total 474.25 euro.
Parking
We usually left the car on free parking near the hostels but sometimes we also had to pay the car park. Especially if it comes to visiting tourist attractions, where often parking was additionally paid. All together we spent 9.07 euro on parking the car.
Tolls, vignettes and insurance
In order to reach our destination earlier, we bought monthly vignettes in Slovakia (14 euro) and Hungary (15 euro). We also paid tools on highways in Serbia, Macedonia and Montenegro. If the route outside highway was interesting, we tried to drive outside the motorways. Apart from that we had to buy an additional car insurance in Kosovo for 15 euro for 15 days because the green card is not accepted there. In total we paid 50.43 euro for vignettes, tools and extra insurance.
Public transport
We hardly used it as we tried to walk everywhere but in Belgrade we couldn't make it on foot. In order to get to the Church of Saint Sava we had to take a bus. For one way tickets for both of us we paid 2.52 euro.
Accommodation
When we saw how much accommodation in the Balkans costs in comparison to our last year's trip to Spain, we decided to spend more nights in hostels. Out of 20 nights, we spent 4 in the car and 16 in hostels, guest houses etc. Sometimes we managed to find a place for 12 euro per night, sometimes for 15, in other occasions we paid 20 euro. Apart from one place in Jajce, we have never paid more than 20 euro per night for both of us. I will write about interesting and cheap places to stay in the Balkans in a separate article because many hostels we went to were just amazing.
We were always booking a double room and we always selected a place with free parking spot. In this matter the prices for accommodation were really good. If you travel alone or with someone but you don't mind sleeping in shared rooms in hostels, you can book a bed in a dormitory for 6-7 euro per night. It's possible to travel with really low budget in the Balkans. If it comes to us, for 16 nights we paid 304.33 euro.
Sightseeing
We were surprised to see that many attractions in the Balkans are free to visit. I feel that if we had the same places in Poland, seeing each of them would require a ticket. Very often we only had to pay the car park near a tourist attraction, like for example next to the Monastery of Saint Naum. Among free attractions there is for example Matka Canyon in Macedonia or Prizren Fortress. We also went to places that were paid. For example, we went to very expensive Dubrovnik, we walked on the city walls which costs 150 kuna (20 euro) per person, we went up the Srd mountain with a cable car (85 jyba per person for one way ticket which is around 11 euro). We visited the castle in Jajce, Kravica Waterfalls, in Matka Canyon we took a boat trip and in Sarajevo we went to the Tunnel Museum. In total for all the attractions we paid 113.57 euro.
Food
Try to go to the Balkans and resist trying local food 😉 We didn't manage and to be honest, we didn't even try. Still, we cooked a lot on our own but since the first day we fell in love in the Balkan cuisine. Fresh bread for breakfast from a nearby bakery, countless amount of burek, local sweets and juices. For the first time we tried baklava with chocolate in Skopje and in Sarajevo one with coffee and cinnamon. We have never had such tasty blueberry juice as in Macedonia and we have never tried such interesting ice cream flavors as in Bosnia and Hercegovina. At the end of the trip in Bosnia we bought a lot of lokum and honey with pomegranate and we brought it home. We spent 132.84 euro on food.
What is not included in the cost?
We decided to skip souvenirs we bought and shopping we brought to Poland in our cost summary. Those were not the essential things in our trip so they don't really matter if you are preparing the budget for your own trip. Apart from that, this is an extra cost that everyone takes however they like. Of course, the cost we have mentioned above also depend on many factors. What car you drive, how much does car consumes, where you sleep and in what conditions, what you eat etc. All this influences the cost of the trip. We wrote down our expenses to show you an example of how much a trip like this may cost for two people.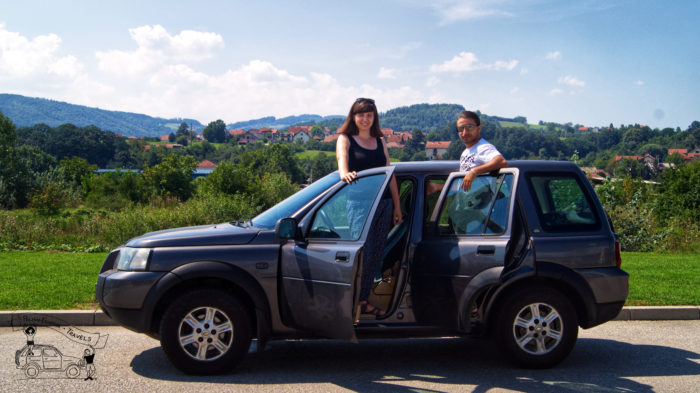 Summary
Summing up the cost of fuel, parking, tolls, sightseeing and food, we paid 1087 euro for three weeks in the Balkans. It may seem a lot but it's the cost of full 21 days for two people. The cost of the trip per person was 543.5 euro and our daily budget for two was 51.76 euro.
We didn't stop ourselves from anything. It's probably our last trip abroad this year so we decided to try, see places and enjoy the travel instead of counting each and every euro 😉
As you see 50% of our expenses was the fuel, tolls and vignettes. Accommodation, food and attractions were the second half of the cost which means that the Balkans is a good destination for a budget trip 🙂 I hope that our summary will help you in planning your own trip to the Balkans. We also encourage you to share your experience about travel cost in the Balkans and your ideas on how to lower the cost of travelling 🙂