Adršpach Rocks are located close to the Polish-Czech border. It's a magical place and it takes your breath away. The first part of the Chronicles of Narnia was shot here and the area is just perfect for that 🙂 We went there on one of the weekends in April and it was a good choice.
What are Adršpach Rocks?
Adršpach Rocks are sandstone formations that were created by uneven weathering and formed by wind and water. They are a part of Central Sudetes mountains. The whole area is now a forest.  There are two lakes, waterfalls, canyons and valleys. The rocks are protected as a natural nature reserve not only because of its geological value but also the variety of wildlife. There is so much to see and places to walk. It took us more than 3 hours to visit the place and we would like to stay even longer.
Getting to Adršpach
By car
We chose this option. Adršpach is located less than 10 km away from the Polish-Czech border. We crossed the border between Polish Mieroszów and Czech Zdoňov. The road between those villages is narrow so I don't recommend going there when it's late and dark.
By train
Since 28th of April there will be a new season train route. It will pass by Wrocław Główny-Wałbrzych Główny-Mieroszów-Meziměstí-Adršpach. The trains will run on the weekends and feasts. A perfect solution, as the train station in Adršpach is right next to the ticket office.
Parking
There are several car parks around the Adršpach Rocks where you can leave your car for 80-100 Kč so it's not a problem for people coming by car. However, in front of the Skalní město hotel, right next to the entrance to Adršpach Rocks, there is a free parking for buses, cars and motorcycles. Watch out because the places are taken quickly. We arrived there early in the morning when it was totally empty but around 11 when we were leaving, it was totally full.
Visiting
You should dedicate at least 2 hours to visit Adršpach. Don't worry, you won't get bored. Right behind the entrance there is Pískovna Lake with crystalline blue water. There is a trail around the lake. Another trail goes through the Adršpach Rocks, next to the famous rocks like Sugar loaf, Lovers, Mayor and his wife, through the Small and Great Waterfall till another lake where you can sail on a boat (it costs 50 Kč).
The route is well prepared for tourists. There are wooden stairs in the hilly places. Many families with small children and people with animals come to Adršpach. The place is just perfect for everyone. What's important, you don't need to have experience in climbing 😉 Even people who are not used this kind of activity, will have a good time.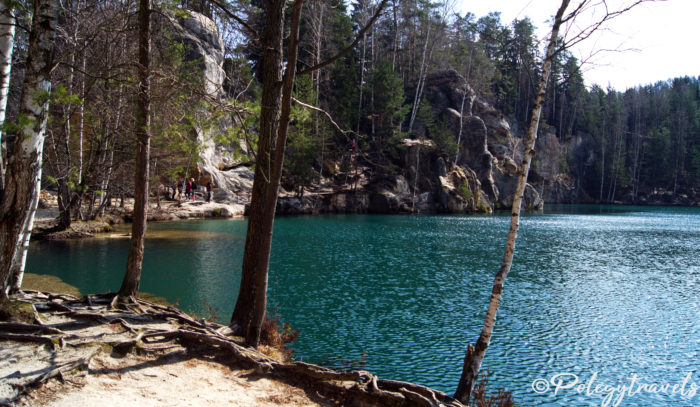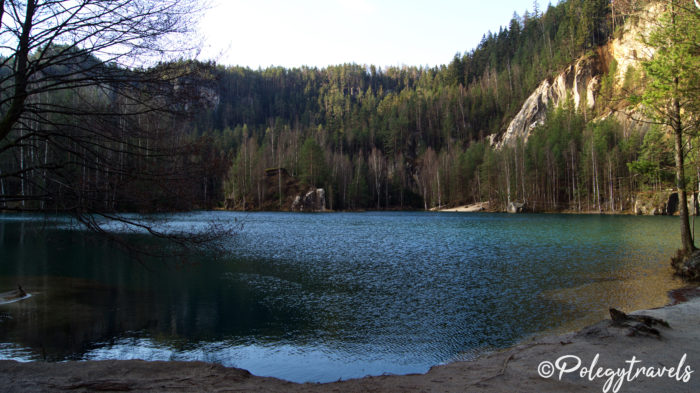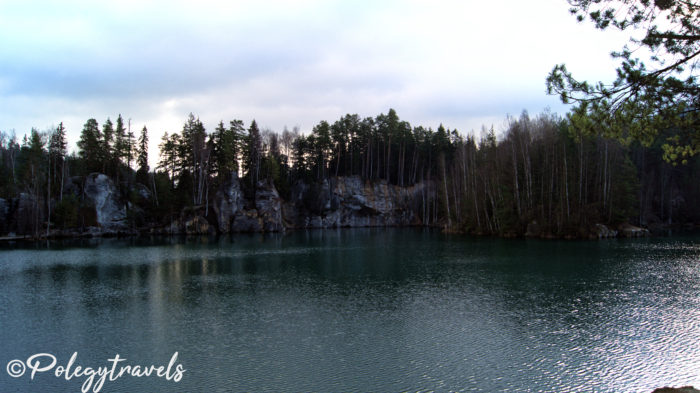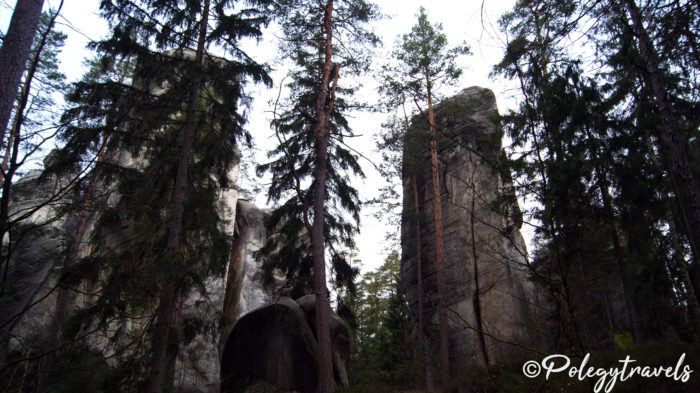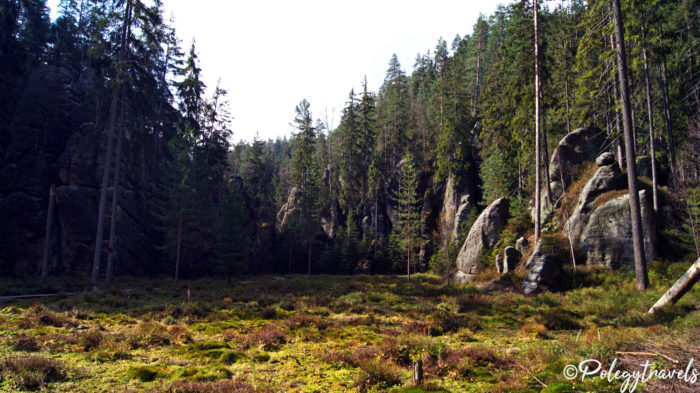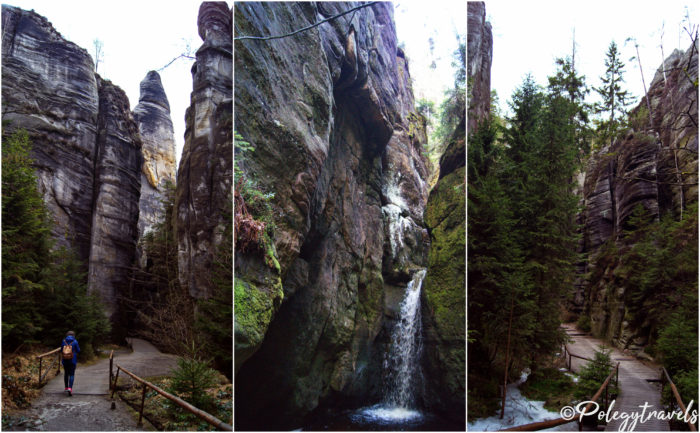 The early bird… is alone in Adršpach Rocks
And takes pictures without tourists around! Seems clear but I will say it again. It's worth coming to Adršpach early in the morning. We arrived at 7 and we read that it opens at 9. At first we were worried that we would have to wait for long but at 8 we got to the ticket office and they were open. We bought tickets and for a long time we were all alone inside 🙂 Thanks to that we managed to take pictures of the famous gate without tourists. I really recommend is. When we were leaving around 11, we passed by few organized groups and many individual tourists…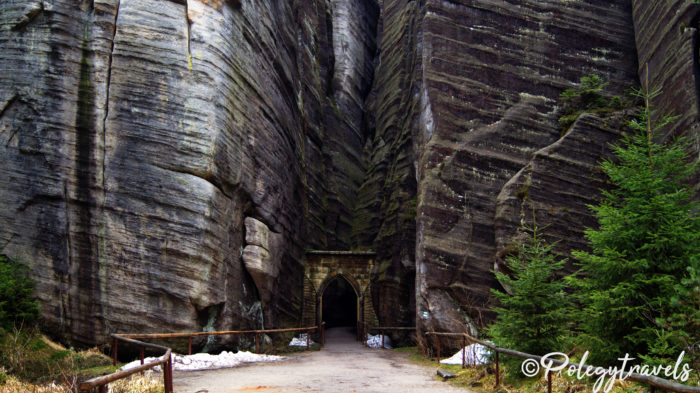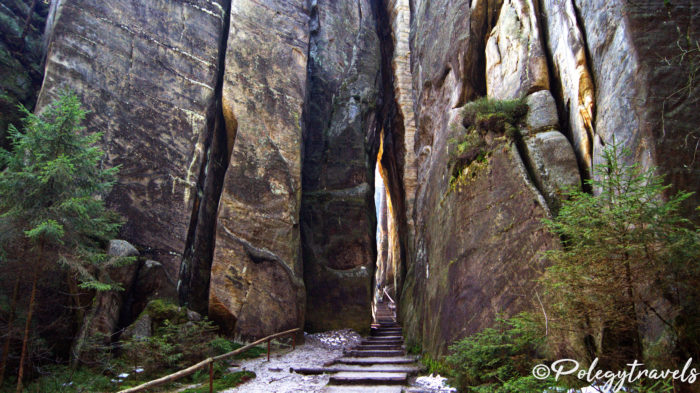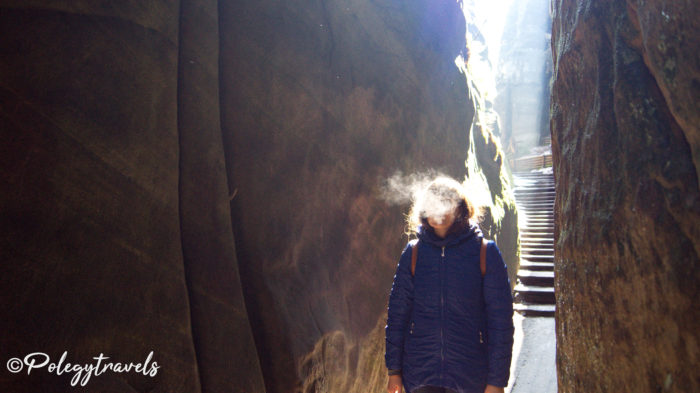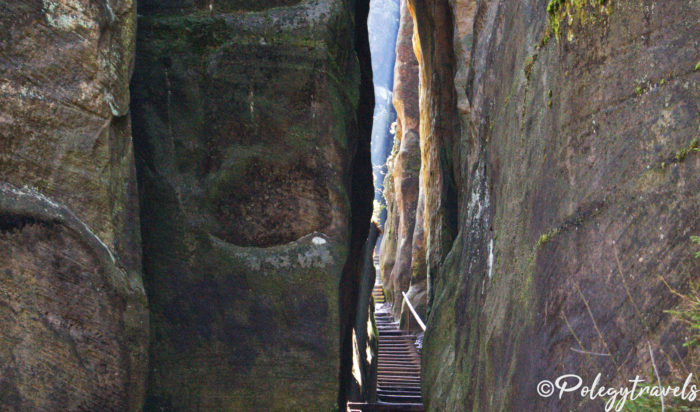 Practical information
Opening hours
Adršpach Rocks are open since 8 till 18 during the whole year. In winter time, the opening hours may be different so before you go, make sure that nothing changed.
Entrance fee
The entrance fee depends on the season.
In summer time since 1st of April till the 31st of October the prices are as follows:
Adults – 120 Kč
Children (6-15 years), students and disabled people – 70 Kč
Family (2 adults + 2 children) – 320 Kč
Dog – 10 Kč
In winter time since the 1st of November till 31st of March:
Adults – 50 Kč
Children (6-15 years), students and disabled people – 30 Kč
Family (2 adults + 2 children) – 130 Kč
Dog – 10 Kč
As you see in winter season it's almost half price. However, even when we went to Adršpach in April it was cold. In many places there was still snow and it was very windy. I don't think I would like to go there in winter 😉
Summary
Adršpach is one of the charming places that attract people. It's incredibly beautiful, mysterious, and simply magical. Apart from that, in the morning when there aren't any tourists, you can walk, listen to the noise of creeks and singing birds. Really lovely 🙂 Have you been to Adršpach yet?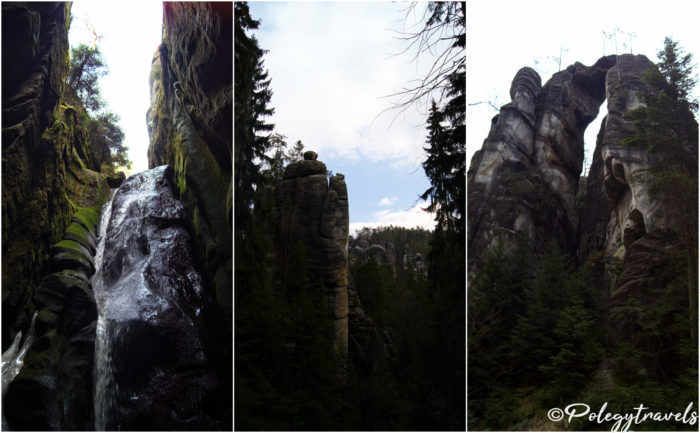 Now we invite you to watch our vlog from Adršpach Rocks!