Why is it worth to travel to Kosovo? This article is about things you don't know about Kosovo and definitely you should. Before going to this country, we heard a lot of opinions that it's dangerous there, that it doesn't make sense to go there because of the war and that that there is nothing to see. Well, there are actually many places to see and from the cultural point of view, it's a very interesting country. Read about the reasons to visit Kosovo.
At first, big thanks to our readers who participated in creating this article! On our Instagram, I asked you what do you associate with Kosovo and what you know about this country. Thank you for your answers! I will try to answer your questions and doubts below.
It's the youngest country in Europe
Kosovo declared independence in 2008 (on the 17th of February) which means it's been a country for 10 years and at the same time it's the youngest country in Europe. Many of you answered our question about Kosovo saying that no one knows if it's a country or not. It's true that not all the countries recognize the independence of Kosovo. First example is of course Serbia but also Spain, Slovakia or Bosnia and Hercegovina which don't recognize Kosovo's independence. In total 117 recognize its independence; among them there are 111 countries out of 193 which are members of UN and 23 out of 28 members of EU. Poland accepts Kosovo as an independent country.
Kosovo is safe
That's another stereotype people believe in. Because of the war in the nineties, many people think that the country is not safe. We want to show you that it's completely different. Kosovo is as safe as any other country in the Balkans, as Croatia or Montenegro. We didn't feel different even for a second of our stay. Both in Pristina and Prizren we spent quite some time on the streets at night. We have never had any unpleasant situation. All the contrary! Everywhere people welcomed us smiling and they were very helpful.
The best latte macchiato
Kosovo is a "must see" for coffee lovers 😉 They make the best latte macchiato there! I love coffee myself and it was a paradise for me.  You just have to try macchiato there. What's more, it's also cheap. The prices start at 0.5 euro up to 1 euro. 1 euro is actually a price in a fancy café. What else could we ask for? Go to Kosovo and drink macchiato 🙂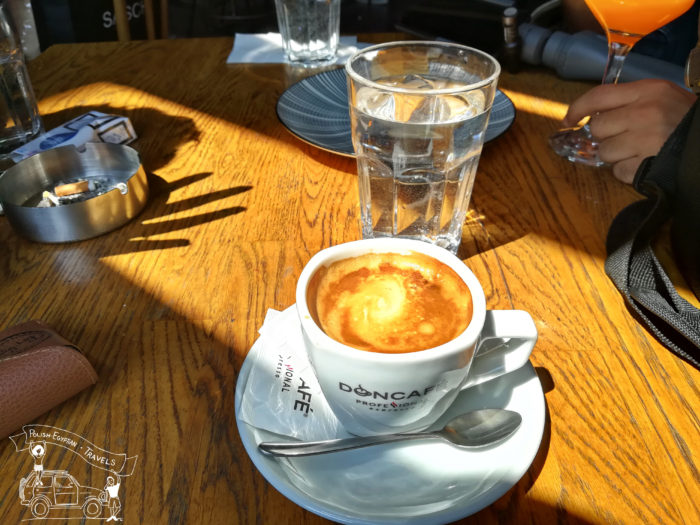 In Kosovo they like Poles and… Egyptians!
We met many people there who were in Poland, they studied there or a member of their family lives there. Everyone reacted positively once they heard that we drove from Poland to Kosovo. Why do people have such good association with Poland? When Kosovo was still part of Yugoslavia, a lot of people went to Poland for student exchange. Some of them studied here for some time, others spent only a month or two as part of a student organization. The owner of the hostel where we slept in Pristina did that. Mr. Baki was in Poland 50 years ago, he lived in Warsaw and he still remembers the basics of Polish language! He loved Poland and he is so happy to meet Poles in Pristina. There tons of examples of stories like that.
What's more, the Kosovars also react positively for Egyptians. That's because of two reasons. First of all, in Kosovo there is an Egyptian minority. Secondly, people still remember the cooperation between Josip Broz Tito and the Egyptian president Gamal Abdel Naser.
What is the story behind the Egyptians in Kosovo? As the ethnic minority of Ashkali, Egyptians are often wrongly considered to be Romani. However, there are cultural differences between those groups. The interesting fact is that no one knows for sure where Egyptians in the Balkans came from. Many times when people asked us about country of origin and Mohamed said "I'm Egyptian" our interlocutor happily answered "Me too!". We found many people like that especially in Fush Kosovo. Those people have never been to Egypt, most of them don't even speak Arabic. Theyhave strong sense of ethnic belonging and they always emphasize the difference between them and other minorities of Kosovo. One of theories about the origin of the Kosovar Egyptians is that they were resettled to the Balkans to work there during the reign of Alexander the Great. Nowadays there are around 11,500 Egyptians in Kosovo.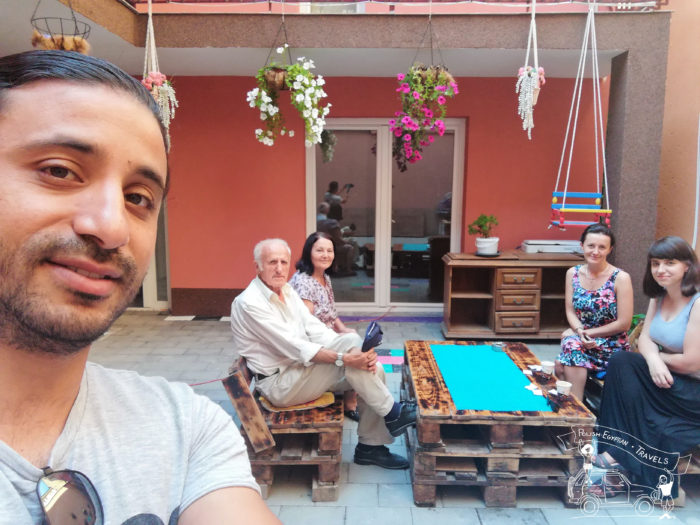 Mix of cultures and languages
Did you notice that the Kosovar flag has 6 white stars? Do you know why? They symbolize 6 major ethnic groups of Kosovo. What ethnic groups are they? Albanias, Serbs, Turks, Gorani, Bosniaks and Romani. Ashkali and Balkan Egyptians are often grouped as Romani. However, as I have mentioned before, the Egyptians don't identify themselves as Romani and they are a different ethnic group.
Because of the variety of ethnic groups there are also many languages used in Kosovo. The official ones are Albanian and Serbian but in different regions there are also other official languages like Turkish, Bosnian and Romani. Also the Gorani minority uses they own language of the same name.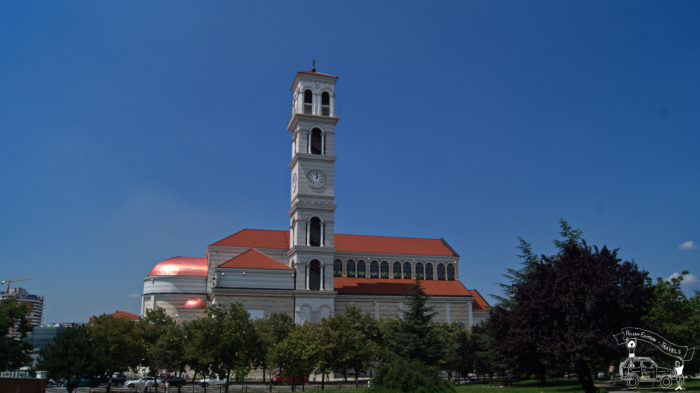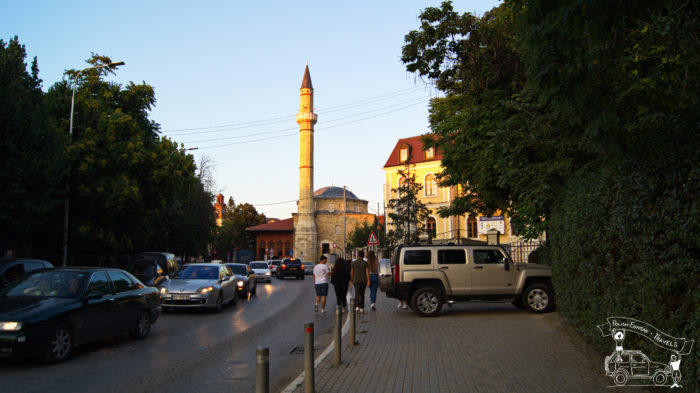 It's a country that changes fast
Kosovo changes year by year. There are more investments and constructions. Mohamed had a chance to visit Kosovo 6 years ago only 4 years after the declaration of independence. We came back together this year and he was surprised how many thing changes. I think it's a good chance to see how a young country like that is growing. See how Pristina changed for 6 years.
Year 2012
We know that the quality of those photos is not the best but as you can guess, in 2012 we didn't have a good camera.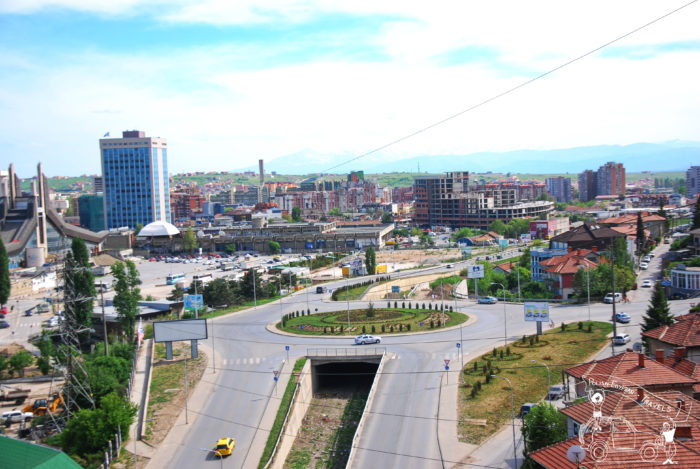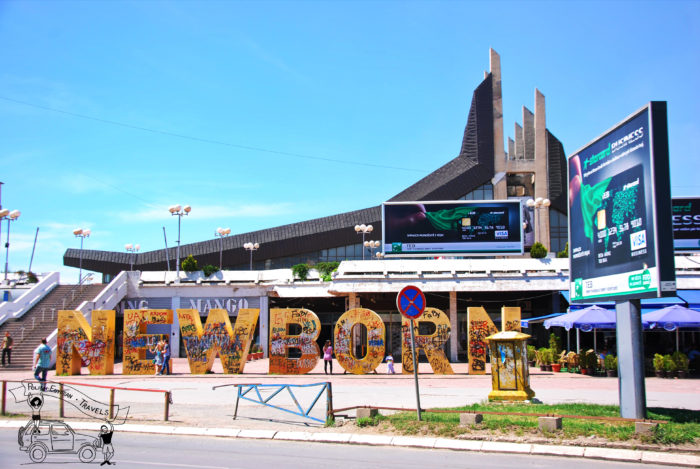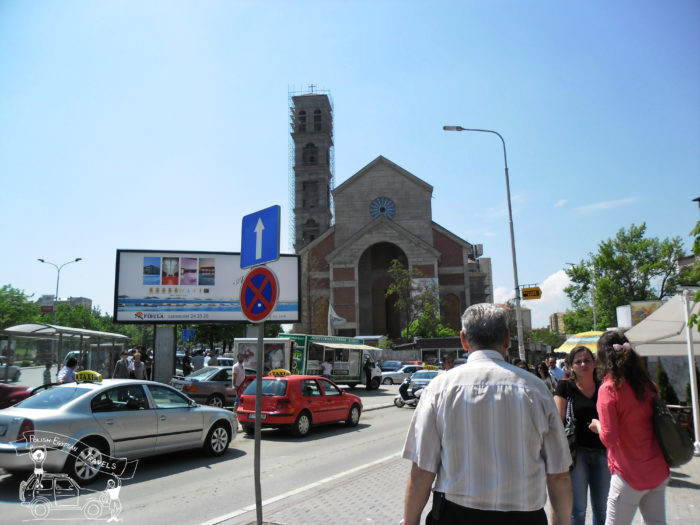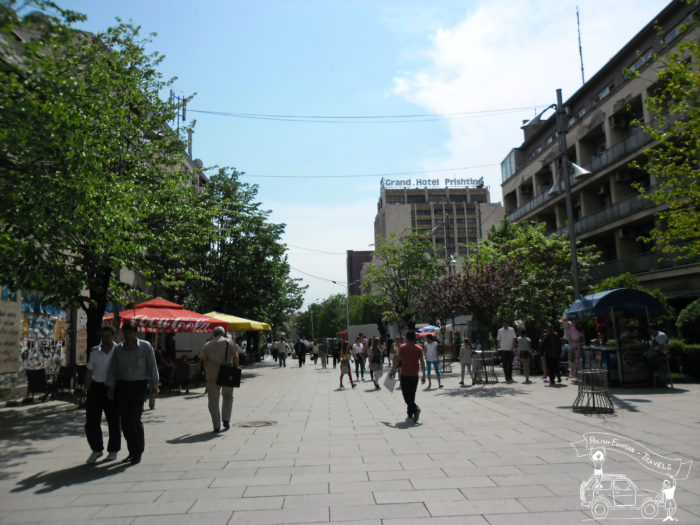 Year 2018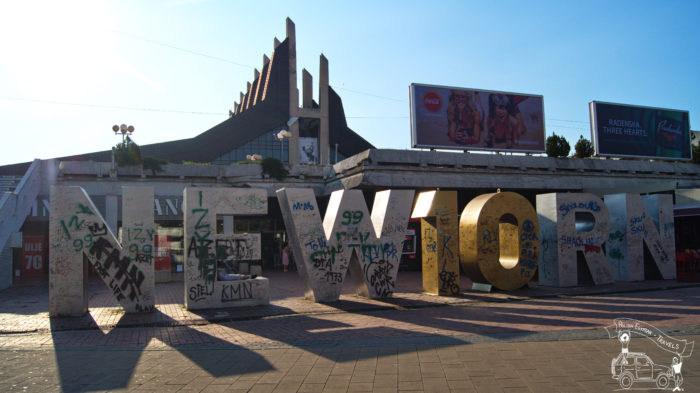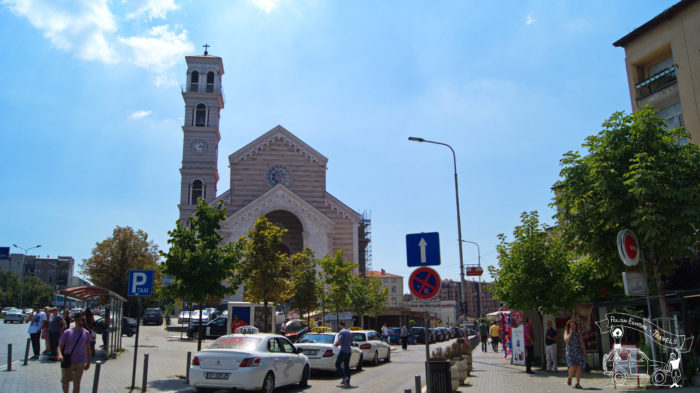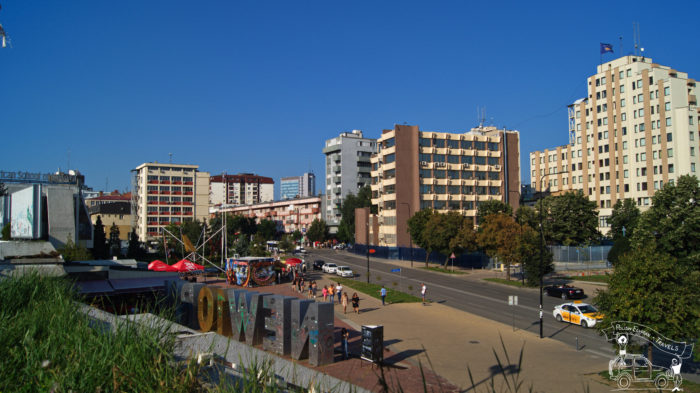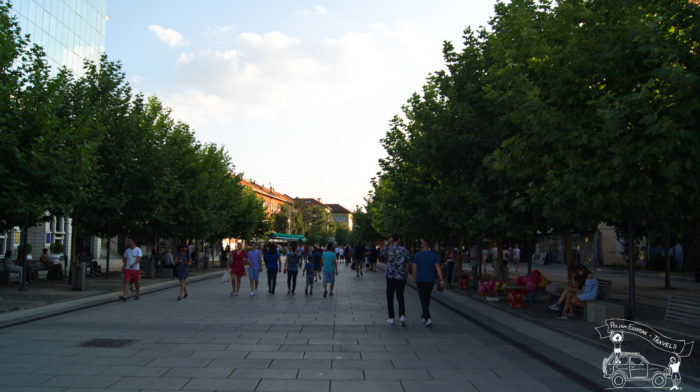 Amazing people
We can say that about every country in the Balkans but Kosovo was really special for us. We met great people there, many times random people helped us when we were looking for a place or when we needed to communicate with a person who didn't speak English. Whenever we asked for help, there was someone to help us. The Kosovars are very open for tourists.
Kosovo is still "undiscovered" and it's not a popular tourist destination
Still not many people travel to Kosovo. Some of them are worried about safety; others think it's not worth to go there. When we were in Pristina, most of the tourists there were Kosovars who emigrated to other European countries and they came for holiday to see their families. There were very few tourists from outside Kosovo. For us it's a perfect reason to visit Kosovo! We can visit, enjoy, learn and we don't have to suffer from crowds of tourists.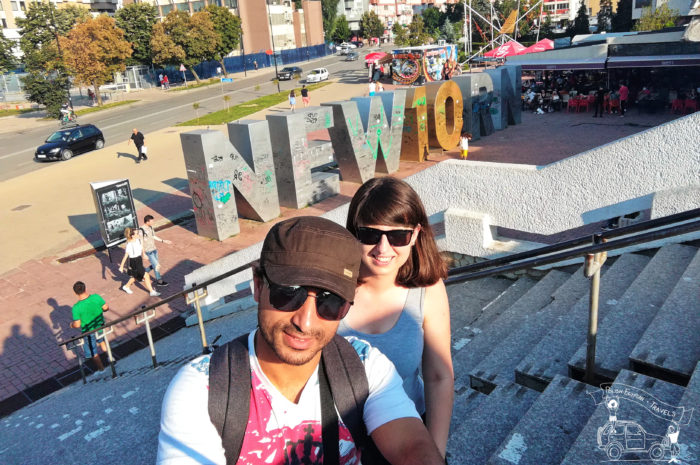 It's cheap
Kosovo is cheap. The currnecy there is euro. I have already mentioned that a price of macchiato starts at 50 cents. Other examples of prices:
Room for two people in Pristina/Prizren: 20 euro (rooms with private bathroom)
Doner kebab: from 1.5 euro
Cola 0.5l in supermarket: 0.55 euro
Burek in a bar in Prizren: 0.8 euro
SIM card with 4GB Internet for a month: 3 euro
I will write more about prices soon in another article.
… and beautiful
Kosovo is a really beautiful country. Pristina may not be very interesting from tourist point of view, there aren't many attractions to see. But for us, the capital is a city with a soul. We also have friends there, from the time of Mohamed's first stay in Kosovo in 2012. Thanks to them we learned a lot about the history of the country, its actual situation and we saw the city from another perspective.
If you want to see astonishing views and monuments, you have to travel to Prizren! The view from Prizren Fortress and seeing the sunset from there was one of the most beautiful experiences from our Balkan trip. What's even more charming, at sunset you will hear muezzins calling for prayer in several mosques around the fortress and few moments later, you will hear the church bells ringing.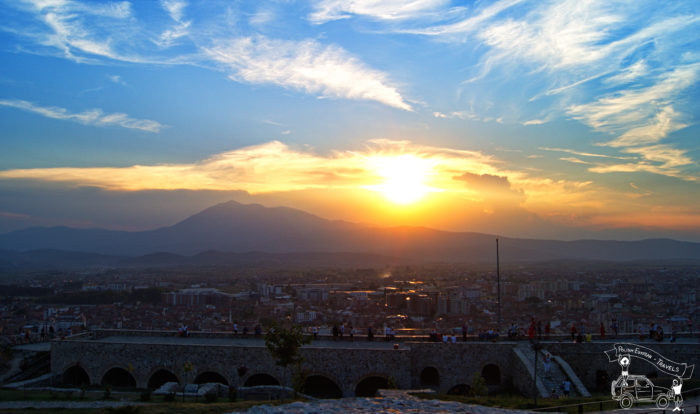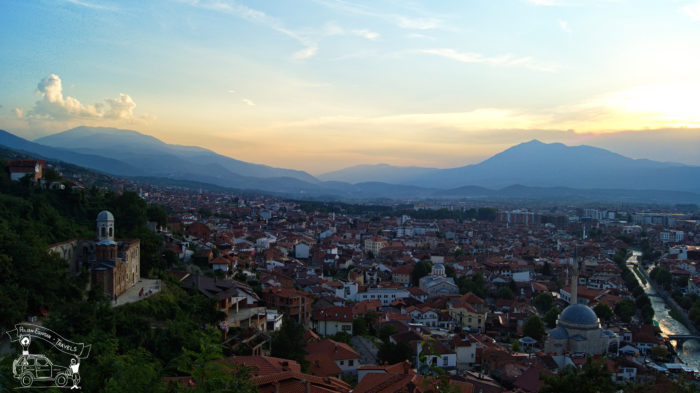 Vlogs from Kosovo
We also invite you to see vlogs from Kosovo on our channel.